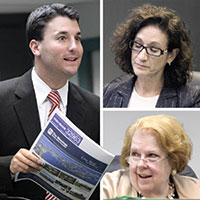 School Board showdown
STORY BY MEG LAUGHLIN, (Week of November 29, 2012)
Photo: Jeff Pegler says vote "will be revisited;" with attorney D'Agresta (top right) and Carol Johnson.
The Indian River County School Board, after initially stubbornly plowing ahead with a plan to circumvent state law and launder the salary of a new head of human resources through the law firm of its part-time $280,000-a-year attorney, now is showing signs of having some second thoughts.
School Board Chairman Carol Johnson at first said the school district would do "nothing" following Vero Beach 32963's disclosure last week that Stuart Singer, 66, was being hired in contravention of the state's deferred retirement program (DROP), which was designed to prevent double dipping.
"He'll stay in the position," Johnson said. "How he will be paid and what a few Osceola County school board members think of him are obviously not compelling issues for most of this board."
But School Board member Jeff Pegler said early this week he was troubled by how Singer was hired.
"I've done a lot of thinking about this and I can tell you it will be revisited," said Pegler. "I'm afraid this hire is going to prevent us from focusing on teachers' needs the way we want, and we need to stop the distraction."
Two teachers stood up at last week's school board meeting and protested the plan, devised by Superintendent Fran Adams and school board attorney Suzanne D'Agresta, to have Singer paid as a $9,516-a-month "law clerk" at D'Agresta's law firm while serving as personnel director for Indian River County schools.
The money for Singer's salary would be paid by the Indian River School District to the law firm, which then would pay Singer.
The DROP law, as the 32963 article pointed out, provides that public school retirees cannot collect a salary as government employees for six months after they get their lump sum and retire. 
The hiring of Singer, currently finishing his final week as an administrator in the Osceola County school system after taking a lump sum payment of about $80,000 under the DROP program that will enable him to start collecting a pension next week, raised questions about ethics in the district as well as how much had previously been known about Singer
The 32963 articles noted that Singer had been removed from his position as personnel chief in Osceola County after holding that position for seven years, and switched to the job of chief of special programs, information and technology.  They quoted school board members in Osceola County who have known Singer for years questioning his ability to be fair to employees.
First at the podium last week to protest the hiring of Singer was Indian River County middle school algebra teacher Beth Weatherstone, who is also a representative of the teacher's union.
"Dr. Adams (school superintendent) and Ms. D'Agresta may not have fully disclosed to you the hiring circumstances involving Dr. Singer," she told the board. "I implore you to reconsider your vote (on Singer) and bring it back to the table for review at the next school board meeting."
Next up was language arts teacher Luke Flynt:  "I don't think you had the necessary information to make an informed vote," he told the board. "You should reconsider the vote taken at last Tuesday's meeting and act in the best interest of the employees of this school district by rescinding [it]. To do otherwise would be shameful."
School board members Johnson, Claudia Jimenez, Karen Disney-Brombach and Pegler, who all had voted to hire Singer, listened to the two teachers, but did not ask that their votes be reconsidered or rescinded.
School board member Matt McClain stood alone opposing the hiring of Singer a week before.
After the meeting, Chairman Johnson, an adamant supporter of Singer's, told Vero Beach 32963 she thought negative comments about Singer's ability to be fair by both the current and former Osceola County school board chairmen were too small a sampling to take seriously.
"What do some of the other board members in Osceola County have to say?" she asked.
Last week, Osceola school board member Tom Long added his voice to those raising questions.
"Something ain't right here," said Long. "How this hiring was done was not kosher and I'm wondering if that suggests something about how the job will be performed."
Long, who watched Singer in his job as personnel director for  Osceola County schools for years, said "Mr. Singer will do a diligent job for his employer – that employer being the law firm."
Osceola school board member Julius Melendez said, "Stuart has a legal background and is a good person to present the superintendent's case and save your school district money. For firing and hiring employees, Stuart will definitely get the job done. Those who want that will be happy."
But others – like teachers trying to get management to honor their contract and give them a promised two percent step raise – probably won't be happy, conceded Melendez.
"I was disappointed in how Stuart treated some associated with the union," said Melendez.
In the wake of the teacher protests and the Vero Beach 32963 articles, Indian River School Board Vice Chairman Jimenez said she thought  more questions about Singer needed to be asked before the next Indian River County school district meeting in December.
"I plan to follow up with the superintendent," she said. "I need more information."  Jimenez said she would also try to talk to school board members in Osceola County.
"I'd like to clear up lingering concerns about questions of fairness with Singer," she said.
And what about his being hired through the D'Agresta law firm in an end run around state law?  Is that also a concern?
"That might be a case of the ends justifying the means," said Jimenez. "It has been a challenging issue for us to fill that position."
The only school board member not to talk to Vero Beach 32963 about the Singer hire was Karen Disney-Brombach. When reached by phone, she said she would return a call, but did not. When called back repeatedly, Disney-Brombach did not answer her phone.