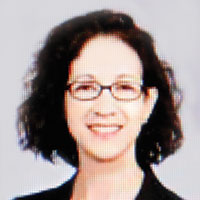 Attorney abets School District evasion of state double-dipping law
STORY BY MEG LAUGHLIN, (Week of November 22, 2012)
Photo of attorney Suzanne D'Agresta
The Indian River County School Board knowingly voted to circumvent the state's deferred retirement program (DROP) – which was designed to prevent double-dipping – and hire as the School District's new head of human resources a mysterious "Dr. Singer" whose $9,516 monthly salary would be laundered through the law firm of the school board's part-time $280,000-a-year Orlando attorney.
Singer, whose first name was not supplied at last week's public meeting, was described by school board attorney Suzanne D'Agresta as a law clerk at the Brown and D'Agresta law firm in Orlando.  Superintendent Fran Adams described him as "a person with an extensive background in human resources."
Following the meeting, we discovered that Stuart Singer, 66, is currently chief of special programs, information and technology for the Osceola County school district, after serving as personnel chief there for seven years. He is scheduled to retire at the end of November.
While Indian River school board members appeared happy with their hire, some of Singer's current employers in Osceola County say their district is dealing with serious personnel issues because of his performance and point out he was removed from his human resources position there because of negative employee feedback about his ability to be fair.
He also does not have a doctorate, unless you count a law degree earned in New York four decades ago.  Very few of the more than 1,000,000 lawyers who have earned the degree juris doctor call themselves by the honorific "doctor."
And he additionally is not an employee at D'Agresta's law firm, as she claimed at the meeting. A few days after saying he worked at her firm, D'Agresta corrected herself and said he would become a law clerk at her firm after his retirement.
At that time, having completed a five-year DROP program with the Osceola County school system where he got a pension lump sum payment of about $80,000, Singer will begin drawing a monthly pension and simultaneously come to work full time for the Indian River County school district.
But the Indian River County school system won't pay him. For seven months, it will pay D'Agresta's Orlando law firm, instead.  The arrangement enables Singer to get around the law that says DROP retirees from a public school system cannot collect a salary as government employees for six months after they get their DROP lump sum and retire (see related story).  
Only board member Matt McCain questioned the hiring of Singer, raising concerns about a possible conflict of interest because Singer was described as an employee at the D'Agresta law firm. 
But D'Agresta assured McCain that there would be no conflict because Singer would not offer any legal advice as head of human resources – even though the job description asked for someone with a law degree who could give legal opinions.
Then, the board – with the exception of McCain – voted the mysterious Dr. Singer into the second most important and influential job in the school district without asking a single question.
School board chairman Jeff Pegler said he saw the ethical dilemma, but when he voted for Singer and the peculiar pay arrangement, "I was thinking Stuart was going to fill a hole. He was going to clean up our very troubled human resources department.  I wasn't thinking of the ethical issue at the time."
What happened, Pegler said, was that school board attorney D'Agresta approached Superintendent Adams about hiring Singer for the personnel job.
According to Pegler, who got his own job as purchasing director for the School District in Osceola County thanks to a recommendation from D'Agresta, the plan was that Indian River County would pay the law firm Singer's salary, and the law firm would give the money to Singer. 
Of the $9,516 that the taxpayers of Indian River County will pay her firm for Singer every month, what portion is the firm keeping?
"That's private information," said D'Agresta.
But school board member McCain, who stood alone in opposing the pay arrangement for Singer, said, "We were told that all of the money paid to the firm goes to Singer."
Added McCain: "I think our superintendent and school board members were trying to be pragmatic and put a bandaid on a problem with our human resources department, not bend the law. But the whole thing raises questions and I'm not comfortable with it."
Singer says he doesn't understand why anyone would raise questions about the pay arrangement. "If someone wants to put a spin on it that makes it unethical then go ahead," he said.
Singer said the focus should only be on this: "They hired me because of my experience and background, and I look forward to bringing my expertise to the job."
Furthermore, he said, don't call it a temporary position for him. At the end of the seven months, he might stay on.  "We'll see how it goes," he said.
Stuart Singer, according to the resume he gave to the Indian River County school system, was a lawyer in the district attorney's office in Queens and Orange County, New York before going into private practice as a trial attorney.
He practiced law from 1975 to 1995. The New York bar shows his license there as "delinquent," meaning he let it lapse. "I retired from law. I didn't need it," he said.
In 1995, according to his resume, he moved to Kissimmee and became a dean of students at a middle school. He never became licensed to practice law in Florida. As for internet ads that call him a Florida lawyer and solicit clients, he said: "I'm not responsible for ads on the Internet. I didn't put them there."  
Besides, said Singer, for decades his passion has been teaching and working for the Osceola County school district.
"As human resources director, my job has been to do what's right, and I have," he said.
But more than one school board member in Osceola County questions that self-assessment.
"Dr. Singer was taken out of human resources last year and put in another position because of negative employee feedback about his ability to be fair," said  Osceola County school board member Cindy Hartig.
"Osceola County has serious on-going personnel issues because of the job Stuart Singer did before he was removed as head of human resources," said Osceola County school board chairman Barbara Horn. 
Not true, said Singer: "I was transferred to another job because of my ability to do a variety of things, not because I was under any difficulties."
Martha Anderson was on the Osceola County school board for years in the 1980s and 1990s, and she was also board chairman for a while.
As such, she said, she is very familiar with what a human resources person is supposed to be: "An objective representative who protects the school district from doing wrong to employees, an administrator who makes sure the union contract is respected.
"In my opinion," she said, "that's not what your school district will get with Stuart Singer."
"Nonsense," said Singer. "As human resources director, I understand the rights and responsibilities of both management and employees, and I'll enforce the rules."
Indian River Board Member Carol Johnson said she "did due diligence and researched, and I can tell you that Dr. Singer is well-seasoned in union negotiations, insurance issues and risk management and he will hit the ground running, which is what we need."
Friday afternoon, Indian River County middle school teacher and union representative Beth Weatherstone filed a grievance against school management for failing to honor its contract with teachers which says that they should get a two percent step raise, when the money is available, which it is.  School management is stalling.
"I get a sick feeling in my stomach when I think about what this hire could mean, " said Weatherstone.
"The description you often hear in Osceola County when it comes to Stuart Singer as personnel chief is 'hatchet man,'" said Osceola County school board member Horn.
"That's a silly comment from a clueless person," said Singer.
"The concerns we have are about honesty and fairness and stopping people from cheating the system," said board member Hartig. "The people of Indian River County need to know what's going on."