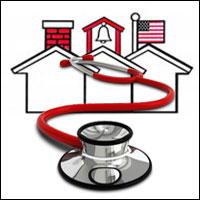 School employee health clinic shelved
STORY BY EILEEN KELLEY, (Week of November 29, 2012)
The Indian River School District has given up, at least for the moment, on its controversial idea of setting up and operating a health clinic for employees and their families. The plan ran into problems last summer after Vero Beach 32963 reported that the company favored to get the contract to operate the clinic had been ousted after a short time by Port St. Lucie.
School board members last month also expressed frustration over the fact that backers presented wildly varying estimates that changed from meeting to meeting on how much it would to cost to set up and operate the clinic.
Vero Beach 32963 first reported in August how Port St. Lucie government, the first municipality in the state to embrace the notion on an on-site employee clinic, cut its ties with the Tennessee organization that ran it after employees complained about a high turnover of doctors and a lack of cleanliness at the facility.
Still, even after the newspaper's report, the Indian River County School District picked CareHere of Tennessee to operate a clinic that at one point was expected to open in January.
The School Board .in October told staff yet again to get them more details.
The board was set to meet on the matter again in early December.  But Superintendent Fran Adams cancelled the meeting after board member Claudia Jimenez informed her she had confirmed the problems Vero Beach 32963 had reported.
Both Jiminez and School Board Chairwoman Carol Johnson said no time has been set for another meeting on the issue.
Johnson said there are just too many other issues that need to be dealt with now, and thought perhaps the board could revisit the idea next summer.
By and large, Johnson said she still supports the idea of setting up an employee clinic if it can reduce costs.
"I think the concept is fabulous," Johnson said. "But we still didn't know what the costs were going to be. We didn't want to do anything in haste. We are trying to do due diligence and don't want to be in a position where we have too many things on our plate."