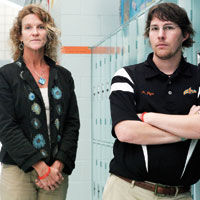 Teachers take contract complaints public
STORY BY MEG LAUGHLIN, (Week of November 1, 2012)
Photo: Gifford middle school teachers Amy Houseknecht and Luke Flynt.
Two middle school teachers told members of the Indian River County School Board last week how discouraged they are, a rare move for the rank and file to air their complaints at a public forum. But things have reached a boiling point over the teachers' contract and raises.
After arriving at a contract agreement that gave the 1,100 teachers in Indian River County a two percent step raise when the money became available,  they were suddenly hit with new management conditions that have stalled the deal.
That delay, along with several years of no raises and a complex new evaluation system that will tie future raises to student test performance, has demoralized many teachers.
Amy Houseknecht, a sixth grade math teacher at Gifford Middle School who has been teaching in Indian River County for 12 years, wanted to know why the step increase in the contact is not being OK'd when the district has the money for them.
She talked about teachers paying into their retirement and benefit packages out of their salaries. Like most teachers, she said she is making less than she made two years ago – in her case $2,000 less.
After 12 years, she said, she is only making $4,000 more than a new hire, because they get a better deal than teachers who have been with the system for years.
She told board members why management's hesitancy to give the two percent  step raise so troubled her and many of her colleagues: "As compassionate, educated humans, you should understand the importance of abiding by a contract."
Prior to the meeting, Superintendent Fran Adams expressed sympathy for teachers. "We know there is a lot of stress on them.... We'd like to give raises," she said.
But Adams did not respond to Houseknecht's questions at the meeting. She also did not respond to Vero Beach 32963's calls seeing comment.
A week before the board meeting, representatives from the teachers' union met with administrators and negotiators to talk about the promised two percent step raise.
To the surprise of eighth-grade math teacher and union representative Beth Weatherstone, who was part of the teachers' negotiating team, school management had attached a list of conditions to what was supposed to have been a done deal.
"It's insulting," said Weatherstone. "The raise was to be given if the money was there and it is. It was not to be tied to any contingencies."
Among the contingencies or conditions school management wants before giving the raises: Eliminating all language about step raises from the teachers' contract, cutting back on teacher planning time, and denying teachers holiday pay if they are absent the day before a holiday.
At the school board meeting, Houseknecht concluded: "Teachers work directly with their students to make a difference. We deserve to have our contract respected."      
Gifford language arts teacher Luke Flynt then walked to the podium and talked about the new teacher evaluation system which bases 40 percent of a teacher's assessment on student performance on standardized tests. The system requires that students improve on tests from year to year, or their teachers will not get raises.
Prior to the meeting, Adams voiced sympathy with the teachers. While she likes the new evaluation system, she said, she understood why it was "causing a lot of angst among teachers."
The system is mandated by the Florida legislature.
Flynt said he had concerns with the evaluation's statistical equation, "which purports to measure student growth."
"No one knows what it means," said Weatherstone, who wears a red rubber bracelet with the formula on it to remind her of the enigmatic statistical formula that is supposed to measure whether a teacher succeeds or fails. 
Flynt does a good job with his middle school students – so good that he is at a disadvantage with the new evaluation system because his students have to improve for him to be evaluated as "effective."
He explained to the board and superintendent how the new system would work against him, despite how well his students do: "In 2011, 45 of my 110 students earned a perfect score on the vocabulary (test)," he said. "In 2012, 41 of my students earned a perfect score. This meant that the average student performance score of 92.4 percent dropped to 91.06 percent, causing me to be rated as 'needing improvement.' "
With the new evaluation system based on student improvement on tests, a teacher who "needs improvement" will be denied a raise – even teachers whose students do very well on the tests. And, after a couple of years of a "needs improvement" rating a teacher will be fired.
"Last year, my evaluator gave me a perfect evaluation," said Flynt. "But with this new value-added evaluation, I am suddenly ineffective."
He concluded: "You need to know what the state is doing to teachers."
School board member Claudia Jimenez was the first to respond: "We are very aware of how these legislative mandates are demoralizing our teachers," she said. "It's disheartening."
After the meeting, Adams said they would take Flynt's predicament to the state Department of Education in Tallahassee for a response. "We'll tell them it seems like a valid concern and we'll ask if there is something we're not getting that explains how this could happen," she said.
What has teachers in Indian River County demoralized is occurring all over the state,  said Brevard County school board member Michael Krupp: "Things are so bad," he said, "you have to ask if the Florida legislature is trying to do away with public schools."
St. Lucie County School Superintendent Michael Lannon said he believes things are even worse for teachers in his county than in Indian River County.
"We've lost $10 billion in property taxes in the past five years and we have 6,000 more students,"  he said.  "We have great teachers and no money. No money."
In Indian River County, $36 million has been cut  from the school budget in the past three years, and 300 positions – other than teaching jobs – have been cut.