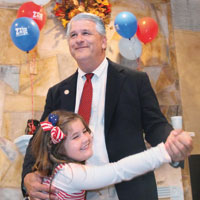 Zorc wins seat on commission; top priority is lagoon
STORY BY STEVEN M. THOMAS, (Week of November 8, 2012)
Photo of Tim Zorc after victory.
After a convincing victory over Tony Donadio in the election for District 3 County Commissioner, Tim Zorc said his first order of business will be to move to convene a meeting of Vero Beach, Sebastian and county officials to address the developing ecological disaster in the Indian River Lagoon.
"We need to make out a plan how to stop the decline of the lagoon, and put it on a path back to good health," Zorc said. "I want to get all the problems and everybody's ideas out on the table, and figure out what to do."
The lagoon has suffered a calamitous die-off of seagrass in recent months, undermining the entire ecology of the estuary, threatening fish, dolphin and manatee populations.
Zorc said his second initiative would be to pursue an official study of job-attraction and job-creation in Florida counties that have strong job growth to see if there are tactics or programs Indian River County can adopt to become more competitive.
Zorc said he has conducted an informal study of the same type on his own, and wants to gather more information.
According to his campaign website, Zorc believes, "We need to recognize that we must be there to support our existing businesses but also [that] the County needs to be positioned to be an attractive place to re-locate too. We can no longer stand to have local homegrown business relocate to adjoining counties because the business climate is better there."
There were rumors during the election that Zorc would move to try and fire County Administrator Joe Baird, seeking two like-minded commissioners to join him in such an effort.
But Zorc said on election night he admires Baird and considers him one of the best county administrators in Florida.
"Joe Baird and Jason Brown have done a fantastic job keeping the county in in great financial shape," Zorc said. "They spend the county's money like it was their own. I look forward to working with Joe."
Once the contentious race for sheriff was settled in the August primary, the District 3 contest between Zorc and architect Donadio moved into the foreground as the race to watch in Indian River County.
It was an interesting contest, first, because it shaped up as a power struggle between the traditional Republican Party and the tea party for local political dominance. Zorc ran as the Republican candidate with the full backing of the party apparatus and financial resources, while Donadio ran as an unaffiliated candidate.
A lifelong Democrat, Donadio switched his party affiliation to Republican last spring, but not in time to run in the party primary.
Zorc beat Bea Gardner in that contest and IRC Republican Party Chairman Tom Lockwood ordered Republicans to back him.
The race also held attention because nobody seemed quite sure who would win.
Both candidates had substantial campaign teams and strong support as evidenced by contributions, endorsements, car stickers and the number of signs seen in yards and on street corners.
Donadio took in $55,000 in campaign contributions, including $15,500 he gave himself, while Zorc received $45,000, including $10,000 from the Republican Executive Committee of Indian River County and $7,500 from himself.
Zorc was endorsed by the Republican Executive Committee, outgoing District 3 County Commissioner Gary Wheeler, the Treasure Coast Builders Association and a number of businesspeople.
The mayors of Sebastian and Fellsmere backed Donadio as did a major segment of the business community and a number of tea party leaders.
Donadio aimed to pull together a coalition of independents, tea party members, Democrats and Republicans friendly to him because of his extensive work as a board member and volunteer with the Chamber of Commerce, Indian River Medical Center, Children's Home Society and other civic and philanthropic organizations.
Zorc was depending on his family's deep roots in Indian River County, his own political skills and the tendency of Republicans to loyally vote the party line.
Both candidates were involved in multiple lawsuits unrelated to the election that added an element of controversy and further enhanced interest in the race.
Zorc is embroiled in a series of high-dollar lawsuits with Pointe West developer Chuck Mechling, a tea party member who is one of Donadio's chief supporters. Donadio is being sued by the county and a condominium association for alleged professional failures that resulted in leaky roofs and other problems on projects he designed and supervised.
The two men's messages were not all that different. Like Zorc, Donadio campaigned on promoting conservative values, and cutting government waste. He pledged to protect the county's environmental treasures and promote youth sports.
In the end, Lockwood was able to deliver the Republican Party faithful, and Zorc won handily with 57 percent of the vote. The final tally was Zorc 36,627, Donadio 27,568.
Zorc and his wife Laura have four children. He had a formal campaign manager, Ed Dean, but said his wife was his chief campaign advisor.
"I attribute my victory to my faith, my family and Republican Party support  – and of course the voters of Indian River County who cast their votes for me."