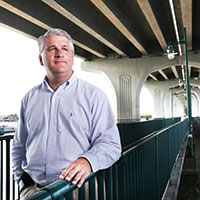 Zorc gains backing for workshop on saving the lagoon
STORY BY STEVEN M. THOMAS, (Week of November 29, 2012)
Photo: Tim Zorc: "The lagoon is a vital part of our economy."
At his first meeting after being sworn in as a County Commissioner, Tim Zorc followed through on a campaign promise and proposed a fact-finding workshop to help understand and hopefully began to reverse the decline of the Indian River Lagoon.
Zorc the candidate said he would make protecting Indian River County's environment a top priority and this month Zorc the commissioner said he wants to bring together a broad spectrum of scientists, environmentalists, political leaders and agency officials to define problems plaguing the lagoon and seek consensus on effective solutions.
"The lagoon is a vital part of our economy," Zorc said. "It is an asset we have that has been in decline for decades."
He contrasted the condition of the estuary as he saw it in the 1960s, when his father took him shrimping on the Wabasso Bridge on Friday nights, with conditions today.
"Back then, you could see abundant sea life flowing in with the incoming tide. If you hang a light over the bridge in that same spot now, you can't even see the bottom."
Zorc said he wants a gathering of experts to "cover the history of the lagoon, look at where we have lost seagrass and why we lost it. The second part would be suggestions to stop the decline."
He said he would like to see the county partner with a university to do research on lagoon issues and set goals for improving water quality with real-time monitoring and benchmarks to measure progress.
"We need to look at how well things we are doing are working and see where we can get the lagoon in five, ten and fifteen years."
The other four commissioners expressed support for the idea of a broad-based brainstorming session under county auspices.
"It is a great opportunity to get everybody concerned in the same room," said Commissioner Bob Solari. "I think everyone understands the lagoon is in peril and everybody in the county is going to have to work together [to solve the problems]."
Solari suggested holding the meeting in the Sebastian City Council chamber in March, after Harbor Branch Oceanographic Institute's annual lagoon seminar in February.
That two-day event brings together eminent scientists to present the latest research findings on trends and conditions in the lagoon, and Zorc agreed with Solari it would be good to incorporate the most up-to-date information in the county workshop.
The dilemma Zorc and the other commissioners are reacting to came into focus over the past year and half, beginning with "2011 Superbloom" of destructive, nutrient-fed algae that decimated the lagoon two summers ago, wiping out 31,000 acres of seagrass, which was 45 percent of the population in the affected area.
In June, St. Johns River Water Management District, Harbor Branch, Florida Fish and Wildlife Conservation Commission, Florida Institute of Technology, University of Florida, Smithsonian Marine Station at Fort Piece and other agencies and institutions announced a coordinated crash study of the superbloom to try and determine its exact cause or causes.
According to the study group, "from early spring through late fall of 2011, a massive bloom of phytoplankton and loss of seagrass occurred throughout most of the Indian River Lagoon system, extending from the southern Mosquito Lagoon to just north of the Fort Pierce Inlet. This bloom and seagrass decline far exceeded any past events remembered of documented in terms of geographic scale, bloom intensity and duration, and rate and magnitude of seagrass loss."
Last fall, scientists from ORCA – the Oceanographic Research and Conservation Association – mapped high levels of nitrogen pollution caused by fertilizer runoff in the area between the two bridges in Vero Beach.
Investigators found deformed oysters and other indications of ecological ill-health and the cities of Vero Beach, Sebastian and Indian River Shores passed fertilizer regulations to limit future nutrient pollution.
The crisis deepened early this year with the sudden, mysterious disappearance of all remaining seagrass between Grant, north of Sebastian, and the 17th Street Bridge in Vero Beach.
"There is no seagrass in that entire stretch, other than two tiny patches of shoal grass smaller than a desktop," said Grant Gilmore Ph.D. last summer. "We have created a desert out there and it has happened very quickly."
Other area scientists found the same devastation.
"I did surveys for two clients in the narrows, south of the Wabasso Bridge," said environmental consultant David Cox. "There was lush seagrass in that area previously. Now there is none."
One of the things most worrying to Gilmore was that he could not find any rhizomes where grass beds thrived in recent years. Rhizomes are root-like subterranean stems that send up shoots in season. In the past, even when beds died back, the rhizomes remained. This time there was nothing but muck beneath the former meadows.
Gilmore, one of two founding scientists at Harbor Branch Oceanographic Institute, wrote his doctoral dissertation on sea grass communities between Sebastian and Jupiter and is a leading expert on lagoon ecology.
He said the current seagrass loss is extraordinary, far outside normal seasonal fluctuations in grass acreage.
"Submersed Plants of the Indian River Lagoon," a book published in 2008, reports that each acre of seagrass produces more than 60,000 fish annually and the grassbeds are the foundation of the estuary ecosystem.
"The pigfish depend on sea grass," Gilmore said. "No sea grass, no pig fish. Pig fish is the favorite food of sea trout. And sea trout are the favorite food of bottlenose dolphins."
Manatee grass, formerly the most abundant species of grass in the lagoon, is the primary diet of the West Indian Manatee.
"If we lose that permanently, we lose our beloved manatees," Gilmore said. "Seagrass beds are where most of the biodiversity is. If you lose the seagrass, you lose most of the species in the lagoon."
Zorc said he would begin the process of selecting groups and individuals to invite to the county workshop and look into utilizing the Sebastian location and report back to the commission at a December meeting.
"It is obvious something has happened out there," said Commissioner Wesley Davis. "Something not good. We need to figure out what we can do – if we can transplant or reseed the grass."
"It is a good idea to bring everybody together to share ideas," agreed newly installed Commission Chairman Joe Flescher.