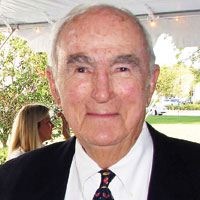 The man called Big: George Hamner Sr.
STORY BY MICHELLE GENZ, (Week of October 11, 2012)
Photo of George Hamner Sr.
The man everyone called "Big" passed away two weeks ago, and last Saturday, the crowd that turned out at Trinity Church to honor him was big enough to need folding chairs beyond pews.
Many had stories to tell about George Hamner Sr., 88, who during his lifetime was long on largesse but short on fanfare. He never wanted to draw attention to his generosity. Apparently, the 600 people who packed Trinity found out anyway.
Dr. Gerald Pierone recalled approaching Hamner in the mid-1990s to be on the board of his new AIDS clinic.  Hamner "wasn't your typical demographic" for such a role, Pierone said.
Normally, prospective donors were those who'd lost a loved one to the disease. Not so with Hamner. But the retired head of Indian River Citrus Packers, then in his early 70s, signed on "without hesitation," Pierone said.
Another blame-laden disease, addiction, was even closer to Hamner's heart.
For nearly four decades, Hamner was the "guardian angel of AA," as one family member put it, proudly attending AA meetings until the last weeks of his life. As many at his funeral Saturday knew very well, Hamner reveled in sobriety. He would drop what he was doing to go help with an intervention, and even slipped families money for treatment.
"He picked two of the most unpopular charities to align himself with and he did more to bring these to the forefront in a positive way than any ten people could have," said Kathy Hurt, director of marketing for Hanley Hall, the Vero treatment center Hamner helped found and build.
Hamner's efforts to help the desperately affected spanned the spectrum from affluent to unemployed. 
Using his connections with old Vero families, his island tennis and golf buddies and fellow citrus industry powerhouses, he helped raise $1.3 million to build  Hanley Hall, an affordable residential treatment center now affiliated with the Caron Foundation.
In contrast to that grand gesture, there were subtle shows of a shared humanity, kindnesses he wanted kept secret. 
If a family of someone undergoing treatment found that with the breadwinner gone, there was no food to eat, "food would suddenly appear at that family's doorstep," said Hurt. "He would do it with complete anonymity. The worst thing that could happen was if his good deed was found out. He just hated that."
In 1995, Pierone, a Vero-based epidemiologist, was raising money for his HIV/AIDS clinic in Fort Pierce, where the disease was ravaging not so much gay populations as heterosexual men, their girlfriends and spouses, and the children of their relationships.
"It was by no means a gay disease at our clinic," said Pierone. "I educated him about that. And I just got the sense that he would care and become involved."
Hamner not only joined the board – and sat his grandchildren down for a lecture on AIDS – but made the half-hour drive to Fort Pierce for the meetings. "He was a regular," said Pierone.
In particular, Hamner helped Pierone go through spreadsheets and financial statements – "not my cup of tea," said Pierone. "And he had some good ideas about thanking people. He was funny in that regard. He said, 'As soon as you get that (donor) check, you better have your thank-you card ready.'"
Hamner's  manners had a Southern sensibility; the minister at his service called his life "Faulknerian." Raised in the unincorporated town of Seale, Ala., Hamner often told the story of the time his father, superintendent of schools, was told to integrate. "We're already integrated," his father proudly said; there weren't enough people in the town to separate one from the other.
"He was a very conservative progressive thinker," said his daughter-in-law Toni Hamner.
After serving with an Army amphibious assault unit in the Pacific during World War II, Hamner earned a degree in mechanical engineering from Auburn University. There he befriended the cousin of Ann Graves, granddaughter of one of the Graves brothers whose vast saw mill and citrus business began here in 1919.
Ann was introduced to George while she was studying chemistry at Florida State University. The couple married and began a family, living 20 years in Atlanta while Hamner worked installing water systems across the southern states.
In 1966, Graves Bros. asked Hamner to join the family citrus business. He became head of Indian River Exchange Packers, and eventually was heavily involved in developing Japanese markets for local grapefruit.
Along with frequent trips to Japan, his life included monthly Rotary meetings and almost daily tennis and golf, and at middle age, he found a new ritual: weekly AA meetings. For 39 years, he not only encouraged others to liberate their lives from alcohol; he personally took great pleasure in the clarity that comes with a sober mind.
"He loved sobriety," said Toni Hamner. "Anybody who called him, he would do whatever it took to sit down with them and talk with them and find a meeting for them."
When retired chemical engineer Bill Hanlon first met George Hamner in the early 2000s, it was to talk over raising money for a lower-cost 30-day residential drug and alcohol treatment center in Vero Beach.
 Together with Jack Hanley, the retired CEO of Monsanto and the driving force of a far more expensive treatment center in West Palm Beach, they formed a board of directors in Vero. Within a year, they raised $1.3 million to build what is now Caron Foundation Hanley Hall, near Indian River Medical Center.
Hamner became chairman of the board of the organization.
"He had a burning desire to get that facility up and running," says Hanlon, who became CEO of Hanley Hall. "He was one of the toughest minded and warmest people I've ever known."
Much of the networking between Hanlon and Hamner took place over lunch every two weeks, typically at the Red Onion café near the hospital. There the two hit upon another passion: the asparagus sandwich, and stuck with it for the rest of their friendship.
"George liked to speak in three-word sentences. He didn't do a lot of blabbering. Because of that people might have thought he was a little cold. But when we went out to lunch, you couldn't sit in a restaurant without every second or third person coming over to say hello."
Hanlon was deeply moved by Hamner's unending support "before, during and after" Hanlon's wife's losing battle with cancer in 2007.
As Hamner's own health declined in September, he called Hanlon. "I'm not doing so well. We need to go get an asparagus sandwich," he said.
Four days later, Hanlon called to say he was bringing one over when he learned that Hamner had died.
Hamner was a "very, very, very spiritual man," said Toni Hamner, who attributed that quality to his deep belief in the 12-step program of AA and its concept of a "higher power" helping the alcoholic out of dependency.
"He considered sobriety the miracle of his life," said Ann Graves Hamner, his wife of 63 years.
Raised in the Methodist church, in Vero Hamner attended Trinity Episcopal Church and lent it his strong support during a turbulent time in the last decade when the congregation split over doctrine.
"He and Warren Winchester saved Trinity Church," said Toni Hamner.
While he was reverent in church, the aisles of the local grocery store were another matter, his daughter-in-law said. "You cannot imagine how many people would come up to me to say, 'Hey, I saw Big in the grocery store.' He would hold court in the produce department, telling people how to pick their citrus. People would hear that voice and go over to say hi."
Last week, one of those friends, Peter Robinson, found Toni Hamner after church and offered his condolences. "The Publix produce department will never be the same," he said.