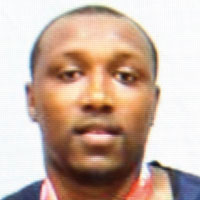 Guard carrying letter between prison cells only gets slap on wrist
STORY BY EILEEN KELLEY, (Week of October 11, 2012)
Photo of Deputy Chauncey Stovall.
The Indian River County Sheriff's Office suspended a jail guard for only 10 days after he delivered a letter officials called threatening from one accused killer to his accused juvenile accomplice.
Delivering a letter – which is considered contraband – from 24-year-old Henry Jones to another prisoner in the jail is prohibited, and it could be even more of a problem in the homicide case when it heads to trial sometime next year.
The sheriff's office began its investigation in May after teenage inmate Darius Robinson told his mother that Deputy Chauncey Stovall delivered the letter to his cell, and she reported it to authorities. 
Jones and Robinson are charged with killing Brian Simpson, a Center Beach homeowner who stumbled upon the pair inside his Fiddlewood Road home on Nov. 17.
Lt. Leroy Smith of the internal affairs division interviewed 12 people, including Robinson, Stovall, a former inmate, the former inmate's wife and several jail workers.   Surveillance tapes also showed Jones giving the letter to inmate Sterling Sutton, who then passed it on to Stovall. 
Investigators showed Robinson a photo lineup of five individuals similar in looks to Stovall, and Robinson picked number four, Deputy Stovall, as the man who brought Jones' letter to the cell.  
Stovall denied delivering the letter when questioned by internal affairs investigators.  He also did not return two phone calls from a Vero Beach 32963 reporter seeking his side of the story.
In September, the sheriff's office concluded its investigation and suspended Stovall for two weeks.
Stovall was a football star at Vero Beach High School, graduating in 2000. He went on to play at Florida State University.  The Philadelphia Eagles signed Stovall in April 2005, but cut him from the team in early September. He had a tryout with the San Diego Chargers later that month, but was not signed.
The disciplinary action against him by the sheriff's office was seen as a slap on the wrist because Stovell is allowed to serve his suspension a day or two at a time, spread over many pay periods so he does not lose an entire two-week paycheck.
News of the light punishment and guidelines that do not financially burden the deputy upset Robinson's mother.
 "It's ridiculous," said Octavia Ball. "It's tampering with evidence in this case. My son is a juvenile."
Smith sent her a letter last month informing her that the investigation was over and thanked her for bringing the matter to light.
"I think they are just pushing this off when something should be done about it," Ball said. "…What more (proof) do they need?"
Ball's son tells her that he still sees the deputy while in jail.
"He sees him walking around, he's like nothing happened to him," Ball said. "I'm trying to get him (her son) to focus on his case. But when an officer does something like that, it scares him because he doesn't know who is on his side or not."
The State Attorney's Office did not investigate to see if Stovell should face criminal charges because no one at the sheriff's office asked it to investigate.
"No one has presented it to me," said Assistant State Attorney Steve Gosnell, the lead prosecutor when the Simpson case goes to trial. "… I haven't charged anyone. Nobody has brought any charges for me to consider."
Gosnell said it could be difficult to prove that Stovall was knowingly tampering with evidence.
When asked why the sheriff's office didn't pursue criminal charges against Stovall, Smith, the internal affairs investigator, said he'd have to refer to his notes. 
Smith then called Vero Beach 32963 and said he wasn't authorized to talk about the case. He referred all questions to Jim Harpring, the attorney for the sheriff's office, who said Stovall's suspension was not done on the spot and the deputy continues to work although he has served some days of his suspension.
When asked how the process works, Harpring said it is up to Stovall's superiors to figure out what days the deputy will be sent home without pay. He said the sheriff's department does not typically suspend people for a block of time because the department might have to pay someone overtime to cover a suspended employee's shift, and because it doesn't want to burden the employee financially.