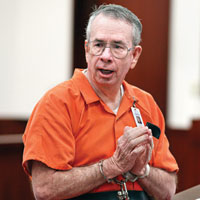 Restitution unlikely for Hatch victims
STORY BY LISA ZAHNER, (Week of October 25, 2012)
Photo of Ira Hatch.
Five years after convicted swindler Ira Hatch shuttered the doors of Coastal Escrow in the fall of 2007, most of the 700 victims of Hatch's crimes have not seen one penny of the more than $4 million in cash they entrusted to the former barrier island attorney.
And few of them seem likely to ever see restitution. Hatch lost his appeal last week to overturn his 30-year prison sentence, meaning the 65-year-old will likely die behind bars.
Over the past two years, a handful of victims have recovered money from Hatch's malpractice insurance, but dozens of others hold worthless court judgments against him than run into the millions of dollars.
One barrier island real estate company whose agents and principals personally made good the money their clients lost from the Coastal Escrow meltdown, Norris and Company, recently settled a lawsuit it filed against Marjorie Hatch seeking $240,000 in damages.
Marjorie Hatch was listed as an officer of Coastal Escrow and witnesses testified she was closely involved with the businesses and aware of the finances during the three-year period when the money went missing.
"My clients entered into a confidential settlement agreement with Mrs. Hatch in particular. Pursuant to that agreement all we can say is that . . . any litigation has ended," said attorney John Stewart of Stewart Evans Stewart and Emmons.
One of the people not made whole by the court system was Hatch's former law partner Kevin Doty. 
"It devastated Kevin, not only him personally but it also devastated his law practice," said Doty's attorney, Louis B. "Buck" Vocelle, who also lost $32,000 to Hatch in money from an insurance settlement that Hatch took from his law firm.
Doty sued Hatch for nearly $600,000 in losses, but, according to Vocelle, "Doty's case is over."
Asserting that Hatch & Doty funds were used to pay the mortgage on Hatch's Castaway Cove home, Doty attempted to attach the $550,000 declared equity in the home.
But that effort did not succeed, as Marjorie Hatch, who divorced her husband while he was awaiting trial, sold the Castaway Cove home in September 2011 for $1.05 million, paying off the mortgage and taking the rest with her to Gainesville where she moved to be near her daughter.
"Kevin and I both have judgments against Ira Hatch because of the restitution order and those are the same as a civil judgment," Vocelle said. "That's about all we can do at this point unless somebody finds the Krugerands he buried in the backyard. There were no assets from which to recover."
Vocelle, who also represented victim Bob Lowe, a personal representative for a million-dollar estate that got gobbled up in the Coastal Escrow thievery, said he has no issues with the prospect of Hatch dying in prison for what he did.
He said local attorneys like Ira Hatch, Richard Brown and Ronald Rider – who have been convicted of robbing clients – have become a cautionary tale in Florida Bar ethics courses attorneys are required to take to maintain their law licenses.
"When you have somebody that's breached their client's trust, because he's a lawyer he's held to a higher standard and judges don't take too kindly to that," Vocelle said.
While Hatch and others lost their licenses, a growing number of clients lost a certain amount of faith and trust in the professionals to whom they hand over their money.
"This was a very innocent community before Ira Hatch," said Dottie Emmons, who left a career in banking to found Oceanside Title and Escrow in 2002. "Nobody ever thought anybody would do anything like this."
Since Coastal Escrow closed, Emmons said many real estate brokers have once again started holding  money for deposits and client closings in their own escrow accounts.
Hatch moved to the area from South Florida after some shady deals in Broward and began to court Realtors and their escrow cash with seminars, lavish client parties and door-to-door service with checks delivered the same day.
Emmons said she had known Hatch for years, and though she rarely handled a transaction involving Coastal Escrow, she did have one closing pending in September 2007 when she heard that a large check written on a Coastal Escrow's Vero Beach bank account had bounced.
Hatch was holding $28,000 that one of her clients needed to close a sale. It was the Friday before Labor Day and Emmons said she figured she should get that money.
"I told my husband that Ira's checks were bouncing and my husband, being retired Secret Service, went with me to visit Ira in person," Emmons said. "He gave us a hand-written check on a bank in Stuart and we drove to Stuart and cashed the check."
Emmons and her swift action made her one of the very few lucky ones. Others were simply met with unreturned phone calls and emails, locked doors and a cryptically worded fax saying Coastal Escrow was closed after Labor Day 2007.