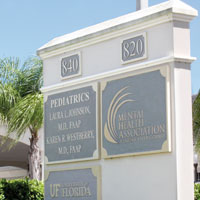 MHA retains an attorney to probe its 'personnel policies'
STORY BY MEG LAUGHLIN, (Week of October 18, 2012)
The Mental Health Association announced late Monday it had retained an attorney to conduct an independent probe of its "personnel policies" following disclosures by Vero Beach 32963 that it had employed counselors whose licenses had been revoked for actions in previous jobs and who in one case had been arrested.
The announcement came four days after representatives from the main groups that fund the Mental Health Association met privately to discuss what to do on the heels of the latest troubling revelations about internal problems at the agency.
"MHA provides crucial services in the mental health continuum," said Michael Kint, chief executive officer of the Indian River County United Way, speaking for everyone at the meeting. "We need it to be a strong and effective agency."
In a statement, Kristine Sarkauskas, president of MHA, said the organization had retained the law firm of Rossway, Moore, Taylor and Swan to investigate concerns about the "personnel policies, practices and procedures of this organization, and its leadership, myself included."
The board of directors of MHA is scheduled to address these questions, she said, at its Oct. 25 meeting.  Attorney Helen E. Scott, a specialist in management employment law, has been "asked to investigate these concerns and make specific recommendations to the board.
"I am determined that our Board of Directors possess all the information that it needs to expeditiously and wisely ensure that the people of Indian River County consistently receive the highest level of mental health care possible," Sarkauskas added.
An MHA patient told Vero Beach 32963 last week that her counselor touched her inappropriately and sent her flirty text messages over a period of several months in what she viewed as an ongoing attempt to have a sexual relationship with her. The counselor, Michael Fitzgerald, said he had done "nothing inappropriate."
Fitzgerald previously had his state license as a counselor suspended for three years for having sex with a patient in Tampa.
That revelation is the second time in less than a month that questions arose about MHA's hiring standards and just how carefully the agency screens job applicants or assesses red flags in their backgrounds.
A few weeks before the information about Fitzgerald surfaced, Vero Beach 32963 reported that MHA clinical director Irene Acosta was not licensed to practice in the mental health field because her degrees – a bachelor's, master's and doctorate all obtained in only 28 months – were from an online diploma mill.
A background check revealed Acosta had already been convicted of a misdemeanor in Florida for practicing without a license when MHA President Sarkauskas hired her.
"Kris Sarkauskas was well aware of my arrest and licensing problems when she told me to work with patients on the floor," Acosta said recently.
Weeks ago, Sarkauskas told Vero Beach 32963 that she did know of Acosta's arrest and licensing problems shortly after she hired her, but viewed her as "the victim" and thought "she was great with clients."
Sarkauskas now says, however, that she knew nothing of Acosta's arrest and conviction before Vero Beach 32963 revealed them less than a month ago.
In the Fitzgerald case, Sarkauskas also said she knew nothing about the allegations when the patient reported them to the clinical director in April.
But MHA board Chairman Bob Young said Sarkauskas told him recently that she knew about the allegations and that she was involved in removing Fitzgerald from one-on-one counseling sessions with women.
Sarkauskas did not respond to Vero Beach 32963 requests for clarification over these discrepancies.
On Thursday, representatives from the three main organizations that give MHA money discussed what to do about what they call "significant issues" at MHA.
At that meeting were Tom Spackman, board chairman of the Indian River County Hospital District, which gave MHA $363,000 in local tax dollars last year; Ann Marie Suriano, executive director of the Hospital District; Kint, CEO of the United Way, which gave MHA $80,000 in the last year; and Lenora Ritchie, executive director of the Robert F. and Eleonora W. McCabe Foundation, which gave MHA over $122,000 for the clinic in the past year.
Most people agree that MHA provides an invaluable service. They don't agree, however, on how well the public nonprofit is managed internally.
A look at frequent staff and board turnover raises questions about what's going on inside MHA – apart from the recent revelations.
But most former employees and board members are reluctant to speak publicly, they say, for fear of putting the greatly-respected MHA funding sources in an embarrassing situation.
MHA board member Joe Smith, who resigned in early 2011 along with several other board members, was one of the few to speak publicly. Smith was quick to say that MHA provides an invaluable service but he questioned how it was managed when he was on the board.
"Suffice it to say," said Smith, "that MHA management needed more direction than we had time to give."
Direction in what areas?
"Ethics and day-to-day finances," said Smith. "They're a very worthwhile organization but there were key internal issues that needed to be flushed out, and it was going to take more time than we had."
According to its tax records, the Mental Health Association took in over $1.1 million between June 30, 2010 and July 1 , 2011, but spent over $1.2 million. As a result, the nonprofit operated at a deficit of $72,000.
Thursday, the three major fundraisers said that, in light of recent problems, they are committed to taking the necessary time to work with MHA management and its board to solve its problems.
"We are moving in the right direction," said Spackman of the hospital district. "We are carefully monitoring MHA."
"There has been and will continue to be communication among local funders of the organization and the board and staff of MHA," said Kint. "We are very much engaged and are not walking away from this."
Former board member Smith said he was relieved to hear of the increased involvement of the major contributors with MHA management.
"The organization collects a lot of money, and the community needs to know what's going on," he said.