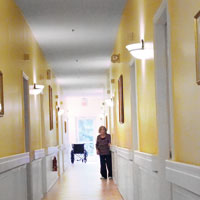 A doctor, his beloved patient, and a sad tale of growing old
STORY BY MEG LAUGHLIN, (Week of October 4, 2012)
Photo: Delia Basile outside her door in nursing home.
Photo below of Dr. Splendoria.
Delia Basile, 91, sang "Down by the Riverside" in Italian and broken English on Friday morning with a group of neighbors at the nursing home where she lives, oblivious to the court battles swirling around her.
Those battles involve Basile's former doctor, who lives in Indian River Shores, a public guardian, three attorneys, a judge, several real estate investors, an online auction house and a stack of court documents almost as tall as she is at four-foot-eight.
At issue: Can Basile's doctor and friend, Art Splendoria, win a court battle to buy her condo for her? If he does, by overcoming online auction results and a lower court decision, can he get her guardian's consent to move her back to that condo despite her increasing mental impairment? And, would that be in her best interest?
In the late 1980s, Basile, who grew up in Bologna, Italy, moved to Vero Beach from New York with her husband Anthony who was a costume designer for Doris Day and Rock Hudson. Basile cut and sewed the clothes.
In Vero Beach, she became the tailor at Frances Brewster women's apparel shop and also designed and made gala gowns for several island philanthropists. She was known as a talented tailor, an impeccable dresser, and an opera and art lover.
After her husband died, she bought a condo on the Indian River in the late 1990s.  Her problems began in 2009, when foreclosure proceedings were initiated on her light-and-airy waterfront condo.
It's an all-too-familiar story: Basile, a homeowner with no family nearby, developed severe short-term memory problems at the age of 88 and, among other financial messes, didn't remember to pay her mortgage.
There is some back-and-forth between friends, banks and lawyers over what happened to $96,000 she got to refinance her condo in 2007 and what happened to other money – about $100,000 – that a friend said bank statements showed she had in 2009.
But her current, court-appointed lawyer, James Covey, said that the $96,000 went to pay her mortgage, and the problems arose when she didn't pay the monthly notes on the $96,000. 
As for the $100,000 in the bank, Covey said Basile has some money, but he will not say how much.
Basile was pronounced incompetent in 2009 four months after foreclosure proceedings  on her condo began.
Covey and public guardian Judy Mace took over her affairs and care after a court hearing. Fearing Basile would be evicted and she would run out of money as her memory problems increased, Mace took steps to move her out of her home to an adult living facility/nursing home late last year. 
While Basile's sad story is not unusual, what happened next is: Splendoria, Basile's doctor for the last decade, cared so much about her that he tried to buy her condo at an online auction so she could continue to live there.
"Her home is all she has," said Splendoria. "She feels safe there. I feared she would spiral downward rapidly, as so many people do when they're taken from their homes and put in a nursing home."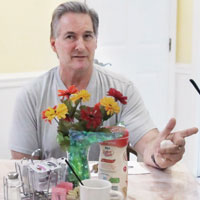 The doctor's plan, however, was thwarted because on April 30, a software complication during the online auction declared him the loser of the auction, and the condo went to another bidder.
Splendoria went to court over how the auction worked and whether he or the other bidder should have been awarded the condo. Deciding who was the winner depended on a futuristic, esoteric point over how the judge viewed real time as opposed to virtual time.
In brief, this is what occurred: In the online auction, Splendoria put in the high bid on the condo ($130,000) and in a fraction of a second that bid triggered the other bidder's equal offer, which had been put in six minutes earlier and was waiting in the wings of the automatic system, ready to appear if the bidding number reached that amount.
When it did, the other bidder's offer showed up as coming in first at 10:03 a.m. on April 30, with Splendoria's bid coming in at 10:09 a.m. But in real time, Splendoria's bid at 10:09 a.m. came in first in the bidding, triggering the 10:03 a.m. standby bid, which was waiting in the wings, if needed.
Circuit court judge Cynthia Cox ruled in early September in favor of the virtual-time bid at 10:03 instead of the real-time bid at 10:09, and Splendoria's opponent, who, the judge wrote, had  placed the "high proxy bid of $130,000 at 10:03 through the automatic bid system," got the condo.
The judge did not credit Splendoria's bid with triggering the opponent's bid, which came  a nanosecond later, but said Splendoria's bidder (his brother Bob) was not paying attention to a message that said "you do not have the high bid," and should have continued bidding beyond the $130,000 to get the condo.
Splendoria's position: "Why should we have to bid more when we put in the high bid first that should have made us the winners? The problem is with the online auction software – not with our bid, which, in real time, came in first."
On Friday afternoon, Splendoria's attorney filed an appeal on his behalf, which means Splendoria is still fighting to become owner of Basile's foreclosed condo – despite losing in the lower court.
In late May, a month after Splendoria lost the condo, Mace, with the help of a nursing assistant, moved Basile to Paradise Care Cottage in Port St. Lucie, over the fervent objections of Splendoria, who still was determined to be declared the condo owner and keep Basile in her home.
"Delia had had some problems previously, but she had been stabilized for almost a year and was doing fine in her own home," said Splendoria.
The move itself was not pretty  with Basile screaming "no" and biting and clawing anyone who tried to pull her out of her 1,400-square-foot condo, until  a few hours later when a soft-spoken police officer managed to get her into a waiting car.
Right after the move, a furious Splendoria e-mailed Mace: "You should know that displacing a thriving 90-year-old senior with cognitive impairment into unfamiliar surroundings is not in her best interest."
He called the move "elder abuse."
Mace didn't agree. "My confidence level in our ability to keep Delia in her own home was not what Dr. Splendoria's was. He cares very much for her. I don't question that. But we had no choice but to move her."
In the four months since the move, Splendoria visited Basile at Paradise Care four times and kept a written record of her condition, describing her as "clean but unhappy in her current environment."
The entries continued until late August: "Sleeping at 3:15 PM...impaired mobility...weight stable...mobility improved...doing pretty well...appears capable of living at her condo...."
Neighbors and friends of Basile's at the Tarpon Island Club, where her condo was, agree on two points: Splendoria was, without question, very good to her for over 10 years. They tell of his visiting her almost every weekend with lunch and sitting with her at the condo for hours. They talk about his family taking her in after hurricanes. They say it was clear she loved and trusted her doctor, and he cared deeply for her.
But they also say Basile's cognitive impairment was increasing. Her home became filthy and she also became dirty and disheveled, making them wonder if she could – or should – survive on her own in her condo.
"Her hygiene had improved before she was moved and her condo was cleaner," said Splendoria. "I think Delia could have managed with help."
Lawyer Covey,  Mace's ex-husband and her attorney as guardian, said it would cost over $9,000 a month – money Basile doesn't have – for round-the-clock care to keep Basile at home even if Splendoria bought her condo and paid all fees.
Mace said she didn't know if it would cost that much to keep Basile at home, but she thought that after some adjustment  Basile appears to be better off under supervision at the adult living facility/nursing home in Port St. Lucie.
Splendoria said he wishes she were closer to Vero Beach so, at the very least, he could visit her more often. He also regrets that he has been replaced as her doctor by Paradise Care, which has its own physician.
"I do think Judy Mace has done a good job, " said Splendoria. "But it's hard to believe that the people at the home are as concerned about Delia as I am."
In the past year, Basile has practically forgotten how to speak English and mumbles in Italian.  At Paradise for four months, she watches old WWII movies on a flat screen TV in her 240 square-foot carpeted room, which has a fridge, microwave, dresser, and twin bed, and a private bathroom.
She goes to the dining room for meals and kisses the hands of visitors. She proudly shows off her few possessions – some stuffed animals and statues, a silk flower arrangement and a few pairs of donated pants and cotton tops.
She is robust, bright-eyed, and smiles frequently.
Splendoria visited her Saturday and said he found her "in good condition, doing well." Still, he is quick to say he has not given up on the thought of buying her home for her and trying to move her back there.
Would Mace consider returning her to her home? "Absolutely, if we can work something out with care and supervision," she said.
But Paradise Care manager Tina Bass said Basile is "better off than she has been in years and loves the social activities" at her new home. She worries that moving Basile again would be "traumatic" and she would not be as happy "alone and confused in her condo."
At Friday's karaoke sing-along, Basile stomped her foot in time with the music and spoke Italian as the words of a song flashed across a TV screen and a singer with a mike cheerfully led Delia and four other women, who attempted to sing, "Gonna lay my burden down, down by the riverside."
At this point in her life, however, it appears unlikely that Basile will lay her burden down, down by the riverside, at her old condo.