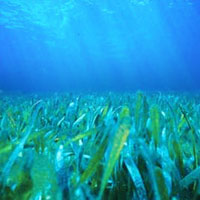 Vero urges state to move up assessment of lagoon
STORY BY EILEEN KELLEY, (Week of October 25, 2012)
Vero Beach City Council members urged a state scientist who monitors Indian River Lagoon seagrass and water quality to return to Tallahassee and tell Department of Environmental Protection officials that aggressive action needs to be taken to stop the loss of the lagoon's biologically vital seagrass beds.
Councilors said they are concerned that a full-scale assessment of the declining seagrass problem is still five years away.
Councilwoman Tracy Carroll called the lagoon's poor health a significant environmental disaster that needs immediate attention, not a look years down the road.
Since 2009, the lagoon has been listed by the environmental agency as impaired because it was not meeting water quality standards, much of that due to too many nutrients running into the lagoon and damaging the seagrass beds which provide important habitat for fish.
Seagrass is important both ecologically and economically to the area because a healthy lagoon increases property values, tourism and fishing, all factors that drive the local economy.
DEP coordinator Mary Paulic told the City Council last week that seagrasses are responding to the city's water quality projects over the last decade and meet Department of Environmental Protection targets.
Paulic applauded the city for aggressively tackling the matter by passing a fertilizer ordinance and filtering storm water.
While the city has taken those steps, Indian River County commissioners have failed to muster any enthusiasm for a fertilizer ban.
After applauding city efforts on the lagoon, Paulic delivered the bad news: Algae blooms are showing up in the lagoon just north of the county line.
"I've been made aware by several different folks of losses of seagrass in this part of the lagoon with no good explanation or understanding of what is causing it," Paulic told the council. "So we have some work cut out for us in the next five years."
Paulic said the seagrasses will be evaluated next year, again in 2015 and then another full-scale assessment will be conducted in 2017.
Two City Council members urged Paulic to reconsider the full-scale assessment timetable.
"I'm still a little bit shocked with the long planning horizon," said Mayor Pilar Turner.
"If we continue to see this kind of deterioration and then have to wait another five years to come forward with a plan, (that's) very frightening," said Turner.
Councilwoman Carroll said a number of fishermen and others familiar with the lagoon's water say the seagrasses have been eviscerated from the Sebastian Inlet to the Barber Bridge.
"They (the grasses) are dead," Carroll said. "No seagrasses mean we have no infantile fish. We have nothing for the manatees to eat. We have no fishing that can take place because there is nothing for the fish to eat throughout the entire area.
"To me, that seems like a significant environmental disaster," Carroll said. "Something has occurred and yet we are hearing from the experts that nobody knows yet what has happened.
"Is this not a cause for the Department of Environmental Protection to immediately call a conference and put some funds into this and find out what has occurred and (find out) what we can do immediately to stop this," Carroll asked. "In 2017, we are going to look at seagrasses and that is way too late."
Paulic told council that the efforts of the St. John's River Water Management and the University of Florida have been stymied by budget cuts but she pledged she would carry the message to Tallahassee that the city wants more action taken now to find out what's causing the algae blooms and killing the seagrass.
Meanwhile, Turner asked City Manager Jim O'Connor to explore whether any special funds or grants are available to do that work now.