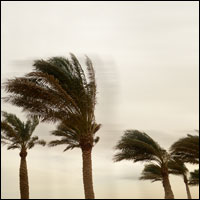 Wind insurance becomes growing problem
STORY BY STEVEN M. THOMAS, (Week of October 18, 2012)
A campaign by Citizens Property Insurance to raise premiums and reduce its risk exposure makes it more difficult and expensive to insure many homes on the barrier island, and is causing problems for some homebuyers and real estate agents trying to close deals.
The campaign is driven by Governor Rick Scott, who says the state-backed insurer of last resort is drastically overexposed, a claim disputed by independent fact checkers and policyholders who have sued Citizens, alleging unfair and deceptive practices aimed at fattening the company's bottom-line.
Michael Thorpe, co-owner of Treasure Coast Sotheby's International Realty, says getting affordable wind insurance, "is infinitely harder this year compared to last. We have people who actually had to go out and get new roofs at a cost of $20,000 or $30,000 in order to find affordable insurance."
"Citizens is depopulating its current risk exposure," says Todd Marchant, a risk advisor with Vero Insurance. "They were by far the cheapest game in town but now they are wanting to minimize their risk in the wind portion."
Using a longer and more demanding set of wind mitigation criteria issued last year, Citizens is reinspecting homes of policyholders and increasing rates or canceling polices when houses do not measure up to new stricter guidelines for storm resistant windows, doors and roofs.
 "Premiums went up for nearly three-fourths of the 225,502 homeowners who have had the inspections," according to an article in Fort Lauderdale's Sun Sentinel newspaper.
The company, which is the largest property insurer in Florida with 1.4 million policies, is also refusing to insure some structures it used to cover.
"They are not insuring builder's risk anymore and they are not getting involved in anything north of $750,000," says Marchant.
That leaves out a large number of island homes, forcing new homebuyers to look elsewhere at a time when other companies are also pulling back from coastal property insurance in the aftermath of several costly hurricanes in the past two decades.
"One of the problems we have is some insurers bowing out of the market entirely," says Thorpe. "They won't write any more polices within several miles of the ocean."
"You may have 100 carriers willing to write a policy for a house that is inland," says Marchant. "When you go onto the island, that drops to 50 carriers. And when you get to older homes that are direct oceanfront that drops to maybe three or four."
"In my opinion, when that happens, when you have that much less completion, the remaining insurers are free to change their guidelines and radically increase their rates," says Thorpe.
Citizens was created as a safety net to protect homeowners against the type of behavior Thorpe mentions.  But under Scott, the safety net is being withdrawn.
The company says it is simply trying to align premiums with risk reality but critics disagree, alleging that Citizens is jacking up rates, often by thousands of dollars a year, without proper regard for the rights and needs of policyholders or applicants.
The state-backed company has traditionally been governed by the legislature but current rate hikes and coverage refusals are being overseen by an unelected eight-person board appointed by Governor Scott and driven by Scott himself.
Over the past six months, Scott has claimed in a number of venues that Citizens has more than $500 billion worth of risk and only about $6 billion in cash surplus.  PolitiFact Florida, a joint venture of the Tampa Bay Times and the Miami Herald, reports that talking point is "mostly false."
"The $500-billion number vastly overstates what Citizens might have to pay in even the most vicious storm season imaginable," according to PolitiFact Florida. "And the $6-billion figure undercounts Citizens' ability to pay claims.
"So those numbers are not the appropriate figures to use when determining whether the insurer is going to be able to pay the bill after a storm. More appropriate numbers would compare Citizens' total claims-paying ability (about $19.5 billion) to the damage caused by a once-in-a-century kind of hurricane (about $21 billion)."
Homebuyers who get mortgages are less likely to be surprised by a home's uninsurability or unexpectedly high wind insurance costs because banks require insurance to be in place before closing, but those buyers could still lose earnest money if there is no wind mitigation report contingency in the sales contract and the house's wind resistance is judged faulty by Citizens or some other company.
Cash deals, which currently predominate on the island, are the ones where a buyer is most likely to step on a landmine.
"There should be a major requirement to have a wind mitigation inspection early in the buying process," says Marchant. But he admits, "Not everyone does it. Sometimes when people pay cash they don't worry about it."
"If you are not careful, you can find the house you just bought or you are contemplating buying has some real challenges in terms of insurability," says Thorpe.
Homebuyers from other areas where hurricanes are not a threat are especially prone to overlook the importance of finding out how wind resistant a house is before signing on the bottom line.
It may never cross their minds that under Citizen's new guidelines, a home with a gable roof is more likely to be uninsurable or more expensive to insure than a house with a hip roof because the hip roof structure is stronger, and they are unlikely to question a seller about the nailing pattern of roof sheathing, discovering only after they own their dream home that the plywood was not nailed down with as many nails, or nails as long, as Scott's board now requires.
Even if sheathing was fastened down in compliance with existing building codes when the house was built, roofing material might have to be torn off and replaced so the sheathing can have nails added if a Citizens inspector comes knocking.
Marchant says 10 to 15 percent of island homeowners do not carry wind insurance, in some cases choosing to self-insure, and in others because of the high cost or difficulty of obtaining it.
Thorpe says the new insurance environment will end up changing the way homebuyers evaluate the desirability of homes.
"Going forward, I think people will not necessarily be looking for the least expensive house but the house that is most compliant with wind mitigation requirements," he says.