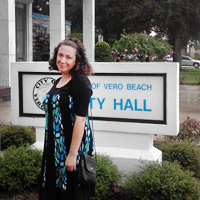 Vero Council candidate's husband is ex-con with long arrest record
STORY BY EILEEN KELLEY, (Week of September 13, 2012)
Photo: Program manager Gabriel Alsenas.
The campaign treasurer and husband of a political newcomer who has filed to run for a seat on the Vero Beach City Council is an ex-convict who has been jailed numerous times in Indian River County and served at least two prison sentences in Georgia.
A records search of the name Jason Kozdra reveals a series of mugshots from his various arrests, and postings on blogs and social media websites such as Facebook that portray him as a bombastic 40 year old who delivers anti-government attacks laced with profanities.
Kozdra recently updated his Facebook page to feature a photograph of his 43-year-old wife Karen Kozdra standing in front of Vero's City Hall.
"My wife is challenging the establishment in a big way," Kozdra's post reads. "She wants to know why in the City of Vero Beach we are paying a City Manager $80,000 to do a job that others have offered to do for $40,000? Why do we have millionaires Lording (sic) it over Vero Beach? Why do we have dynasties such as the Fletcher Dynasty Lording (sic) it over Vero Beach. This city belongs to the PEOPLE!"
In the spirit of fact-checking, City Manager Jim O'Conner was actually paid considerably more – $145,000 – when the city hired him last year to run the city.
In another posting about his wife's campaign for the council, Kozdra said: "Immediate reductions in the size of government. Getting back to the basics!
Two phone messages were left at Karen and Jason Kozdra's home over the past few days, though none were returned.
Little is known about Karen Kozdra.
Paperwork filed with the City Clerk's Office says she works at a Dollar Tree. Other paperwork about her candidacy indicates she attended Vero Beach High School and has never been convicted of a felony.
The latter isn't something her husband can say for himself.
In August 1994, Jason Kozdra was sentenced to five years in prison and 10 years of probation on a theft conviction. In 2003, he was sentenced to three years in prison for making terroristic threats.
In 2006, Kozdra found even more trouble in Vero Beach.
On July 4, 2006, Vero Beach police were called to a rental unit on 19th Place and found a woman with bruises and a bloodied mouth. The woman told police that Kozdra, who apparently was an apartment manager for the Atlantic Auction and Realty group, told her he was evicting her and twisted her arms, pushed her down on the bed and punched her in the mouth.
By October 2006, Kozdra was a wanted man again when police put out a warrant for his arrest for battery on a man a month earlier.
Another warrant was issued for his arrest in December 2006 when, according to police reports, Kozdra showed up at the 19th Place rental unit wanting to show it to a potential renter and again got into a verbal and physical altercation with a woman. 
The woman told police that Kozdra punched her in the mouth. While she was on the phone calling for help, police reports say that Kozdra, attempted to run her over with his van. 
He was arrested on assault with a deadly weapon charges. Those arrests caused Kozdra to violate the terms of his probation from his prison sentences in Georgia.
Kozdra was in trouble again 2½ years ago in a bizarre case that left a victim out $102 in cash and holding a business card with Kozdra's name on it.
Several witnesses say Kozdra jumped out of a car at a bus stop and walked over to a 73-year-old man. He held the man and shoved his hands down the man's waistband to pull out a yellow bag that contained a key and $102 in cash.
Kozdra then jumped into the passenger seat of a gold Honda and it sped off. In an attempt to stop the car, the man fell into the road and cut his arm, hand and head, police reports state.
The victim had a card he said Kozdra gave him and police dialed the number.
When police asked Kozdra if anyone was handing out his business cards, he replied that he has a lot of fans and didn't know anyone who owned a Honda.
In the latest case, the State Attorney's Office dropped the charges after the victim failed to cooperate.
Efforts to reach Kozdra and his wife were unsuccessful, although in an e-mail he said: "We're willing to enter into discussions with you. I am very careful about who Karen is going to speak with as far as the media is concerned."  He did not return a phone call
Karen Kozdra is one of seven city residents vying for the three spots that are up for election this year on the City Council.  The deadline to apply was 5 p.m. last Friday.
Mayor Pilar Turner, Vice Mayor Craig Fletcher and Councilmen Jay Kramer's seats are up for grabs. All three are seeking re-election.
Also joining the November race is perennial candidate and former Council member Brian Heady; islander and attorney Dan Stump, the former president of the Indian River County Taxpayers Association; and islander, and attorney Nick Thomas, who in August finished third behind Heady in the race for the County Commission seat held by Bob Solari.