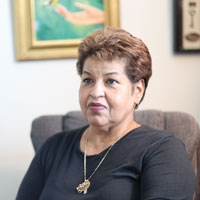 'Doctor' Acosta: No counseling license, no real degrees
STORY BY MEG LAUGHLIN, (Week of September 20, 2012)
Photo: Irene Acosta: Jailed in 2004 for practicing mental health counseling without license.
The clinical director of the Mental Health Association has been practicing mental health counseling without a license since she was hired here a year ago – something that landed her in jail in Osceola County in 2004.
Irene Acosta, who calls herself "Dr. Acosta" but lacks even an undergraduate degree from an accredited university, took an unpaid leave of absence from her job Friday, one day after being questioned about her arrest and conviction, and how she now can practice in the state of Florida without a license.
"Helping people is my life," she said. "I see people walk in here, and I immediately love them and want to make their lives better."
Kris Sarkauskas, president & CEO of the Mental Health Association who hired Acosta, late Monday said:  "We're on this and we're gathering facts.  We plan to take action."
"We acknowledge she doesn't have a license," said Bob Young, MHA board chairman. "But no one has suffered from her treatment."
Public records show:
In January 1999, Acosta, who was then 48, received a doctorate in psychology from an online college, Newport University in Newport, Calif., which has never been accredited by any agency approved by the Council of Higher Education or the U.S. Department of Education. The for-profit school, which has since renamed itself Janus University, has been described as little more than a "diploma mill."
The unaccredited doctorate, which she got online in less than two years, came on the heels of both master's and bachelor's degrees, which she got online from the same school in six months.
Acosta acknowledged her alma mater was not accredited by any recognized organization, but says she "learned a lot in the program."
She somehow then obtained a license as a mental health counselor and practiced in Florida for almost four years before the Florida Department of Health told her she could not be licensed to practice because she lacked a degree from an accredited college. Department of Health records show she voluntarily relinquished her license in 2003.
Less than a year later, Acosta was practicing in Kissimmee without a license, according to records at the Osceola County Courthouse and the Osceola County Sheriff's Office.
After three undercover detectives went to her for several therapy sessions and paid cash without getting receipts, she was arrested and charged with practicing without a license.  
"It was horrible," she told Vero Beach 32963. "If I go to jail a second time because of this investigation you're doing now, I don't think I can survive it."
But Acosta could face similar charges.  On Feb. 9 of this year, after working at MHA for over five months as clinical director and counselor, Acosta and her attorney asked the State Board of Clinical Social Work, Marriage and Family Therapy, and Mental Health Counseling to reinstate her Mental Health Counseling license.
The board denied her request.  Nevertheless, she continued counseling and supervising counselors at MHA, until meeting with a Vero Beach 32963 reporter Thursday.
At that time, Acosta, with tears rolling down her cheeks, said she would distance herself from the organization. Her unpaid leave began Friday morning.
"I don't want to do anything that could harm this organization, so I'm stepping aside until the issues are resolved," she said.  "This field is my life; it's all I know.  I would never intentionally break the law."
"It's good that it was her decision to leave," said MHA Medical Director Erwin Ramos, a psychiatrist.  "She took an important first step."
After her arrest in Osceola County in 2004, she pled guilty to a misdemeanor for practicing without a license.  She got a year of probation and was ordered to pay $3,650 in fines and restitution. At the end of the order, the judge wrote:  "Must abstain from any practice in mental health counseling, psychology or in counseling for the courts."
"It didn't say forever," said Acosta.
Whether the judge meant the ban to apply in the future or simply during her probation is not clear, and she did not return calls asking for clarification.
Nevertheless, Acosta left the mental health field for seven years. She worked as a disaster relief coordinator for FEMA in Alabama and Florida, helping victims get money and resources, until the summer of 2011, when she saw an ad in the Orlando paper and applied to be clinical director of the Mental Health Association in Indian River County.
Sarkauskas said she hired Acosta because of her "vast government and mental health experience and because she was bilingual." Acosta began working as clinical director of the association in September 2011 at a salary which Sarkauskas described as "not six figures, under $72,000."
Sarkauskas said she knew Acosta was not licensed as a mental health counselor when she hired her but didn't know she had been convicted of practicing without a license. Nor did she know that the state didn't recognize Acosta's degrees, she said. She thought the licensing hold-up had to do with her need to pass exams.
Furthermore, said Sarkauskas, "the clients love her and it would be a disservice to them not to have her as their counselor."
Even if she is not credentialed to be a counselor?
"I don't know," said Sarkauskas. "Shame on me, I guess."
Acosta's attorney, Howard Hochman of South Miami, blamed the state for her licensing problems because it confused her unaccredited degrees from the online university in California with Christopher Newport University, an accredited college in Newport News, Virginia. 
By the time the state figured it out, said the attorney, he believes it was obligated to accept her degree under the "Deemer clause" which says if action is not taken in a timely matter the issue must be resolved in the licensee's favor.
"The state had 180 days to catch it and took almost four years," said Hochman, who with Acosta is trying to reverse the nine-year-old decision and get her licensed.
 "With or without a license, she learned how to function," Young said.
Besides, said Young, Sarkauskas and Acosta, MHA is a private nonprofit, which means state laws for licensing don't apply to their mental health counselors – even though MHA accepts local tax dollars and other government money and claims public charitable status in its federal tax forms.
Florida Department of Health spokesperson Ashley Carr said DOH legal counsel was of the view that if clients aren't charged any fee, and the person counseling them at a nonprofit does not claim to be a psychologist, clinical social worker, mental health counselor or marriage and family therapist, then it is possible to be exempt from licensing.
MHA is a public nonprofit charity which receives over 95 percent of its funding from local property tax dollars and other government money. Most of those it sees receive free services, though some pay on a sliding scale.
MHA has an ongoing video in the waiting room asking clients to "pay something – anything." Also, Acosta says she is a doctor of psychology and a mental health counselor.
 "She has never done anything detrimental to clients. Never, ever," said Sarkauskas.  "She has no issues in patient care," seconded Ramos.
Jennifer Peshke, an attorney for the county's Hospital District which allocates property tax money for MHA and other medical organizations serving the poor, said that Acosta's situation is "a concern our board would want to review"  because it could impact association funding.