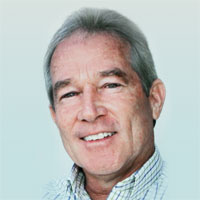 Ex-Shores manager takes on embattled Fort Pierce
STORY BY LISA ZAHNER, (Week of September 27, 2012)
Photo of Robert Bradshaw.
Family, finances and friends are driving former Indian River Shores Town Manager Robert Bradshaw from his self-described "home" on the Gulf coast of Texas to a job heading up the embattled city of Fort Pierce.
Bradshaw, a city manager with 17 years experience who worked previously as assistant county administrator for St. Lucie County, entered into a contract Monday to fill the city manager's office beginning Nov. 1 after a unanimous vote of the Fort Pierce City Commission.
Shores Mayor Tom Cadden said he had been a little bit surprised when he got a phone call asking for a reference for Bradshaw for the Fort Pierce position.
"The headhunter called and asked me the whole 20 questions," said Cadden, who was on the committee that hired Bradshaw in the Shores and worked with him for nearly eight years. "But I have not heard from Robert. There's been no contact with the town that I know of. I don't know why he's coming back."
Three current or former Shores town officials gave glowing references for Bradshaw, according to the search firm of Colin Baenziger in reports that are now public record. Cadden, former Vice Mayor Bill Ahrens and former Councilman David Becker all described Bradshaw as competent, upbeat, a good manager and an effective communicator.
Cadden was the only one who, according to the reports, pointed out any weakness in Bradshaw's performance during his tenure.
"Mr. Bradshaw is not outstanding in the area of finance, but he did a good job for the Town. However, he tended to allow the town treasurer too much leeway with using her own strategies, and the Town ended up with a few financial surprises. None of her actions were illegal; but they led to a few unforeseen problems with the Town's budget. Mr. Cadden notes that these actions were in the nature of the Treasurer's personality, and he continues to deal with that to this day," the report states.
None of the three Shores officials predicted anything embarrassing would come out about Bradshaw "if the press were to go digging," the report said. But Bradshaw himself warned the Fort Pierce County Commission that his credit rating had taken a hit as a result of his financing two college educations on a salary that was 20 percent lower in Texas.
When the Texas native left the Shores in June 2010, Bradshaw was adamant about being intent upon returning to his roots. So intent, in fact, that he took a job earning $30,000 less than the $147,000 he was paid by the Shores.  Bradshaw said in a phone interview from Texas that he took the job in Aransas to be near his daughter in her first two years of college.
"My daughter got accepted to the University of Texas at Austin, and we didn't want her to be alone for her freshman and sophomore years," Bradshaw said.
"Now, she's a junior and she's got her feet on the ground," he said, adding that she's pledging to a sorority at the school which is his alma mater. Bradshaw graduated from the University of Texas at Austin with a degree in government in 1981 before returning to school years later and earning his master's degree, with dean's list honors, in public management from Arizona State University in 1994.
According to his application packet, Bradshaw's son recently graduated from Florida State University and is starting law school. "My son wanted to stay in Florida," Bradshaw said.
 "I wasn't looking. I'm comfortable here," he said. "But where I am has a 3,500 population and Fort Pierce is 40,000 population, so it's a step up for me career wise."
On Monday, the commission approved a two-year deal for $128,000 per year, which is at the low end of the advertised range which maxed out at $150,000. On top of his salary, Bradshaw will receive a $4,200 per year auto allowance, retirement and health benefits and up to $6,500 for moving expenses and temporary housing.
The last Fort Pierce city manager was reportedly paid $134,000 per year plus benefits and perks, including a boat slip at the city marina.
Bradshaw described in his resume and cover letter how he thought his experience made him a great match for Fort Pierce.
"I had spent the last 13 or 14 years in the Treasure Coast area before moving back to Texas, so it's kind-of a second home for us.
"My kids were born in Texas and they went to Vero Beach High School, but they went to elementary school in Fort Pierce," he said.
The city's recent history has been mired in racial tensions with potentially more discord to come.
The balance of whites and African-American council members is up for grabs in a November runoff. 
For the first time in city history, there could be a non-white majority on the council.
The three white members of the Fort Pierce City Commission backed Bradshaw for the city manager position, while the two black members backed Public Works Director Nick Mimms, also a black, who has been interim city manager.
Bradshaw said those issues did not dissuade him from taking the job. 
"I understand the demographics," Bradshaw said. "Fort Pierce has got a lot of untapped potential."

Upon his return to Florida, he said he aims to reconnect with people he met during his eight years in the Shores. "We made a lot of good, close friends there and we're looking forward to coming back," he said.