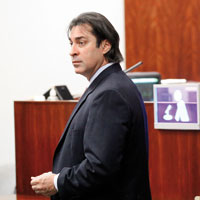 Guttridge, attorney for Keeling, may also have been his victim
STORY BY MEG LAUGHLIN, (Week of September 27, 2012)
Photo: Attorney Bobby Guttridge.
A baffling twist occurred in the Dustinn Keeling criminal case last week when Keeling was charged with criminal use of personal ID information belonging to his defense attorney, Bobby Guttridge. "In 17 years of practicing law, this charge is a first for me," said Guttridge.
Detective Milo Thornton, sheriff's office investigator, described it as bizarre. "I've never seen anything like it."
In early July, Keeling was arrested and charged with looting the coffers of two well-respected nonprofits in Indian River County, where he volunteered. One was the Haiti Clinic, which treats ill children in the slums of Port-au-Prince, Haiti. The other was the North County Republican Club in Sebastian, which has fund raisers and brings in speakers for Republican causes.
Keeling, 21, was in charge of fund-raising for the Haiti Clinic when he allegedly siphoned off more than $20,000 for himself. He was president of the Republican club when he is accused of apparently helping himself to over $6,000 of that group's money.
In early July, he was charged with 17 counts of fraud, forgery and theft against the nonprofits and was sitting in jail with a bond of over $100,000.
By mid-July, Guttridge, a well-known criminal defense attorney, was named in court records as Keeling's lawyer, appearing in court on Keeling's behalf.
Keeling's mother told Vero Beach 32963 she was selling personal possessions to pay for Guttridge in late July.
But the criminal use of Guttridge's ID information allegedly occurred in mid April, when Keeling asked his aunt, Michele Keeling, to give him $7,500 to be held as collateral by his attorney, Bobby Guttridge, for several days before the check would be returned to her, uncashed. 
According to Kathryn Johnston, the Haiti Clinic attorney, the check was made out to her and given to her by Dustinn in order to return money to the Haiti Clinic.
But according to Michele Keeling, Dustinn said the check was made out to Johnston because she was working with Guttridge on his criminal case. Michele Keeling expected to get the check back from Guttridge.
Instead, it was cashed as payback for stolen Haiti Clinic monies.   
Guttridge said he was in the dark Friday about how he could be a victim in the case of a client. "I have never lodged a complaint about my client," he said. "I don't know what this is about."
Was he Dustinn Keeling's attorney in April?
"That's attorney-client privilege," said Guttridge.
"As far as we know, Guttridge wasn't Keeling's attorney till the criminal charges were filed in July," said Thornton, the police investigator.
Guttridge said he was waiting to get details about how he became a victim before he said more. "It could be a real problem," he said. "On the other hand, it could be a prosecutor's mistake."
Thornton said Monday that before the charges were filed naming Guttridge as a victim of Keeling, he told Guttridge about charges involving him and his client.
"I didn't go into a lot of details with him, but Guttridge knew the charges were coming," said Thornton.
Guttridge did not return calls to Vero Beach 32963 seeking clarification about the discrepancy.  However, the details explaining how Guttridge figures into the case against his client are available in public documents.
The charge against Keeling involving Guttridge is a second-degree felony which could bring a tougher sentence if Keeling is found guilty.