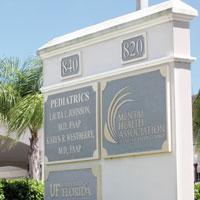 Mental health clinic places unlicensed 'doctor' on leave
STORY BY MEG LAUGHLIN, (Week of September 27, 2012)
The Mental Health Association on Monday said it had put Clinical Director Irene Acosta on "indefinite leave of absence without pay" because of problems with her credentials and license, according to board chairman Bob Young. "We may fire her in the next year, but we wanted to wait to see if her attorney can get her licensed," said Young.
Young also said the MHA was bringing in a second psychiatrist from the University of Florida to join MHA Medical Director Dr. Erwin Ramos "to help oversee things, and also some other people with excellent credentials that we think will make a difference. We want to be even more fabulous than we are."
Nevertheless, the MHA's limited disciplinary action in the wake of revelations that Acosta had been practicing mental health counseling without a license since she was hired here a year ago – something that landed her in jail in Osceola County in 2004 – raised big questions with the organizations that give the nonprofit big money.
Tom Spackman, chairman of the Hospital District board, United Way CEO Michael Kint and a McCabe Foundation representative met Monday with Young and MHA president Kris Sarkauskas to discuss the revelations and how this could have happened.
Acosta, who was supervising other counselors and therapists as well as counseling patients herself, introduced herself to everyone as "Dr. Acosta" even though the Florida Department of Health had ruled her academic credentials from an online school invalid.
For seven years, following her 2004 arrest and conviction in Kissimmee for practicing counseling without a license, she had stayed out of the mental health field.
She worked during this period for the Federal Emergency Management Agency until she applied for the MHA position in Vero Beach a year ago.
"She had a framed doctorate degree from a university. That was enough for us," said Young. "We didn't see any reason to look into the school."
Others saw the situation differently.
"As I see it," said Hospital District Board Chairman Spackman, "we have three issues  here: 
"First, there's a legal issue. If Acosta was convicted once for practicing without a license, could she be charged again?
"Next, there's a personnel issue. Should she be allowed back on the staff if her credentials aren't recognized by the state?
"And, finally, shouldn't there have been more oversight into her credentials by the board and president of MHA to avoid this whole situation?"
"Kris (Sarkauskas) and I think we did what was within the bounds of what's acceptable," said Young.
Acosta's degree – a doctor of psychology diploma from Newport University, a now defunct online school in California which was never accredited by any recognized organization – hung in her office.
Her transcript, which MHA president Sarkauskas had filed away, showed bachelor's, master's and doctorate degrees from Newport, all received within 28 months. The school has frequently been referred to as a "diploma mill."
The state of Florida had denied Acosta a license to practice here for the last nine years because of the invalid academic credentials.
"For any job, it's always a good idea for an employer to do a background check," said Spackman.
"It's a matter of some disappointment that this wasn't done."
Young said that shortly after MHA hired Acosta, he received an anonymous letter spelling out her credentialing and licensing problems.
Young said his reaction, along with that of Sarkauskas, was to see if Acosta's attorney could work something out with the state to get her licensed and to determine if she could pass exams that are part of the licensing process.
"It seemed to us we weren't off the charts with our decisions,"  he said.  
After the meeting Monday afternoon between MHA and three of its funding sources, Kint of the United Way said:
"I can tell you that MHA plans to take further steps to run better and be stronger.... I left the meeting satisfied that they will take the necessary actions."