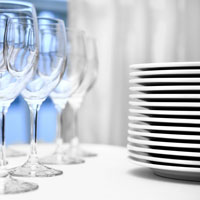 Food fight: A couple's quest to donate unused club meals to feed the hungry
STORY BY MEG LAUGHLIN, (Week of September 6, 2012)
When Randy and Karen Baker retired to the barrier island about a decade ago, they wanted to live a relaxed life near the ocean, with lots of golf and frequent dinners out with friends. They bought a house on the ocean in Seaview, and to complete the dream, they joined the Orchid Island Golf & Beach Club just to their south.
To be eligible for Orchid Island club membership, they paid $275,000 for a lot in Orchid Island. Then they paid about $118,000 in initiation fees to join the club, with the agreement that each year they would pay an additional $17,300, which included a minimum food and beverage bill of about $1,200.
Because they loved the food and wine at the club restaurants, they spent well over the minimum, taking friends there, becoming pals with bartenders, going to the club's dinner dances and events – eventually feeling they had a second, festive home at the West Indies-styled Orchid Island Golf and Beach Club. 
"The club is beautiful; the food is excellent. It was a joy for us to be a part of it," said Karen Baker.
Recently, however, the "joy" soured.  When they joined the club, they didn't explore what would happen to their club membership if they sold their Orchid Island property and moved away. Now that they have sold and moved back to Northern California, they have learned some hard lessons.
Among them:
- The couple who bought their property wanted to buy their club membership, but had to buy a membership off a waiting list, leaving the Bakers stuck with $17,300 a year in Orchid Island club fees even though they no longer use any part of the club.
- The Bakers now occupy slot #31 on a waiting list to have their club membership purchased, which means they'll probably keep paying the $17,300 fees for the next three to five years, if sales continue at the current pace.
These provisions are not unlike those of a few similar clubs on the barrier island, and the Bakers say they are reconciled to paying the annual fees until their membership is sold.  But what sticks in their craws is the $1,200 minimum food and beverage fee.  If they can't enjoy the food themselves, they strongly feel it should be used to feed those who are hungry.
"There are definitely people in Vero Beach who could use what we're buying and not using," said Randy. "We wanted to arrange for that to happen."
"Sorry," they were told by Rob Tench, general manager of the club. "It's against the bylaws."
We could have the food picked up, the Bakers suggested. They would make all of the arrangements with an organization that helped children or elderly people who were "nutritionally deprived," and the club could decide whether they would provide prepared meals, frozen food or whatever worked for them.
No, said Tench. Not allowed. He listed the rules in an e-mail to the Bakers:
- Unused food minimums are not transferrable to other members.
- Unused food minimums cannot be used to purchase raw or unprepared food items.
- Unused food minimums cannot be donated to outside organizations.
To Vero Beach 32963, Tench said:  "We can't discuss our policy. This is a private matter between the Bakers and the club, and we'd like it to stay that way."
The Bakers didn't agree:  "There are a lot of clubs on the island, and we think it's helpful for residents to know what joining the Orchid Island club – or any other club – will mean if they sell their home and leave," said Karen Baker.  "You keep paying for food, but you're not allowed to find a way to help others with that food."
Before the Bakers moved to Vero Beach over a decade ago, Karen had been a special education teacher and Randy a Silicon Valley computer corporation executive. Along with looking forward to a more relaxed life on the barrier island, they planned to become involved with a program that helped children.
They chose Hibiscus House, a residential program for abused children, and gave hundreds of thousands of dollars, as well as becoming personally active with helping the kids. Besides buying one $250,000 home for the kids, they pledged to buy a second, and every winter they threw a big holiday party with food, as well as presents, which they bought and wrapped.
"They were very generous supporters who had great concern for the children," said Tom Maher, CEO of Hibiscus House.
"You can understand why we don't want to drop the issue of the wasted $1,200 a year for food with the club," said Karen. "It matters a lot to us to find creative ways to help children or the elderly."
Randy wrote Orchid Island club board members last November: "We would like to ask for your support to enhance the 'exit' program so we can conclude our membership at Orchid in a financially acceptable way to both the club and to us."
But, despite a few back and forth e-mails, nothing had changed by summer. A discouraged Karen wrote Tench in August:  "Perhaps, someday, someone at Orchid will have the courage and personal value system to cause your rules to be modified. "
Tench told Vero Beach 32963: "We simply cannot allocate funds or food outside the club."
But last Friday at about 4 p.m., there was a sudden change of heart. Tench called 32963 and said board members had just acknowledged that the Bakers had brought up a "unique situation" and they were willing to consider it at the next board meeting.
"We'd like to resolve this with these folks," said Tench. "I'm sure the Bakers will keep you posted."