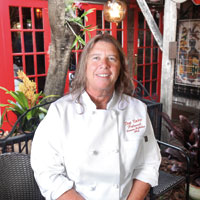 Patio leads surge of new bars and bistros in old downtown
STORY BY MICHELLE GENZ, (Week of September 6, 2012)
Photo of Leanne Kelleher, co-owner of Patio..
The newly reopened Patio restaurant is in the vanguard of a half-dozen new or expanding bars and restaurants coming to downtown that could give diners an increased appetite for Vero's historic district.
A high-end French bakery, a sports-themed raw bar and an Eastern European gastropub all are opening in a matter of weeks. A blues bar that formerly served  beer and wine will be opening with a full liquor license. The popular Kilted Mermaid hopes to add an outdoor terrace, and a consistently packed hole-in-the-wall, The Stamp, is expanding to a space next door.
Run by the same owners as the Stamp, the former Bodega Blue is now The Grove, days away from having the paper torn off the windows. Unlike its predecessor, the Grove will serve liquor and will vary the music from blues to rock.
Another full-liquor establishment, a new sports bar to be called "Rock N Raw Bar," is going in a 6,000-square-foot space next door to the 14th Avenue Steakhouse. The sports bar will be managed by Bob Majors, brother-in-law of Ezio Vitiello who owns the building that includes the steakhouse.
The two restaurants will connect and share the same kitchen but offer different menus, Vitiello says.  Prior to its last incarnation as the lounge and dance club Bombay Louie's, Vitiello had another sports bar in the same space, Ebbets Field.
Meanwhile, at the steakhouse, Vitiello is adding Jon Putzke's Theatre-Go-Round on Sunday evenings. The cabaret-style dinner theater moved to 14th Avenue from the recently closed Joey's on Miracle Mile.
A new gastropub with Hungarian food – among other offerings – is opening on Old Dixie just south of Kilted Mermaid and Fish Shack. Mike O'Laughlin is opening McGarvey's Pub, after buying the space that most recently housed a court reporting business. 
The entrance of Patisserie Vero Beach to the downtown restaurant line-up may be the most closely watched event by Vero's foodies. The French bakery will offer made-on-premises artisanal breads, croissants and Danish pastries and will also serve espresso, salads and sandwiches in a small seating area within, and at tables with umbrellas outside.
Co-owners Mark Edmonds and Christian Garcia, who ran a similar bakery in the tiny Victorian town of Milford, Pennsylvania, were wooed to this area by their silent partner who relocated here several years ago. Edmonds learned to bake at New York's bakery chain, Amy's Bread, and claims a hand in a James Beard House dinner – he made Baked Alaska.
The bakery is on the southern end of downtown on Old Dixie Highway, just across from Loggia, the home furnishing store.
In addition to all the eateries, a new gallery of landscape photography is opening later this month just south of S.R. 60. Brett Donnelly, who has a gallery in Orlando, is taking over space formerly occupied by a dress boutique. Donnelly is the son of Vero resident Barbara Drndak.
The photo gallery space is one of several bought over the past few years by Washington D.C. artist Ronnie Lee Van Sweringen who similarly invested in Old Town Alexandria long before it was fully redeveloped.
"This place is ready to do the same thing," he says. "I can just feel it. Prices may drop a little further but then I believe it's going to come back strong."
Van Sweringen also owns the buildings where Patisserie Vero Beach is going in, as well as those housing Lighthouse Art and Framing and the Kilted Mermaid. He most recently bought an old print shop facing the parking lot of the Downtown Office Towers, now the home of Eclectus Antiques as well as his own painting studio.
 All that's left, it seems, is finding tenants for the restored brick diesel power plant, and some resolution to the aborted restoration of the historic theater on 14th Avenue. 
"I'm working on that," says Billy Moss of the power plant.
It was Moss who brought Chef Leanne Kelleher to the Sexton family, which owns the Patio, a Vero landmark that has struggled through a couple of abortive revivals since it began a decline in the 1990s. .
As for Kelleher, who reigned over a soft opening of the Patio on Thursday (see Page 14), she is confident that the staff she calls her "family" at the Tides will carry on flawlessly while she gets the Patio up and running.
"I was glad to hook her up with the Sextons," said Moss. "I really feel that Leanne is going to open the gates of downtown. Because of her reputation, she's going to draw a lot of beach people to the area."
Kelleher's partner Claudia Arens will remain at the Tides as well as her chef. "I'll be at the Tides when the Patio is up and running," she says. "The Tides will never change."