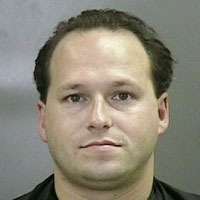 Police tell council members: Beware of Jason Kozdra
STORY BY EILEEN KELLEY, (Week of September 20, 2012)
Photo: Jason Kozdra.
For some time, Jason Kozdra was a regular at Vero Beach City Council meetings, mixing in with a seemingly much older crowd of people who tend to take to the lectern and offer their thoughts during the public comment period on all things Vero.
That stopped last year when police sent out an alert to City Council members, cautioning them about Kozdra, whose wife Karen is now running for a seat on the Council.
On April 28, 2011, Kozdra followed Councilman Craig Fletcher into the parking lot following a Council meeting, where Fletcher claims Kozdra grabbed him and whirled him around while continuing a diatribe about Vero's search for a city manager.
Fletcher said Kozdra was so upset that the man's saliva sprayed him in the face.
"It was one of those situations when you know you just cannot win," Fletcher said.
Flectcher said he turned and headed back inside City Hall to find the police officer who had been on duty during the meeting. Police then sent out an alert to other Council members that included Kozdra's photograph.
"Police records indicate that Jason Kozdra has an extensive criminal arrest record, which includes both felony and misdemeanor convictions for violent acts including resisting arrest," police wrote in the intelligence bulletin. "Members are urged to use caution during any encounter with Kozdra."
After that alert, Kozdra – who claims to have a fan-base of like-minded souls who detest authority – stopped showing up at City Hall. Instead, he went online to express himself.
"I was very hesitant to run back into the lion's den," Kozdra, 40, told Vero Beach 32963 last week.
Now, he's back.
On Sept. 6, Kozdra filled out the paperwork for his wife Karen to make a run for one of the three open seats on the Council. Through his wife, Kozdra will go up against Fletcher and five other candidates in the Nov. 6 general election.
Because of his criminal past – he's been imprisoned at least twice in Georgia and arrested multiple times in Vero Beach on battery and other charges – Kozdra is barred from seeking a public office in the state of Florida.
Karen Kozdra, 43, is not.
The couple says they were approached by people who agree with their points of view, and Karen Kozdra was encouraged to run for the spot that her husband is barred from seeking.
"We do have some backing. These gentlemen recognize that I am not qualified to run for City Council as she (Karen Kozdra) is," Jason Kozdra said.
Karen Kozdra, who was recently fired from her part-time job at the Dollar Tree, said she is running as an everyday citizen and not a politician. "I think all citizens should be aware of government," she said. "They should take part in it and vote. I'm taking this opportunity to get more aware myself."
To help her spread that message, her husband is managing her campaign.
Last week, when he posted a video of his wife standing in a yard extolling her candidacy as an everyday citizen making a run for the city office, he also criticized on the internet a Vero Beach 32963 story that reported he is convicted felon with a past that includes punching women in the face.
"We are going to WIN WIN WIN this election! Thank you Vero 32963 (sic) … for spelling our names right and reminding Vero Beach that we as a city are NOT forgive-and forget Christians!
"The real criminals are in City Hall right now robbing the taxpayers and City residents blind. In my wild-and-wooly past, I was able to hurt one person at a time. The cronies up on City Council are able to hurt hundreds if not thousands of innocent City residents!"