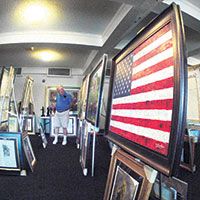 Hotel art auctions: Caveat emptor
STORY BY MEG LAUGHLIN, (Week of April 11, 2013)
Photo: An art auction at the Surf Club Hotel.
Two auction houses with addresses in Atlanta sold top quality fine art on the barrier island last week – or so they said.
The auctions were held in conference rooms in the back of the Holiday Inn on Ocean Drive and in the Surf Club Hotel on North A1A.
The art included  Picassos, Miros, Monets and Chagalls, among other impressive works.
The audiences involved  about 30 people at each auction  –  including three to four bidders who spent over $100,000 on what auctioneers assured them was some of the finest art and jewelry in the world.
But were those pieces fine art and precious jewelry?
Linda Aronberg of Grand Harbor, went to the auction at the Holiday Inn, which was put on by Chesterfield Auctioneers, and spent tens of thousands of dollars on artwork and jewelry.
The auction she attended began at 10:30 a.m. last Wednesday when anyone who wanted could inspect the artwork.
As with the Sunday auction at Surf Club put on by Aucor Inc., a lot of the art was covered in glass with ornate frames, which severely limited inspection. However, on the back of the frames at both auctions were "certificates of authentication," which the auctioneers assured bidders proved the value.
"A certificate of authenticity means zippo," said Vero Beach fine art appraiser Ellen Fischer, who has been a curator at several fine arts museums in the U.S., including the Vero Beach Museum of Art.
What a buyer wants to see, instead, explained Fischer, is the provenance or chain of ownership, which goes back to the artist's original dealer.
"These certificates are worth nothing. Anyone could print them up," said Fischer, an art critic for Vero Beach 32963.
"I bought what I wanted," said Aronberg, who comes to Vero Beach for the season and whose husband is a prominent lawyer in Chicago. "I had the jewelry checked by a jeweler and they're real stones. The artwork, though, I don't know. But I do think that if they're seconds from China, they're good seconds."
Aronberg said she isn't she worried she may have spent much more than the art was worth.
"Even if the art is not what they'd like me to believe it is, I still like looking at it and want it in my home," she said.
Chesterfield Auctioneer office manager Dan Silverman spoke for the company because, as he explained, his bosses "are on the road and can't talk." Silverman said he was new at the company and had never heard of anyone questioning the "certificates of authenticity."
"As far as I know, the certificates are good," he said. 
Aronberg explained that she has been successful buying condos and homes at auctions, and she thought she would venture into the world of fine art auctions by going to a traveling show in Vero Beach.
But she conceded she is just beginning to discover the ins and outs of that world.
During the 45-minute inspection period in a room, which opened on Mulligans restaurant and the smell of fish frying, auction attendees at the Chesterfield auction put colored dots on paintings they wanted to bid on. The paintings, along with jewelry, were placed in the front of the room to be auctioned by a young man who identified himself as Jason Asher of Atlanta.
Asher said he was licensed as a Florida auctioneer. The Florida Department of Business and Professional Regulations shows a valid auctioneer's license for a Jason Asher. 
Chesterfield Auctioneers of Atlanta would add 18 percent to what buyers paid, said Asher, and the charge for shipping would be $150.
"The authenticity has been checked and rechecked," he assured bidders. "We don't mess around."
His assistant, whom he called "Bambi," held up a framed lithograph by Toulouse Lautrec called "Lady of Star Harbor."  It quickly sold for $800.
At Sunday's auction at Surf Club, a framed Salvadore Dali lithograph sold for $1,350.
"The problem is," said Miami Herald emeritus art critic Helen Kohen, "if it's a framed lithograph under glass you can't use a magnifier to see the very small dots that show it's a lithograph. So, you don't know if you're buying a lithograph or a poster that could have been printed at home."
The rule, said Kohen: "Never buy a lithograph if you can't carefully inspect it."
At Wednesday's auction, Asher sold "a lithograph" by Leroy Neiman of a N.Y. Giants football player, which was signed by Neiman and the player. It went for $1,000. The same 1996 print with the same signatures sold on eBay for $109 on March 29.
Alternatively, Silverman's boss Jason Asher auctioned art and jewelry. 
Aronberg bought what was said to be a Joan Miro lithograph for $4,500, as well as diamond, emerald, ruby and sapphire jewelry.
A tourmaline ring went for $12,500 after Asher's boss, whom he called Craig, explained it was from the only tourmaline mine left in the world, which was in Africa. Why he failed to mention other tourmaline mines in Africa, as well as those currently in Afghanistan and Brazil, was unclear.
"Maybe he didn't have the right information," said Silverman.
Aronberg said she was aware that there was "some exaggeration" but she liked the jewelry she bought.
When what Asher described as "a 1962 Picasso profile, signed in blue crayon by the artist," went to Aronberg for $7,500, Asher exclaimed, " What a steal!"
No one explained why the 1962 profile was of Dora Marr, whom Picasso stopped drawing in the 1940s.
"There is so much art that sometimes it's easy to misremember something," said Silverman.
"What art buyers need to remember," said John Stringer of the Stringer Gallery in Vero Beach, "is that you must have extensive knowledge when you buy. If you're a novice, it's a crapshoot."
"For me," said Aronberg, "the important thing is that I like what I bought. I won't resell it and lose money. I'll hang it in out-of-the-way places and enjoy looking at it."  
The mood in the Holiday Inn room Wednesday was as whimsical as the line in the swerving Picasso profile Aronberg purchased, and bidders seemed to enjoy spending tens of thousands of dollars for artwork with an unknown history.
They cheered and applauded one another. When a Vero Beach 32963 reporter briefly spoke to Aronberg at the auction, she said she was "having fun" but feared she might have gone "a little crazy with the bidding."
After she spoke to the reporter, "Craig" warned that "no one from the press was allowed to speak to customers." When reminded that the auction was open to the public and people were talking to each other, he offered no explanation for the rule.
The piece de resistance, according to the auctioneer, was paintings by Claude Pissarro's grandson H.C. Pissarro, whom Asher called "a master impressionist." A painting of palm trees along a shore went for $14,000.
"Keep in mind," said art critic Kohen, "that Claude Pissarro's grandson is Claude Pissaro's grandson."
Kohen, Fischer and Stringer repeated: "When you buy art, buyer beware." It takes a considerable amount of knowledge not to overspend or the advice of a reputable art dealer or a well-known auction house like Christie's or Sotheby's with provenance records, all three said repeatedly.
"You want to buy art from an established part of the community," stressed Fischer.
Stringer agreed. "You must know the seller has an established home," he said.
An established home?
According to the business cards of Chesterfield Auctioneers and auctioneer Jason Asher, their "established home" is in Atlanta.
But a check of the address on the card turned up only a UPS store on the property.
A call to the store got this response from a UPS manager: "Chesterfield Auctioneers rents post office boxes from us which they call their suites, but no one from there is actually here."
The manager didn't know where they were located. "That's anybody's guess," she said.
"We don't have an office but we do have a warehouse, although no one goes there," said office manager Silverman.
Also property records for the address of Aucor Auctions of Atlanta showed that it is no longer there, even though it was the address company representatives gave Sunday.  Aucor did not return calls from Vero Beach 32963.