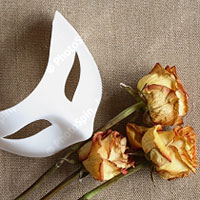 International opera competition to return next year
STORY BY MICHELLE GENZ, (Week of April 4, 2013)
As finalists, lined up in tuxedos and gowns, were taking in the results of the Giordani Foundation's third International Vocal Competition this past weekend, Vero Beach Opera's Roman Ortega-Cowan popped the question: Can we do this again?
"Definitely," answered Marcello Giordani, as the audience roared approval. For at least another year, it appears the prestigious competition – which drew participants from around the world – will return to Vero.
Until that moment, it was expected that the competition would rotate to New York, Italy or Colorado. Instead, it seems likely to stay.
Participants in the week-long competition, all at early stages of their opera careers and ranging in age from 21 to 35, were judged by a panel of made up mostly of opera professionals who are in hiring positions at various companies.
After four days of singing, nine judges narrowed the field of 60 to the 14 finalists who sang the last round in concert form Saturday night at the Vero Beach High School Performing Arts Center.
David Pershall, a lyric baritone born in Oklahoma and introduced to opera while in high school in Texas, won the $10,000 prize.
Pershall, 27, a graduate of Baylor University and the Yale Opera Program, was a clear favorite among many in the audience.
Pershall came to the competition with sizable accomplishments and obvious talents: he gave a sparkling performance of "Largo al factotum" from Rossini's "Il  Barbiere di Siviglia,"  a role he recently performed at the Opera Theater of Connecticut.
In January, for the first time, he was on the roster at the Metropolitan Opera, as first cover of Lord Cecil in Donizetti's "Maria Stuarda."
Tenor Matthew Newlin, 27, won second prize, $5,000. Currently living in Miami, he won a spot in 2012-13  Young Artists Studio of the Florida Grand Opera.
Third-place winner Viktor Antipenko, 28, took home a $3,000 prize. A native of St. Petersburg, Russia, he specialized in choral conducting at the St. Petersburg Conservatory.
Two sopranos, Canadian Ashley Thouret and South Korean Ji Young Jo, were awarded master classes in Italy with Giordani. 
Among the five winners of $1,000 encouragement awards was Nomher Narito Nival, 26, an affable Filipino tenor who footed the bill for his trip, flying in from Manila. While some of the participants stayed at the Caribbean Court and Costa d'Este, Nival stayed at the Howard Johnson's on U.S. 1.
Ortega-Cowan said Nival walked each day to the high school auditorium where the competition took place.