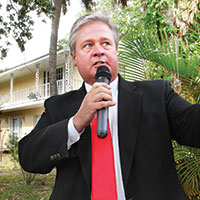 Island home prices up 10 percent year over year
STORY BY STEVEN M. THOMAS, (Week of April 4, 2013)
Photo: Commissioner Wesley Davis at an island property he recently auctioned off.
In January, island Realtors predicted property prices would head higher in 2013. Now, with the season starting to wind down, their forecast has come true.
"Prices are up 10 to 12 percent on the island compared to last year," says Realtor Bobbie Holt, manager of Dale Sorensen Real Estate's downtown office. "We are seeing bidding wars every day, when homes are priced right."
"There is clearly an increased appetite for real estate," says District 1 County Commissioner Wesley Davis, who is an auctioneer as well as a politician. "I don't want to call it frenzy but attendance at auctions is way up, and more bidders mean higher prices.
"We auctioned off a house on the island on March 21 and eight finished lots out at Stoney Brook Farm on the 16th. The lots sold for $5,000 more than the asking price. They were listed at $25,000 and they went for around $30,000 each. That is thirty percent more than lots went for at an auction we had in that same subdivision last April."
At a recent county commission meeting, Davis predicted assessed property values will go up in fiscal 2013-14 for the first time in years, giving the county a needed boost in ad valorum property tax revenue.
GHO Homes President Bill Handler who builds homes on the island and the mainland, says people are regaining confidence in real estate as an investment.
Handler says people are willing to spend more this year than in the recent past for new homes.
On the island, where he is building two homes on Coquina in South Beach, Handler says there is keen interest in a spec home that isn't even out of the ground yet and that potential buyers are asking for – and seem ready to pay for – expensive upgrades to his original plan.
Holt sees the same trend of increased confidence in real estate demonstrated by a willingness to spend more on housing.
"We just went over some numbers, and we are seeing an average of seven sales of a million dollars or more per month in our MLS area," Holt says.  "A year or two ago it was more like one million-plus sale per month."
Still, high-end sellers have to be careful not to get ahead of the market, according to Michael Thorpe, co-owner of Treasure Coast Sotheby's International Realty.
"I can give you examples of more expensive homes in the $2-million to $4-million range where sellers turned down offers they didn't think were high enough and the homes didn't end up selling during the season, and they didn't get substantially higher offers."
Thorpe says he is seeing multiple offers on homes at or under $400,000, but the pool of buyers for a $4-million house is much smaller. Multi-million-dollar homes are more like works of art that require a very specific buyer than like commodities that gain value evenly in sync with the market.
"There is definitely an uptick in values," Thorpe says. "It is a better market and the price rise is real, but it is selective. If people over-expect and try to put a 2006 price on their home, they may be disappointed."
The increase in island and Indian River County home prices is part of a powerful upsurge in property values across the state and country that marks the definitive end of the real estate downturn, according to bankers, brokers, investors and analysts.
"Each month brings more positive signs for the state's housing market," says 2013 Florida Realtors President Dean Asher. "February is the 14th month in a row that statewide median sales prices for both single-family homes and townhouse-condo units increased year-over-year.
"Properties are selling more quickly statewide, especially at certain price points – the median days a home is on the market dropped about 15 percent for single-family homes and 10 percent for townhouse-condo units in February [compared to the month before]. Plus, sellers are receiving more than 92 percent of their original listing price in both the single-family home and townhouse-condo markets."
The statewide median sales price for single-family existing homes was up 12.8 percent in February compared to the previous year, according to Florida Realtors. The statewide median for townhouse and condo properties jumped 21.1 percent.
A chart line showing the latest Case-Shiller national housing data "looks like it has been hit with a booster rocket," according to Time Magazine real estate columnist Alison Rogers.
"All twenty metro areas covered in the index posted gains, ranging from New York's 0.6% to Phoenix's 23.2 %."
The latest Case-Shiller data reflect January sales, raising the prospect that a blockbuster spring buying season may well be underway.