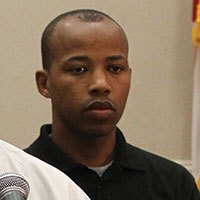 Sheriff's deputy, Vero High coach, subject of probe
STORY BY EILEEN KELLEY, (Week of April 11, 2013)
Photo: Sgt. Milo Thornton
A recently promoted Indian River County Sheriff's Office deputy who was last year's Officer of the Year has been placed on stringent administrative leave, a move akin to house arrest.
Sgt. Milo Thornton, who is also the freshman football coach at Vero Beach High School, was stripped of his assigned patrol car, his badge and ID, his weapons, and other agency issued equipment last month and has been ordered to stay at his home from 8 a.m. to 5 p.m. Monday through Friday in the event he is called to answer questions related to the allegation that led to his paid suspension.
Sheriff's Lt. Leroy Smith of the internal affairs department refused to answer questions on Thornton, saying only that there is an internal investigation going on.  Deputy Jeff Luther, who handles public information requests, said he had no information to release. 
Thornton was considered a rising star in the department. 
After spending three years working for the Vero Beach Police Department and two years with the St. Lucie County Sheriff's Office, Thornton joined the Indian River County Sheriff's Office. In 2003 he passed his probationary period. 
Thornton, a Vero Beach High School graduate,  volunteered as one of the many football coaches there for about five years. He also was involved with youth football programs through recreation departments.
Just last season, Athletic Director Lenny Jankowski promoted Thornton to head football coach for the freshman team and gave him a small stipend for his work. While the season has wrapped up, Thornton and other coaches of all of the football teams at Vero Beach were expected back on the field next month for 20 days of training for both players and coaches.
Jankowski said Thornton called him when he was placed on leave from the sheriff's office and explained the situation.  Jankowski said he hoped that everything would work itself out.
"I'm not claiming to be crazy naïve, but he's been super," Jankowski said. "…. Like anything have to await and see how that all plays out. He's been great by me and great for a whole lot of people, so I hope there is nothing to it for all parties involved."
Thornton was awarded the Officer of the Year award for being instrumental in getting a young defendant to admit his and an accomplice's involvement in the 2011 barrier island homicide case of Brian Simpson.
When suspect Darius Robinson was found loitering on the island days after Simpson was killed during a robbery, he at first refused to talk.
Vero Beach police called on the sheriff's office, after learning Thornton had a rapport with Robinson from his days as a youth football coach. 
Thornton convinced Robinson to tell police what had happened in the Simpson home after the homeowner walked into his home and allegedly confronted Robinson and another man stealing jewelry.
"Detective Thornton was instrumental in our contact and interview with Darius Robinson. It was a great help that Detective Thornton had established a rapport with Robinson. He too conducted himself as a true professional," wrote Vero Beach Police Chief David Currey in a letter placed in Thornton's personnel file.
Thornton who had been criminal investigation division from 2005 to 2012, was promoted from detective to a sergeant in the patrol division last fall.  He received positive reviews over the years according to his personnel file.
In his latest review in December, supervisor Kent Campbell said the sergeant reflects well on the department because of his positive attitude, professional image and appearance and conduct.
"Sergeant Thornton is a highly motivated employee who takes great pride in quality of work," Campbell wrote.