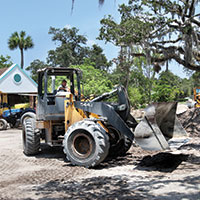 Beachland loses its 'A' grade; principal vows to get it back
STORY BY EILEEN KELLEY, (Week of August 15, 2013)
Photo: Construction during the summer at Beachland Elementary.
When 600 children go back to school next week at Beachland Elementary, they will be returning to a school that has lost its "A" rating for the first time since the 1990s.
While the state downgraded Beachland from an "A" to a "B," the school actually deserves only a "C" rating based on its test results, but a safety net in the state's ranking system prevented it from being dropped more than one category this year.
Despite that disheartening news, the school's principal, a school board member and the teachers union all defend Beachland and say it is still an excellent school. Instead, they attack the state's new "flawed" ranking system that has caused havoc all over the county and the entire state with rankings.
Beachland Principal Caroline Barker admits she's frustrated by the drop in her school's grade, but said there is no other district school she would want her children to attend.
"I still think we are a Grade-A School," she said.  Barker herself had one child advance to middle school after attending Beachland last year and will still have another child in the school this year. 
But Barker brought her staff back this summer earlier than most schools to discuss the ranking, and brainstorm ways to not only blunt a further decline, but to get back into the top category, especially in writing.
"I don't want to drop any farther," she said. "I want to go back to an A. We are going to teach (the students) to master these skills. I don't think this great school has changed just because the grade has changed. But it is a score that we do want to improve on. I still think this is a great school. I wouldn't have my child anywhere else."
Barker has made one significant change in the way children will be taught this year. Under the new plan, instead of having one teacher stand before a classroom teaching all major subject areas throughout the day, elementary teachers will now specialize in subject matters and have the students rotate in and out of the various classrooms.
The change will allow teachers to have deeper subject expertise and develop rigorous and well-thought out lesson plans, said Barker.
Beachland is far from alone in being dropped to a lower rank, and other education officials blame the drop in scores across Florida on changing state standards in assessing the schools. The number of top performing elementary, middle and combination schools in Florida fell nearly 50 percent from 2012 when 1,228 schools received an "A" rating to 694 this year, according to preliminary data from the Florida Department of Education. 
The plunge in grades was to be expected since the state has ratcheted up its expectations over the past two years by making dozens of changes to how the tests are graded. The tougher standards are designed to get schools ready for national "Common Core" standards which offer a master plan of academic lessons and benchmarks for schools across the country.
In anticipation of grades dropping statewide, the Florida Board of Education implemented a so-called "safety net" that would drop schools a maximum of one letter grade even though the new scores would indicate otherwise.
The Imagine Schools at South Vero and the Osceola and Rosewood magnet schools were the only schools within the county this year to earn the prestigious  "A  rating" out of 21 elementary and middle schools. (High school grades will be released later this year.) 
By comparison, last year 12 of the district's 21 elementary and middle school received "A" ratings. Collectively, the school district is now rated a "C."  Last year, it got a "B" rating. Under the new scoring guidelines, not one Indian River County School showed improvement from 2012.
Across the state, schools ratings took a nose dive – with nearly three times as many this year receiving "F" ratings as compared to 2012.  In 2012, 39 elementary, middle and combination schools received "F" ratings; 107 schools are on that failure list this year.
The state rates schools based a number of factors including a 1-through-5 score for various parts of the Florida Comprehensive Assessment Test.  For the writing exam, the scale is 1-through-6.  Last year, a 3 was considered satisfactory in the state writing exam, but this year that standard was raised to a 3.5.
Under the tougher standards, 73 percent of the students at Beachland were writing at a level of satisfactory or higher.  District-wide, that number was 55 percent. Barker said that had it not been for the change from 3.0 to 3.5 that 93 percent of her students who took the test would be writing at a satisfactory level or higher.  Beachland scored about average for the district in math, science and reading.
In late July, the Florida Education Association , the main teachers' union, criticized the new report cards. "The constantly changing measures the Florida DOE (Department of Education) uses in grading schools renders them meaningless as a comparison of school progress," the association's president said.  "This system is flawed and does not reflect rising student achievement and the dedicated and caring efforts by our public school teachers and other school employees to provide our children with a high-quality education."
Three parents of Beachland students who are on the Parent Teacher Association for the school declined to comment on the drop in scores when contacted via phone or e-mail, but Indian River County School Board Member Claudia Jimenez, who represents the barrier island district, said that when she first saw the district's scores, she was devastated. Had it not been for the safety net, four Indian River County elementary schools would have been rated "F."
But Jimenez said she came to the conclusion that it is the state's grading system – not the schools – that is broken. The constant changes in the grading system demoralize teachers and demonize the public school system, she added.
"Even though it looks really bad and everyone is discouraged, I think the district realizes that we have work to do and we have to build on what we are doing well." Jimenez said. "We don't need to take a test and spend a bunch of money for (the state) to tell us that kids are falling through the cracks. Personally from what I'm seeing, these grades are not a valid assessment. I don't think we need an FCAT (Florida Comprehensive Assessment Test) to tell us that we need to improve our schools."