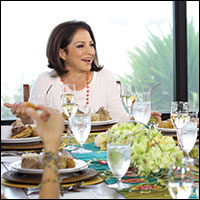 Costa d'Este at 5: Sharing the Vero vibe with the world
STORY BY MICHELLE GENZ, (Week of August 1, 2013)
Photo: Gloria Estefan enjoying lunch in Vero.
Chalk it up to synchronicity. Exactly five years ago, Gloria and Emilio Estefan changed Vero's island with their South Florida-themed hotel. Today their South Floridian guests are demanding the hotel change to be more like Vero.
When superstars Gloria and Emilio Estefan first opened Costa d'Este Resort, its distinctly South Florida rhythms shook Vero's sleepy Ocean Drive.
For some, it was a welcome counterpoint; for others, a jarring shift.  Now it seems a symbiotic melding may be at work: Vero seems to be mellowing the vibe at the hotel. New management has dimmed its late-night scene and poolside partying, limiting events for locals in order to nurture an aura of calm for hotel guests.
So far, the strategy is working. Since the beginning of the year, the hotel has been at nearly 100 percent occupancy every weekend, with solid bookings during the week as well.
"It's been gangbusters," says Costa's new director of sales and catering, Denielle Godwin.
It seems that whether or not the hotel's clients are used to a thriving nightlife scene, in Vero, they are looking for quiet. As Godwin puts it, "They want to go to the beach, but not in their stilettos."
Meanwhile, the Estefans are doing their bit to keep their star status burnished, a key factor in Costa's success. In what could easily be the new sound-track for Costa's ratcheted-down energy, Gloria is releasing an album of standards, a concert of which will air for a month beginning Sunday on PBS.
As for Costa's most famous guest of late, Oprah Winfrey, taping an hour-long show on the Estefans, she "absolutely loved" Vero, says Gloria.  That show on the Estefans at home in Vero also will air this Sunday on OWN, the Oprah Network.
"Oprah had never been anywhere in Florida except Miami," says Gloria of her one-time neighbor across Biscayne Bay – Winfrey owned a condo in Fisher Island from the mid-1990's until 2009. "She really, really enjoyed Vero very much." 
While maintaining a second home just north of Windsor, the Estefans have been cultivating Costa's four-diamond rating from AAA (the same as Vero's other transformative luxury hotel, the Vero Beach Hotel and Spa, which opened shortly before Costa  d'Este). Both have received sterling notices from top travel media. Costa's latest is a ranking among readers of Travel & Leisure: Top 500 Hotels in the World. 
As for music, the one-time Queen of the Conga, turning 56 in September, is now Vero's most famous grandmother, turning back the radio dial to the sounds of Frank Sinatra and Billie Holliday with the September release of her latest album, "The Standards."
Dialing back the stress is the goal of the Estefans and Costa's current general manager, Ed Riley, a New Englander, who is honing the hotel's character and toning down the scene somewhat, intent on letting the guests relax in peace.
Management is taking a hard look at Costa's past entertainment offerings, a mix of deejays and live bands, including a late-night 20-something club scene on Saturday nights that was put permanently to bed some time ago.
"Light guitar music in the restaurant might not be a bad idea," says Godwin. As for other live music, it is "currently under review."
Gone are the poolside fashion shows staged by a since-closed beach boutique, its middle-age amateur models promenading to the whoops of friends, as puzzled guests looked on from lounge chairs.
Gone is the Sunday afternoon smooth jazz band that drew a dancing, drinking Kenny G-loving crowd of locals. And gone is the open-all-night pool policy, so close are the 94 guest rooms in the U-shaped hotel. "Sounds travels at night," says Godwin. "It's just a small area. If we're going to be four-diamond AAA rated, we have to put the guests first."
"Vero's becoming a very important city," says Emilio Estefan. "Still quiet, still beautiful, but more and more people know about it. We get people from all over the world now.
"I see sometimes in the hotel the Miami from many, many years ago," he says. "Like South Beach before it changed.  People want to have fun but you still can have a quiet life. You can have quiet time. It's just relaxed fun."
What is very much still available to locals is the hotel's intimate upstairs spa, as well as its restaurant and bars, their menus redone with the arrival one year ago of Peruvian executive chef Antonio Estremera. More recently, a new food and beverage manager, Vinny D'Agostino, has revamped the restaurant's wine list. He came on board four months ago.
All have come together in what Godwin describes as "new layers of management," a team "with great synergy and great tenure," she says.
Wave, Costa's restaurant, has drawn solid reviews, and Godwin says they're implementing country club-style theme nights to draw diners beyond those staying at the hotel. "Steak night" is already in place – the last Wednesday of each month, and on the last Thursday, a five-course wine pairing dinner, what Godwin calls "a very interactive experience" with Estremera and the wine importer.
In addition, Godwin says, "We've really defined our wedding business," adding that the company has created a new position, a meeting and events manager, filled by Jessica Giordano, a certified wedding planner.
The spa also is reaching out to locals, Godwin says, trying out a package whereby a working person can stop in for a service and get a lunch to go.  
As for Gloria, draped in red satin on her new album cover, she looks as if she were straight out of her parents' Havana, her wrap unraveling like a ribbon of cinnamon candy.
Her soulful contralto and Latin embellishment modernize the vintage selections without lifting the haze of nostalgia. "Embraceable You," "Young at Heart," "You Made Me Love You" are songs straight from a Riverside Theatre cabaret. But Gloria loved standards long before Vero: having recorded duets with Frank Sinatra and Paul Anka, they have always been part of her life.
"These are the songs that I sang for my parents on the guitar when I was a girl," she says.
If that doesn't make Gloria a hometown girl, consider that she and Emilio are developing a Broadway musical based on her life. In development for a decade, the Estefans were reportedly talking to Mexican singer Thalia as well as Jennifer Lopez to play Gloria in the show. They are working with the Nederlander Organization and executive producer Bernie Yuman, a longtime friend and business associate and a Miami native.
So far, there is no venue selected to premiere the show. James Nederlander is considered among the top theater owners on Broadway.
Asked if he would consider Riverside Theatre to workshop the play, Emilio said  "That would be fantastic."
Gloria concurred. "Great idea!"
That show is still a long way off. 
But Sunday, PBS stations nationwide (locally, WXEL, Channel 42) will premiere "Gloria Estefan: The Standards," as part of its special programming during its month-long fund-raising efforts. The show features Dave Koz, who also appears on the album along with violinist Joshua Bell. It was taped during a live concert at Miami's New World Center, along with the Henry Mancini Institute Orchestra.
The concert and the album include some of Estefan's lifelong favorites.
Billie Holiday's classic "Good Morning Heartache", which she sang on "The Tonight Show" three decades ago, along with her breakthrough hit, "Conga"; an adaptation of Charlie Chaplin's "Smile"; and the first-ever English translation – which she wrote herself – of a song played at her wedding to Emilio, "El Dia Que Me Quieras."
It's been a busy few years in terms of the Estefans' personal life. They saw their son Nayib, a budding music producer  like his father, marry Lara Coppola in June 2010, and last June, they became first-time grandparents when Lara had a baby boy, Sasha. "He's going to have a blast in Vero," says Gloria, looking forward to taking him on the Jungle Trail, one of her favorite places.
As for the Estefan's daughter, Emily, 18, she too loves Vero, her dad says. Two weekends ago, she played drums with a band at Waldo's, the bar behind the Driftwood Hotel; her parents came to watch before she heads off to Boston's Berklee School of Music in the fall.
It was a rare foray out for the Estefans. When they're in Vero, apart from trips to the outlet mall – Gloria loves BCBG – the Estefans are homebodies. Gloria's idea of an outing is riding bikes on Jungle Trail, and stopping at the observatory that looks out over the lagoon.
Gloria is infatuated with the beauty of their surroundings here and the creatures that wander through. "Formations of pelicans that pass by four times a day, the turtles who come up to us while we're conversing on the beach, a bobcat and her five kittens, the manatees that come up to play. I've seen whales out my window. Whales! It's incredible," she says. "I'm a major, major nature lover – I love the care that is taken in Vero to protect the environment.
"Honestly, what I want to do with that hotel is to share with the world what I feel when I get to Vero. It's my favorite place on earth."