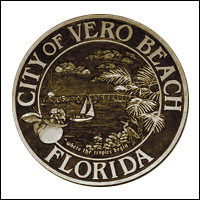 Council recall fails, but may have come closer than expected
STORY BY LISA ZAHNER, (Week of August 8, 2013)
Linda Hillman may have come close to pulling off an amazing feat last week, collecting what she says were more than 1,700 signed petitions in a recall campaign to oust Vero Beach Vice Mayor Tracy Carroll and Mayor Craig Fletcher.
Hillman reported to Vero Beach City Hall on Friday that she had come up just short of the 1,048 signed petitions needed to recall each candidate, collecting nearly 900 to oust Carroll and a few dozen less to remove Fletcher.
Since she fell short of the total that needed to be turned in by Friday's deadline, she did not actually produce any petitions, and a Vero Beach 32963 request to view the actual signed petitions was met with an unreturned phone call.
But had she succeeded in coming up with the signatures, an effort to recall Carroll less than three months before her term was scheduled to end anyway would have forced city attorneys and election officials to crack open case law books to solve the type of conundrum Floridians are notorious for causing.
The question boils down to whether her re-election in November would have halted recall proceedings that might at that point have still not been completed.
Carroll said last week that she was told she would be safe from recall if re-elected in November.
Indian River County Supervisor of Elections Leslie Rossway Swan, after researching the issue, had no answer and referred Vero Beach 32963 to the city.
"I do not have anything written from the state since this is a municipal election matter," Swan wrote in an email on July 31.
City Clerk Tammy Vock being out of the office for several days, the question was fielded by City Attorney Wayne Coment the same day by email. Coment tossed the ball back to state law.
"We have not looked into or researched the question you raise so really cannot opine.  The city charter merely says to follow state law on recall," he said. 
"I suppose the answer would be dependent upon when the recall election was held in relation to when the regular election is held and vice versa," Coment said. "If the issue materialized we would have to rely on the statute and the court rulings interpreting the statute, as well as any guidance found in attorney general opinions, etc."