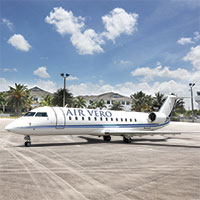 Will effort to start air service to NY get off ground?
STORY BY MEG LAUGHLIN, (Week of August 15, 2013)
Photo: Photo illustration of one type of plane discussed for air service from Vero to New York.
After several failed attempts in the past decade to bring commercial flights to Vero Beach, a new effort is underway to start regular executive charter flights to the New York area in January at a hefty initial round-trip fare of $5,000.
In a second phase of the project, a slightly larger plane would offer round-trip travel to the New York area (White Plains, just north of the city) and to Boston for $2,000 first-class and $600 coach.
The two boosters of the plan, American Airlines captain Paul Rancatore, who has an extensive background in aviation, and Chamber of Commerce Director Penny Chandler, a long-time backer of air service to Vero Beach, are trying to find local investors to back the venture. They won't say to whom they're talking.
"That's not something we're ready to divulge," Rancatore said. "Things are moving along, but we don't want to create a false sense of expectation. Without the money up front – which we expect to come from private individuals here – nothing will happen. I'm realistic about the effort. I know it can be a great success or fail terribly. But I believe it's worth finding out."
By comparison, commercial flights to the New York area from any of the three commercial airports surrounding Vero Beach – Melbourne, West Palm Beach or Orlando – are available for round-trip economy fares that range between $250 and $400 on off-peak days.
Rancatore and Chandler base their cautious optimism for the venture on the results of an Internet survey conducted in April and May among 1,031 people who live in the Vero Beach area either part-time or full-time.
Most of the respondents live in the 32963 ZIP Code, indicated they earn over $200,000 a year, and said in the survey that the ease and comfort of having a flight from a close-by local airport is more important to them than price.
The highlight of the survey, pointed out Chandler, is the number of people – 853 out of 1,031 total respondents – who said they would choose flights based on the closeness of the airport.
Other survey highlights:
- 936 people said they have guests whose visits here require air service;
- 893 people said they use commercial flights to get here;
- 800 people said their reason for flying here is personal, not business; and
- 445 people said they wanted flights to and from the New York area.
Rancatore believes the whopping $5,000 round-trip price could be feasible because the air service would not necessarily be competing against other commercial airlines, but against chartered private jets.
"Compared to private flights, that's a lot less," he said, "and it would be top-of-the-line first class." Also, flying from Melbourne, Orlando or West Palm requires additional expense for gas or transportation and parking, as well as the hassle of getting there and "lining up with hordes of people"  to get through security, he noted.
Passengers for the first executive shuttle on a 20-seater plane to White Plains would not have to be screened by the Transportation Security Administration (TSA) with metal detectors and take off shoes, jackets, belts and jewelry, but would be treated as private plane passengers leaving from general aviation terminals who are not subject to these screenings.
On a larger 70-seat plane to be added later that would enable lower airfares, TSA screening would have to be added, he said.   
People who fly a few times a year would probably drive an hour or so to get a cheaper flight. But  those who fly frequently want it convenient and streamlined, and they'll pay for that, said Rancatore.

One hurdle is whether there would be enough traffic in and out of Vero in the summer months to sustain flights four or five days a week. Of those responding to the survey, 440 people said they live here full-time, as opposed to 581 who said they do not. 
"Things are slow here in the summer," Rancatore conceded. "But we will have the financing to keep the planes flying for three years with the hope the market will build on itself by that time."
Rancatore, still an active American Airlines pilot and a resident of Bermuda Bay in Indian River Shores, is coy about what his role would be with the new venture. "That depends on the investors," he said. "There may be a role for me in management, but maybe not." He insists he's not in it for himself: "What I'm doing is my way of helping our community expand, which is likely to bring more business and opportunity here."
Rancatore envisions starting with an executive shuttle to and from White Plains, N.Y., probably using a 20-seat converted CRJ 200 jet made by Canadian aircraft manufacturer Bombardier, flying back and forth four to five days a week. Once that gets going, Rancatore wants to add a leg to Boston and back with an additional 70-seat Bombardier CRJ 700 with the round-trip $2,000 first-class and $600 coach fares.
By comparison, coach-round trip flights to the New York area from Melbourne, about 35 miles away, cost under $250 but require a stop in Atlanta. Nonstop coach flights to and from the New York area from Orlando, about 100 miles away, cost about $350. And, nonstop coach flights to New York from West Palm Beach, 80 miles away, cost about $390.
Rancatore is talking to several regional airline companies including Endeavor, Trans States and SkyWest, about managing the flights.
Endeavor, based in Minnesota, was Pinnacle. The regional flyer emerged from bankruptcy in May, when Delta bought and renamed it. Trans States, based in Missouri, is a feeder for United Airlines, and SkyWest, based in Utah, is a feeder for United, Delta and U.S Airways.
For his part, Vero Beach Airport Director Eric Menger is skeptical about the new venture. If there is a chance for profitable airline service from Vero Beach, Menger said he would expect people to be knocking on his doors. "We wouldn't have to go out looking," he said.