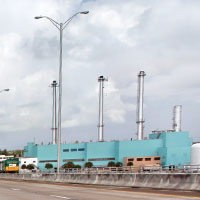 Gambling by Florida Municipal Power Agency cost us $13.3 million
STORY BY LISA ZAHNER, (Week of August 29, 2013)
As Vero Beach electric customers try to keep cool during another sweltering summer, paying rates nearly 40 percent higher than those charged by Florida Power and Light, they may become even more steamed to learn they were surcharged an extra $13.3 million four years ago to help pay off nearly a quarter of a billion dollars in gambling losses by staffers at the Florida Municipal Power Agency.
Those losses, fully disclosed last week at a meeting of FMPA member cities, resulted after the municipal electric cooperative's staff persuaded member cities to let it try to beat Wall Street sharks and big-time energy traders at the game of betting on the future price of natural gas.
FMPA spokesman Mark McCain explained Vero's portion of the hedging losses.
"Vero Beach was purchasing power from the All-Requirements Project from the start of hedging in fiscal 2003 through Dec. 31, 2009. As I mentioned, our hedging program broke even (actually a little positive) through fiscal October 2008, at which time Vero was benefitting, but fiscal 2009 was a difficult year due to the drastic changes in the national economy," McCain said.
"The hedged-to-market difference through December 2009 (when Vero extricated itself from a program that went on to lose another $100 million) was negative $133 million. At the time, Vero Beach was approximately 10% of the All-Requirements Project, so one could say approximately $13.3 million was Vero's portion."
McCain objected to the use of the word speculation with regard to the FMPA's hedging.
"Our hedging activities were not speculation, as some people have insinuated," McCain told Vero Beach 32963.
"Our goal was to mitigate price fluctuations in our largest single expense to stabilize costs for our customers. Risk management is the goal."
Vero Beach Councilwoman and FMPA Board Member Pilar Turner, an engineer with a degree in finance who spent much of her career in the oil and gas industry, disagrees.
"When your positions are that far apart and you have no way to cover them, that's speculation," Turner said. "Instead of trying to find cost-saving measures, they tried to find financial gain."
Jacksonville Beach City Manager George Forbes, whose city-owned Beaches Energy Services provides power to 34,000 customers, about the same number as Vero, voiced his distress over the hedging at last week's meeting in Orlando as a staffer made a presentation about the FMPA's hedging track record.
"Maybe you should run for Congress, because I've never seen anybody tap dance around the issue like that. By following the staff, we have lost $236 million and $28 million of that is my money and that gets real personal," Forbes said.
"It's going to be very difficult for me to forgive the losses. If we're going to hedge, I think we've proven that this staff shouldn't be doing it for us," he said.
While the remaining members of the FMPA's All-Requirements Project belatedly voted 10-2 last week to stop the insanity of hedging, that decision is unlikely to lower municipal electric rates in Florida.
FMPA officials said natural gas prices are at "historic lows" hovering between $3 and $3.50 per unit after spiking to more than $13 per unit in 2008. But natural gas prices have begun to creep up, and the word from the FMPA staff to members last week was "if prices go up, your rates will increase."
Vero's problem is compounded by the increased wholesale power costs it is being charged by the Orlando Utilities Commission.
The contract Vero entered into with OUC three years ago had a built-in 3 percent annual hike, which has since resulted in a nearly 10 percent increase in rates. 
And OUC has also been able under this contract to pass along to Vero high costs it has incurred related to staffing and upkeep of its coal-fired plants – including $55 million for new scrubbers, according to public records – despite the fact that it's cost-prohibitive to produce electricity from coal right now.
These are among the reasons why both the Indian River Board of County Commissioners and the Indian River Shores Town Council voted last week to hire lobbyists to educate government leaders statewide about the plight of customers like those on the Vero electric system.