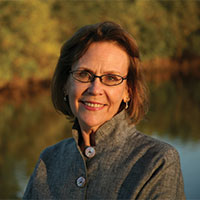 Harbor Branch leader moves to dream post at Scripps Institution
STORY BY STEVEN M. THOMAS, (Week of August 29, 2013)
Photo of Margaret Leinen.
A brief but important era in the history of Harbor Branch ends this week as highly-regarded Executive Director Margaret Leinen leaves for the job of a lifetime at Scripps Oceanographic Institute in San Diego, where she will lead one of the world's top marine biology and exploration enterprises.
Associate Executive Director Patrick Boles will become Acting Executive Director on Sept. 1, serving until the search for a permanent top administrator is complete.
Leinen came to the storied Fort Pierce oceanographic institute in January 2011. During her tenure, she finished the tricky transition of Harbor Branch from independent institution to a division of Florida Atlantic University, and charted a compelling path for the future of the premier scientific institution on the Indian River Lagoon.
"Margaret energized and motivated her staff and the Harbor Branch Oceanographic Institute Foundation Board of Directors with her vision for the future," said foundation board chairman Joseph Z. Duke, III. "Her case for expanding HBOI's capabilities was so compelling that we approved her request for multi-million dollar funding for recruiting and equipping new senior scientists. The move will open four areas of research for Harbor Branch and will fuel the growth of the Institute."
"Margaret is extraordinary," HBOI board member Michael Menton said of the departing director. "She is a wonderfully gifted person, leader and communicator."
Leinen says the strategic plan she put in place "leverages our past experience and expertise in ocean exploration and submersibles and identifies how we are going to go forward. It focuses on exploration beyond places and things to processes, investigating how the ocean works."
Leinen also put in place the Indian River Lagoon Observatory, a multifaceted observation, research and education initiative to diagnose and remedy ecological problems in the estuary.
"I can't tell you how much I have loved living here and working at Harbor Branch," says Leinen, who has a home in Old Riomar. "It is just a most beautiful area. I have been totally caught up by the whole ambiance and seduction of Vero Beach."
At the same time, Leinen says she is "thrilled and honored to be selected for the job at Scripps," where she will start Oct. 1. Her new position as vice chancellor for marine sciences, director of Scripps Institution of Oceanography, and dean of the Graduate School of Marine Sciences at UC San Diego is huge step up the career ladder.
Scripps' $200 million annual budget is more than ten times that of Harbor Branch's operating budget and the institute has been ranked No. 1 in the world in the quality of its faculty on lists of the best marine science programs. Scripps' scientists have won three Nobel Prizes and 18 faculty are members of the National Academy of Sciences.
Harbor Branch had to give up its ships and famous submersibles in the dark days before the merger with FAU saved it from likely financial collapse, while Scripps has a fleet of four ocean-going research vessels, with another under construction, and 1,000-foot-deep water off the end of its pier, perfect for an oceanographer.
"Scripps is about as prestigious as you can get," says Grant Gilmore, senior scientist at ECOS – Estuarine, Coastal & Ocean Science – in Vero Beach.
"Scripps Institution of Oceanography is one of the crown jewels of the UC system, and I'm pleased that UC San Diego chose a real professional to serve as director," says U.S. Senator Dianne Feinstein.
"As a Scripps alumna and someone who cares deeply about the strength of the oceanographic community, I am thrilled that Dr. Leinen, a proven leader and ocean champion, will be the next Scripps director," says Marcia McNutt, editor-in-chief of Science.
The selection of Leinen to lead Scripps reflects well on Harbor Branch and opens the prospect of collaborative research between the two institutions.
"I certainly hope there will be opportunities for Scripps and Harbor Branch to work together in the areas of ocean exploration and engineering," says Leinen, who was in San Diego in early August looking at apartments.
At the same time, her departure deprives HBOI of a top-notch leader at a critical time, as the institute grapples with the ecological crisis in the lagoon.
Patrick Boles is regarded as a capable administrator but lacks Leinen's scientific credentials and prestige.
The loss of Leinen comes on top of several other recent high-profile departures from Florida Atlantic University. Mary Jane Saunders announced her resignation as university president in May in the wake of controversy related to the actions of several faculty members.
At present, the university has an interim president, provost and vice president for community engagement. The executive director of the FAU Foundation and, now, the executive director of HBOI are interim as well.
The lack of a vested university president complicates the search for a new permanent Harbor Branch leader.

"My understanding is they are looking for someone for a three-year appointment, because they don't want to put someone in as executive director permanently until there is a new president in place," said Carin Campbell Smith, HBOI assistant director of communications.