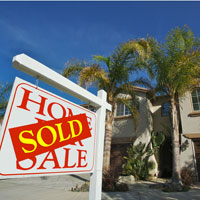 Home prices on island up more than 10 percent
STORY BY STEVEN M. THOMAS, (Week of August 8, 2013)
Home prices on the barrier island are up between 10 and 15 percent so far this year, a pace of appreciation not seen since the height of the 2005-2006 housing boom, according to a variety of real estate sources.
"I would say prices are up at least 10 percent since January, and that is being conservative," says County Commissioner Wesley Davis, who tracks property prices in his other profession of auctioneering.
"Right now, the moon and stars are properly-aligned and we are seeing home prices on the island as much as 10 percent higher," agrees Michael Thorpe, co-owner of Treasure Coast Sotheby's International Realty.
The accelerating increase in real estate values on the island is part of a wider winning streak that began in early 2012.
In May, the median price of a single-family home sold in Florida was up 15.9 percent compared to May 2012. That was the 17th straight month of higher median prices. The statewide average sales price was up a bracing 11.4 percent.
Indian River County single-family home prices have been up every month for the past 14 months, beginning in April 2012.
Factors driving the trend include a booming stock market, drastically reduced housing inventory that has activated the law of supply and demand, continued cheap money and, ironically, the fact that the cost of money has begun to rise.
A one-point jump in mortgage interest rates since early May has pushed hesitant buyers into the market, bolstering demand. Fearing a continued increase in borrowing costs, these buyers are out making offers, hoping to lock in a mortgage at rates that are still historically low.
Decreased inventory is fueling the market in two ways. Shrinking supply motivates a new pool of buyers to take the leap before all the nicest homes and best deals are gone, increasing competition and seller pricing power for the homes that remain.
The four-year-old bull market on Wall Street, which has powered a 3,000-point surge in the Dow Jones average since last November, taking it from 12,500 to all-time record highs above 15,500, is another ingredient in the current recipe for increased real estate value. Bull markets don't last forever and some investors who have made good money in the recent run-up are looking to diversify and consolidate their gains.
"A lot people have decided it might be time to take money out of the stock market and put it in real estate," says Thorpe, who deals with a large number of high-net-worth buyers.
Investors are active in other market segments as well.
"They are realizing this is their last opportunity to buy near the bottom of the market and they are putting out contracts like crazy," says Steve Schlitt, co-owner of Coldwell Banker Paradise Ed Schlitt Realtors.
Intense real estate activity in South Florida also feeds into the trend of rising home prices on the island, according to Sally Daley of Daley & Company. "We often follow the lead of the south part of the state and they have been very busy with strong price increases," she says.
Her description may understate what is happening in South Florida housing markets.
Single-family home prices in Palm Beach County were up 29 percent in May compared to a year earlier. In Broward, the increase was 23 percent, year over year. If those pricing trends head this way, it is good news for homeowners and sellers.
Island price increases vary according to market segment, with lower-priced Central Beach houses going up faster than homes in the million-dollar-plus range.
Even in the most prestigious gated communities, properties are gaining value.
"Prices are on the rise," says Terry Crowley, a sales executive with John's Island Real Estate Company. "We are getting good prices."
Bob Niederpruem, president of Orchid Island Realty, says inventory between $700,000 and $1 million is down by half over the past year at Orchid Island Golf & Beach Club. That has led to homes selling much closer to asking price, which amounts to a strong increase in actual closing values. 
"We are not seeing sales at 20 percent off of asking price the way we were a year ago," he says. "Now it is more like 5 to 10 percent off, which is much less of a reduction."
"I have listed homes recently and had them under contract in one or two days," says Bobbie Holt, manager of Dale Sorensen Real Estate's downtown office. "Under those circumstances, sellers are not negotiating down their asking price."