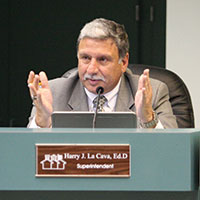 LaCava in bid to double dip from School District
STORY BY DEBBIE CARSON, (Week of August 8, 2013)
Photo of Harry LaCava.
Dr. Harry LaCava, who walked away from the Indian River school superintendent's job two years ago with a big pension and has searched unsuccessfully since then for another high-paying school job elsewhere in Florida, now wants Gov. Rick Scott to appoint him to a $31,000-a-year seat on the county school board.
LaCava is one of 13 applicants – including his former public relations woman, whose job was abolished after his departure – seeking to fill the seat of Jeff Pegler, who is moving to the Tampa area.
Depending on whom the governor appoints, members of the school board and the school district administration could be working with a familiar face.
In addition to LaCava, those seeking Pegler's seat include former school district spokeswoman Patty Vasquez, Sebastian River High School teacher Jorge Lugo, North County Charter Elementary's Ken Miller, and 2010 School Board candidates Kimberly Keithahn, Harry Hall, Althea McKenzie and Richard Marini.
Realtor Laura Zorc, wife of county commissioner Tim Zorc, is also seeking the appointment.
Former Sebastian City Councilwoman Dale Simchick and Sebastian Community Development and Airport Director Joe Griffin have also applied, along with two salesmen, William Brown and Bradley Ward, who handle direct sales and auto sales, respectively.
The majority of the 13 candidates do not live in the district Pegler represented, and whether or not they need to is still up for debate.
Florida election law does not address residency requirements when it comes to appointments, but the state constitution does. Article 10 Section 3 addresses vacancies of office, which can occur when the representative does not maintain residency and reads, in part, "failure to maintain the residence required when elected or appointed."
Supervisor of Elections Leslie Swan said her opinion is that applicants should reside in District 2 to be considered, otherwise the seat could be deemed vacant again because the appointee would have failed to meet the residency requirement. "I think it does" nullify the appointment, she said.
Ultimately, the interpretation of the constitution will come down to Scott, who is under no obligation to quickly fill the vacancy.
LaCava left the district in June 2011, after giving notice of his resignation a few weeks before his annual contract was set to expire. He resigned three days before he was set to retire on June 30, 2011.
The early resignation came after school board members questioned whether to cut LaCava loose early so incoming Superintendent Fran Adams could implement her administrative organizational chart.
LaCava had told the board he did not support Adams's proposed work chart nor her personnel recommendations.
Adams recommended cutting several administrative positions, including that of public information officer, a position held by Vasquez.
A year before resigning from his post, LaCava came under fire for allegations he sexually harassed a female employee and then retaliated against another employee, the then-human resources director, for bringing the allegations to light. That employee was reassigned to a principal's position at an elementary school.
An investigation done by the school district's attorney cleared LaCava of the allegations.
Neither LaCava nor Vasquez live in District 2, which represents the northern part of the barrier island (north of State Road 510), the south side of Sebastian (south of County Road 510 and east of Laconia Street), and the east-central portion of unincorporated Indian River County (east of 66th Avenue, north of 41st Street).
LaCava wrote in his application to Scott that he would draw on 35 years of public education experience if appointed to the school board.
"I have served students of Florida for over 35 years while in public education," he wrote. "I have been a special education teacher, principal, director, area superintendent, and superintendent. Those experiences having (sic) given me a broad base knowledge for educating our children."
In her application, Vasquez – who as the district PIO was known as providing little information to the public – told the governor she would bring an "in depth knowledge of [the] Indian River County Public School District, as well as the community of Indian River County. I am committed to working together, as a community, to ensure our students obtain the best possible education. I will work hard and focus my energy on this position, serving a community that I love."
Applicant Kim Keithahn, who narrowly lost to Pegler in 2010, lives just outside the district, on an island between the barrier island and the mainland. When she ran for the seat, the district covered her home, but the recent redrawing of the school board districts to align them with the districts of the Indian River County Board of Commissioners mean she no longer lives in the now-vacated district.
The five applicants who do live in the district include Dale Simchick, Harry Hall, Althea McKenzie, Ken Miller and Bradley Ward.
Whether applicant William Brown lives in the district is unknown. His address was redacted from his application and attempts to reach him before publication were unsuccessful.
Simchick, Hall and Miller live in Sebastian while McKenzie lives in Gifford and Ward lives in Kings Lake.
Sebastian River High School teacher Jorge Lugo lives in school board Chairwoman Carol Johnson's district, but he isn't letting that stop him from asking for Scott's appointment.

If appointed, Lugo said he would have to leave his post as a teacher of AP American government, AP U.S. history, AP economics because being on the school board and being a teacher would constitute a conflict of interest. "It's more than just a job," he said of serving on the board. "It's a responsibility."