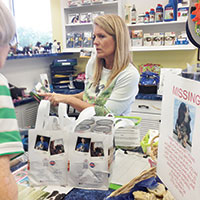 New pet shop owner brings baggage to Vero
STORY BY MEG LAUGHLIN, (Week of August 1, 2013)
Photo: Susan Olive at Village Pet Shop.
Susan Olive is more than happy these days to talk about what leash to buy, the protein content of cat food and what flea meds work. But the new owner of the Village Pet Shop and Village Pet Inn next door in Vero Beach is not happy talking about life before moving to Vero Beach eight months ago.
Her husband Richard currently is jailed in Tennessee awaiting sentencing following his conviction on federal charges connected to the interstate sale of bogus charitable annuities to the elderly, and siphoning off over a million dollars to fund a lavish life style for Susan and himself that included chartering private jets for family vacations.
And Susan, 50, along with her husband is a defendant in a lawsuit filed by the Securities and Exchange Commission that charges they "defrauded hundreds of senior citizens by taking their hard-earned savings with inflated promises of value and safety, while luring these investors by falsely claiming to donate millions of dollars to (a different) charity."
In fact, over seven years, Richard and Susan Olive sequentially ran three different charities that investigators say scammed seniors out of tens of millions of dollars:  National Foundation of America, We The People, and We Are Not Alone.
While Susan Olive describes the legal problems as "a few unintentional misunderstandings" and expresses confidence the SEC charges will be dropped and her husband's conviction will be reversed on appeal, the federal judge who presided at his seven-day trial appeared to have a different view in rejecting his appeal to remain free until sentencing.
In denying Richard Olive's request to come stay with his family in Vero and work in the pet store, U.S. District Judge Kevin H. Sharp wrote:
"The Court is not convinced that he will refrain from engaging in a fraudulent scheme, just as he did not refrain from selling ... annuities after numerous states issued Cease and Desist Orders ... In sum, Defendant's track record raises concerns about pecuniary harm to the public, a concern which Defendant has failed to alleviate."
At Richard's seven-day criminal trial this past March, federal prosecutors said Richard used money from a supposed charity "as his own personal piggy bank" to buy a lavish life style for Susan and him, which included the purchase of a $700,000 condo in Las Vegas, $150,000 in credit card expenses, and over a million dollars in salary for the two of them.
The SEC suit alleges the two used "marketing and promotional materials – drafted by Richard Olive with assistance from Susan Olive"– to defraud by "misleading investors about the value of the CGAs (charitable gift annuities), falsely claiming that the CGAs were safe and secure, failing to disclose the sizable commissions ("the charity") paid to ... Richard and Susan Olive on the sale of CGAs and hiding that these commissions totaled several million dollars."
The SEC suit further alleges: "Richard and Susan Olive perpetrated their fraudulent scheme by making false and misleading statements in connection with the offer, sale, and purchase of securities. Enticed by the scheme, investors transferred assets – stocks, annuities, real estate, or cash – to We The People ("the charity") in exchange for an investment product that We The People called a "tax-deductible gift annuity" or "charitable gift annuity" ("CGA").
The SEC calculated that this "charity" run by the Olives raised more than $75 million in assets from about 400 investors in over 30 states, including Florida, Colorado, and Texas. "Almost all of these investors are elderly," said the suit.
"It's complex," explained Susan. "But I promise you that we did nothing to hurt anyone."
Their legal problems, she said, have to do with their misunderstanding of how nonprofit charitable status works and the difference between an income-producing charitable annuity and a bargain sale contact, which gives charitable donors a tax break.
"It's a few unintentional misunderstandings," she explained.
As the SEC suit winds its way through the courts and Richard awaits sentencing in a Tennessee jail,  Susan's life is mostly little fluffy dogs in Vero Beach.
"A welcome relief," she said.
In December, before his conviction and the filing of the lawsuit by the SEC, Susan bought the Village Pet Shop and Village Pet Inn on 12th St. from Kathleen and Ronald Nowak, who had purchased the business from Sherry Rothe, widow of veterinarian Robert Rothe who had practiced at that location for two decades.
Rothe's veterinary business, the Village Animal Clinic, was sold separately to veterinarian Carlos Basabe.
"Please make clear that the animal clinic is not connected to the Olives' businesses," asked Basabe's receptionist.
The Olives also rented a spacious home in Colonial Terrace on a third of an acre, where Susan lives with their 10-year-old daughter.
The couple chose Vero Beach, she said, because people here are "so friendly and nice" and because "they love their little dogs with a passion." 
They chose the pet business, Susan said, because "my heart has always been with homeless people and animals."
"The last six years have been a total nightmare, and I've come here with my young daughter and started this small business to try to have some kind of a life," she told 32963.
Customers obviously like Susan, calling her by name and thanking her profusely after she has spent a considerable amount of time helping them. Six days a week, she works at the pet store reaching for 20 pound bags of dry dog food with a hand sporting a diamond about the size of a dime.
She says she is proud to have "turned the business around with hard work and marketing."
Susan said that she and her husband expect the charges against them to be dropped because they never intentionally misled anyone – not in the world of charitable annuities and certainly not now in the world of fluffy little dogs.
"I want to improve the lives of animals on the inside and out and my customers know this," she said.
Her cockatoo Olive screeches in a cage just outside the shop door. Her Yorkie and Chinese Imperial Shih Tzu wander around the shop with rhinestone bows in their hair. She pets them and talks to the cockatoo.
And she worries aloud that a story about her and her husband's legal problems will destroy her business: "We have been through an unbearably hard time, and don't need more trouble," she said, fighting back tears.
Because so much of their money has gone for lawyers, she said her parents helped her buy the pet shop and kennel.
"It's all my daughter and I have," she said. "I hope people will keep coming to my little shop."