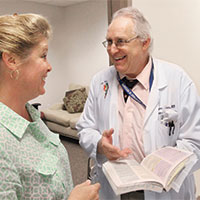 Helping mental health patients find vision of beautiful life
STORY BY MEG LAUGHLIN, (Week of August 29, 2013)
Photo: Dr. Wayne Moss, new psychiatrist at the Mental Health Association.
The new psychiatrist at the local Mental Health Association is a man who by his own account has already has a "beautiful life." Now, through intensive therapy sessions, he wants to give his patients a vision of what can be beautiful in their lives, too.
"Even though many of our patients are on a roller coaster," says Dr. Wayne Moss, who recently joined chief psychiatrist Erwin Ramos as the second psychiatrist at MHA, "I want to do whatever I can to help them have a vision of what's beautiful in their lives." 
"Already Dr. Moss has quite a following," said Juan Recinos, Vero Beach clinic administrator for the University of Florida psychiatric program, which sent Ramos and Moss to MHA. Ramos, Moss and the rest of the staff are making a huge difference to their patients, adds Recinos.
A strong believer in combining therapy with medication when medication is needed, Moss believes in the importance of a recent study at a Massachusetts hospital that said patients on meds do much better with a therapeutic alliance than those without one. "In fact," recalled Moss, "therapy appears to be more important in some cases."
Moss applies this approach to his day-to-day work at MHA by spending a considerable amount of time in therapy sessions with patients.
"My life has been full of experiences that have been so spiritually and emotionally exciting for me," he said. "I want my patients to have a vision of how beautiful their lives can be, too."
Lively, smart and caring with an impressive background, Moss, 61, springs around the halls of MHA in L.L. Bean-style comfort mocs and khakis with a white lab coat that says "Wayne Moss, M.D.  UF Department of Psychiatry."
That simple identification does not do any justice to his colorful past: He got a BA from Princeton University in international affairs, a law degree from the University of Maine, an M.Litt from Cambridge University in England, an MBA from the University of Kansas, and an MD from the University of Vermont.
He is equally at home in the U.S. and elsewhere, in the law courts or in the morgue, in the world of business and in government service.
Before becoming a medical doctor at the age of 58, Moss was a high-profile public sector lawyer in Maine, arguing three landmark cases before the U.S. Supreme Court and winning two of them. His specialties as assistant state Attorney General were search and seizure, confessions and right-to-counsel issues.
In 1992, a Maine newspaper short-listed him to be a top candidate for U.S. Attorney for the state. Instead, he went into private practice in criminal law and estate planning.
Growing up in Philadelphia in the 1960s, he had always planned to be a doctor. He excelled in chemistry, math and biology, and his parents encouraged him to go into medicine.
"But I couldn't stand blood or corpses," he said.
So he graduated from Princeton in 1974 with a major in international affairs. "I started at an all-male, white university and was fortunate to graduate from a co-educational university that encouraged minorities," he said. 
It was a "pivotal time" to be at Princeton. Two years ahead of him was Samuel Alito. Two years behind him was Sonia Sotomayor, now both Supreme Court justices.
While interning for the Maine state Attorney General while attending law school at the University of Maine, he worked on a landmark case for the Passamaquoddy and Penobscot  tribes trying to recover lands granted to them prior to 1790, by laws rooted in English law. His fascination with the case took him to graduate school at Cambridge University where he studied English medieval law for three years.
"Unlike medicine, the basic concepts of law have been around for a long time. So it was very helpful to learn the basis," he said.
The tribal land case, which the Department of Justice called "potentially the most complex litigation ever brought in the federal courts," dragged on for 12 years. After Cambridge, Moss returned to the Maine Attorney General's office and was part of the team that negotiated an $85 million settlement for the tribes in the early 1980s.
Another high-profile case, Oliver v. United States, which he argued before the Chief Justice Warren Burger in 1984, raised questions about search warrants and trespassing. Did police have a right to look for marijuana plants in an open field owned by a Maine resident without a search warrant?
Arguing that police were within their rights based on a 1924 law, Moss won the case. Recalling details in his MHA office earlier this month, he offered: "Thurgood Marshall and I had quite a lively back-and-forth over the definition of 'open field.'" 
In criminal court over the years of Moss' career, the issue of criminal intent and guilt, as opposed to not guilty by reason of insanity, came up frequently. That brought the world of law together with that of mental illness.
In a landmark case as an appellate lawyer for the state of Maine, Moss took the position that a bi-polar man who murdered three people including a child still had the ability to form criminal intent. The appellate panel agreed with Moss.
Clarifying the demarcation lines between mental illness and criminal intent was an interesting intellectual exercise to him, but Moss said more compelling reasons nudged him toward psychiatry.
"For years, I'd been looking at brutal photos of blood and corpses as a lawyer, and I realized that when you're intent on doing your job well, you're not so bothered by such things," he said. "So, after all of those years, I realized I could go to medical school and deal with blood and corpses."
Also, he said he realized "there is more to me and my personality than handling legal cases, one after another." Perhaps most importantly, he was also motivated to study psychiatry because people in his own family had serious mental health issues.
"Quite simply, l wanted to help," he said.
Eleven years ago, at 50, the well-known Maine lawyer applied to Bryn Mawr in the Philadelphia Main Line suburbs to be accepted as a pre-med undergraduate. There, and in med school at the University of Vermont, he was decades older than his classmates, but it didn't matter.
"I was doing what I wanted," he said.
He became an MD at 58, then accepted a psychiatric residency at UF, recently coming to MHA as part of that program.
"I'm right where I should be, and I know it," he said.