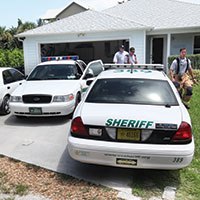 A wild Saturday in Summerplace
STORY BY MEG LAUGHLIN, (Week of August 1, 2013)
Photo: Police, firemen and haz-mat crews respond to McDonald home in Summerplace.
A part-time Summerplace resident – well known to neighbors and police for wreaking havoc all hours of the day and night on Sand Dollar Lane – managed to tie up about a dozen fire-rescue personnel, an equal number of sheriff's deputies, a hazardous materials team, and shut down a hospital emergency room for several hours on Saturday with his latest antics.
In the past few years, police have been called to Rick McDonald's home at least two dozen times over incidents involving gunshots, screaming, loud music and motorcycle racing in the middle of the night. A local judge, who issued a restraining order against McDonald on behalf of a neighbor, said the man displayed "blatant disregard for the law."
Over the last six weeks, neighbors have called police several times late at night to say they heard women in the house screaming for help.
The latest trouble started at about 7:30 a.m. Saturday when a petite brunette in a black cocktail dress ran out of McDonald's front door screaming, "Save Me! Save Me!" Crying hysterically, she told neighbors that McDonald tried to kill her – choking and hitting her, then spraying a noxious chemical in her face. 
Neighbors said the young woman, who described herself as a "paid escort," told them McDonald went into a rage after she failed to obey his demand that she "act like a 12-year-old."
After a call to 911, sheriff's deputies and a fire-rescue team arrived in the neighborhood. Both emergency medical technicians and deputies say the escort repeated to them what she had already told neighbors.
McDonald, who lives in Ft. Lauderdale and vacations at his second home in Summerplace, had already left in his black pick-up truck by the time law enforcement arrived.
Sheriff's deputies took the young woman to Sebastian River Medical Center, where two nurses in the emergency room tried to wash the chemicals off her splotchy red face.
The unknown chemical also affected the nurses, causing burning and watering eyes, and sore throats. Not knowing what the chemical was and afraid it might harm other patients, administrators shut down the emergency room, diverting patients to the Indian River Medical Center.
In an attempt to find out what the chemical was, deputies got a search warrant and broke into McDonald's house. There, along with a hazardous materials team, they found a can of pepper spray and notified the hospital, which reopened the emergency room.  Deputies continued to search McDonald's home.
While they wouldn't say what they found inside, they did say that the assault on the "escort" along with what they discovered in the house would probably result in McDonald's "facing serious charges."
A few neighbors watching from the street voiced the hope that the charges would keep McDonald from disturbing the neighborhood for a while.  As of press time, McDonald had not been arrested and no warrant had been issued for him.