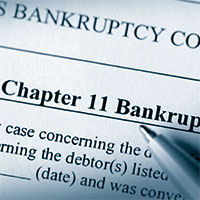 Hazel, Estuary developer, goes into Chapter 11
STORY BY LISA ZAHNER (Week of Decber 12, 2013)
Douglas E. Hazel, developer of The Estuary gated community in Indian River Shores and a major player in a variety of Indian River County real estate ventures and other businesses over the past quarter century, has filed for a Chapter 11 bankruptcy.
The federal court filing in Missouri by Hazel Investments, L.P. has tossed Hazel's extensive Vero Beach business ventures and partners into turmoil and possibly an eventual court-ordered reorganization with uncertain outcomes.
According to court papers and Missouri media reports, the family holding company Hazel Investments is asking to restructure more than $42 million in debt with 28 banks, some of which had Hazel on their board of directors. A portion of those loans are secured, meaning they get paid before other unsecured loans in the bankruptcy process. Two loans were secured by fallow planned developments west of town and one by Hazel's stock in Marine Bank.
"We will rebound from this," Hazel told Vero Beach 32963 on Monday. "We love Vero Beach and we love Indian River County and we plan on continuing to do business."
Hazel is best known on the island for his family's role in financing and developing The Estuary with business partner Roger Doerr. Doerr and Hazel auctioned off the last seven homesites the owned in The Estuary in March 2012.
The ties with the Vero area go back more than 40 years. "Our family has been coming to Vero Beach since 1972; we just slowly got involved in various projects," said Hazel, who worked in his dad's manufacturing business and other enterprises in Washington, Missouri, before launching real estate developments in Florida.
The Estuary was his first large-scale project in Vero.
Hazel described himself and his family as "very private people" and though he said he understood why the filing was legitimate news, it did not make it any easier for him to discuss during this trying time. The reorganization was something he had tried to avoid through continued negotiations with the various banks.
"The reason for the filing of the reorganization was that one bank – they just wouldn't work with us to renew it. They took a hard line with us and so we had to," Hazel said, referring to a $3.6 million court judgment issued in favor of Missouri-based Enterprise Bank.
Hazel's attorney, Nicholas Franke, reportedly told the St. Louis Post-Dispatch that Hazel's company "plans to remain operational after it emerges from the bankruptcy."
Unlike a Chapter 7 liquidation, a Chapter 11 bankruptcy allows a debtor to resolve debts over time and often proportionally to unsecured creditors, with the court appointing a trustee to monitor a reorganization plan.
"The collection actions on (the Enterprise Bank) judgment threatened the investments in various projects (Hazel) is involved in," the St. Louis Post-Dispatch quoted his attorney Franke as saying in its Nov. 13 issue.
The bankruptcy proceedings will now affect several of Hazel's local business holdings – including the parcels on which the planned Quail Ridge community and the Ranch Road Lake sand mine sit.
Ranch Road Lake provided thousands of truckloads of sand to shore up Indian River Shores and north barrier island beaches from 2010-2012 and, though scaled back, it's still operational with six employees.
Though Vero's own Marine Bank and Trust where Hazel served as Chairman of the Board until resigning two weeks ago did not appear on the list of creditors in the bankruptcy filing, Hazel stated on court papers that he'd pledged 46,800 shares of Marine Bank stock to secure a loan of three-quarters of a million dollars.
Marine Bank President and CEO Bill Penney, who assumed Hazel's spot as chair in November, said he could not speak specifically about the Marine stock listed in the bankruptcy filing, as that's "a customer privacy issue that I cannot comment on."
The Hazel family's long-standing ties with Vero Beach led to joint ventures with some of Indian River County's most prominent citrus families, through layers upon layers of limited liability corporations. Some of Hazel's shares in those companies are actually owned by Hazel Investments L.P., placing them squarely in the purview of the bankruptcy court.
Enterprise Bank's $3.6 million judgment against Hazel was registered in Vero's 19th Circuit on July 30, prompting orders to garnish wages to be issued from all of Hazel's local business interests, including 152 West, LLC; Marine Bank and Trust Company; Ranch Road Lake, LLC sand mine; Quail Ridge of Vero Beach, LLC and B & H Georgia Orchard, LLC.
According to the bankruptcy filing, Hazel Investments owes a contingent debt of more than $11.2 million to an agricultural finance company in Lakeland as guarantees on loans made to two Georgia farming operations, Lane Packing and Lane Pecans and Vegetables.
Hazel's partner in B & H Georgia Orchard, LLC, is Wilton "Rusty" Banack of the Sid Banack citrus family. The corporation B & H Georgia Orchard, LLC, is the managing entity on public documents for Lane Packing, LLC, in Fort Valley, GA. One layer deeper, Lane Packing, LLC, is listed as manager of Southern Orchard Sales, LLC.
Regarding this business partnership, Hazel offered reassurance that the Georgia orchard enterprise remains on solid footing. "This will not affect Lane, Lane will be fine."
Banack and Sun Ag executive Mark Sanchez are pictured with members of the Lane family in a photograph on the Lane Southern Orchards company website. Sanchez serves as CEO of Lane Packing, LLC. Banack's Wabasso-based gift fruit company, Countryside Citrus, advertises some Lane Southern Orchards products in its gift baskets and gives fresh-roasted samples of Lane's Georgia pecans to customers at its retail locations.
Banack and Hazel also appear together on corporate paperwork as partners in the real estate venture 152 West, LLC. A loan of $3.1 million from Grand Bank of West Palm Beach related to 152 West, LLC, is listed as a contingent claim on Hazel's bankruptcy papers.
This comes seven years after 152 West, LLC, sold 152 acres of land to the Indian River County School District for $95,000 per acre for the site of Storm Grove Middle School, according to public records. That land deal cost taxpayers more than $14 million near the height of the real estate market.
Despite ongoing financial difficulties since the bottom fell out of the real estate market, Hazel and partner Steve Smith still have big plans for Quail Ridge, as evidenced by marketing on the community's website.
"Quail Ridge is a beautiful, deed-restricted community located directly adjacent to the Quail Valley Golf Club, Vero Beach's finest golf club. This carefully planned, gated community provides you and your family with the privacy and security you would expect from country living. The spectacular golf course views and spacious lakefront homesites of Quail Ridge provide a peaceful backdrop for Indian River County's newest luxury community."
In another three or four years, Smith anticipates ramping up the developments as market conditions permit.
"That's as good as beachfront property as you can have west of town, but right now it's sitting out there with fence and cattle," said Smith, a long-time beachside resident, adding that in three to four years the market should be ripe for Quail Ridge to be commercially viable.
"That's part of the reorganization of the debt to give us, the various entities, the breathing space we need. Banks are banks, they decided to get aggressive with their enforcement with Hazel and kind-of force the issue."
The project, which shows a $3.9 million loan from Heartland Bank of St. Louis on the bankruptcy papers, would have 40 homesites situated around a 47-acre lake. Nearby Ranch Road Lake, where the sand mine now sits, is a distinct community with a planned 60-acre lake for waterskiing and wakeboarding, Smith said.
The dredging of Ranch Road Lake provided the sand for the county's beach project. Hazel's partner in both Quail Ridge and the Ranch Road Lake mine is now dividing his time between Vero and Colorado, but says he's still managing the projects.
"With the reorganization or bankruptcy, the only difference will be from the next couple of years as they do the workout plan I will be consulting with a trustee as well as Doug. I may have to bounce things off the trustee, if I want to do something," Smith said.
And what about that writ of garnishment, as it relates to Quail Ridge and the sand mine?
"Doug doesn't take paychecks or anything from any of those entities," Smith said.
Smith, who has been in business with Hazel for 13 years, described him as a "normal guy" with solid, conservative Midwestern values and a deep commitment to the larger Vero Beach community.
"Doug Hazel is an outstanding individual who I have had the pleasure of doing business with and will continue to do business with and we're also close personal friends," Smith said.
He said Hazel is not a flashy person who splashes out for fancy cars or private jets. "He still flies economy," Smith said.
"Doug is not a risk-taker. The projects that I'm involved with Doug on, we did extensive pro-forma market analysis before we got involved. We weren't gambling on real estate going up 15 to 20 percent a year. The market stood where it stood at the time," Smith said.
"When the bubble burst, we couldn't unwind quick enough. We couldn't unwind these deals quick."
In addition to the sand mine and the planned Quail Ridge development, Smith worked with Hazel on several real estate investments and one spec home project.
"We did one big oceanfront home and an oceanfront parcel and we had other projects that we made a nice return on, but as everybody knows, when things went bad, they went off the cliff," Smith said.
Hazel's wife Elizabeth "Betsy" Hazel, a realtor with Coldwell Banker in Missouri and volunteer with the Vero Beach Museum of Art and other local charities, and Hazel's sister and brother-in-law, Cynthia and Michael Gilbertson, were also served with their own writs of garnishment in September related to the Enterprise Bank judgment.
Though listed on corporate paperwork as a stakeholder in many of the LLCs, Hazel's mother Kay Hazel, who still owns a home in The Estuary, was not served with a writ of garnishment in the case, but the Kay H. Hazel Revocable Trust is listed among the top creditors in the bankruptcy filing, owed $1.25 million.
Also listed among the top 20 creditors is The Pointe Development, a company Hazel set up with partner Doerr to develop 111 acres known as Bee Gum Point, adjacent to The Estuary, into 21 homesites. Instead, that parcel was sold in 2011 for $4.25 million to the Indian River Land Trust. Court papers state Hazel owes The Pointe Development, LLC, an unsecured debt of $196,507.
A portion of the Hazel family money that developed The Estuary in the 1990s came from the manufacturing company founded in 1960 by Doug and Cynthia's father, Ernest Hazel, who died in May, 2001. Once the largest employer in Washington, Missouri, Hazel's vinyl specialties business sold out to class-ring giant Jostens, Inc. in 1984 for $25 million, according to Missouri news reports.
The Hazel family retained close ties to the small St. Louis suburb and an office suite on High Street in Washington, Missouri, is listed as headquarters for the bulk of Hazel's many corporations, but the family's 31-acre equestrian estate is labeled as "foreclosed" on a list of resources for buyers looking for distressed properties. Hazel says he was able to purchase the home back amidst the foreclosure proceedings, and "we are still living there."