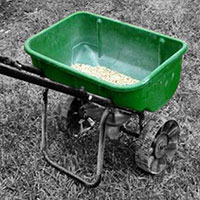 State plan to control fertilizer pollution is off to sputtering start
STORY BY EILEEN KELLEY (Week of December 26, 2013)
A major state plan to control pollution from lawn fertilizer is getting off to a sputtering start. 
Only a little more than half of all commercial landscapers who apply fertilizers will have been certified by the Jan. 1 deadline and enforcement is spotty.
As of late last week, 24,665 landscapers had been certified statewide. Of those, about 160 work in Indian River County.
While state officials are happy that the 24,665 landscapers took the state's new rules to heart, many more – about 20,000 – are not certified and face potential fines in the New Year.
Indian River County will fine commercial landscapers $500 for applying fertilizer without the proper license, while Vero Beach said it will start with a warning.
To be certified, landscapers must demonstrate they're knowledgeable about the state's best-practice guidelines that detail how to properly apply chemicals to prevent nutrient run-off, which has been blamed for the degradation of the lagoon and other waterways.
The state model ordinance also restricts how close to water fertilizers can be applied and limits the time period for fertilizing.
The Indian River County Agricultural Extension Office recently had a six-hour certification class with 59 participants ending with an exam.
Enforcement will be key to compliance with the new ordinance, but it doesn't appear to be uniform.
Tim McGarry, who oversees the city's planning department, said he isn't banking on a great deal as his department has a mere two code enforcement officers.
"I have a hard enough time chasing things down," said McGarry. "But we will do what we can."
Christine Kelly-Bengazo, director of the Indian River County Agricultural Extension Office, said the County will hire a part-time education coordinator and code enforcement officer who will administer the county ordinance through the stormwater division.