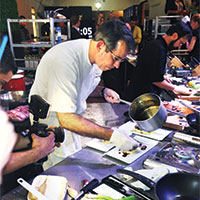 Varricchio puts Vero on Palm Beach culinary map
STORY BY MICHELLE GENZ (Week of December 26, 2013)
Chef Scott Varricchio of the Citrus Grillhouse working on his dishes in the Grand Tasting Chef Throwdown.
For Chef Scott Varricchio of Citrus Grillhouse, his failure to take top honors in a Palm Beach cooking competition last week was an ending as bittersweet as his sweet-and-sour "agrodulce" sauce.
The classic Italian vinegar and honey reduction finished off his steak-and-polenta dish in the Grand Tasting Chef Throwdown competition last Tuesday. It was the highlight of a three-hour wine and food tasting, the final event of the annual five-day Palm Beach Food and Wine Festival.
What finished Varricchio off was the fact that he finished too soon, well before the 30-minute buzzer sounded. Then, as fate would have it, his plate was last in line for the judges to taste. By the time the judges got to it, the soft, piping-hot polenta, the "personal ingredient" he was allowed to add, had likely turned into a tepid slab. 
The TV food show-style cook-off took place in a makeshift kitchen of coolers, cutting boards and butane burners at one end of the Esplanade on Palm Beach's Worth Avenue. The prize was $10,000 – $5,000 for the chef and $5,000 for his favorite charity.
As an anxious Varricchio filled time, snapping his latex gloves on and off, jabbing the resting meat with his finger, and repeatedly whipping his pot of polenta, the pulsing music whipping the stylish foodies into a frenzy had to be making his head pound. Of late, he has been battling cluster headaches.
"People were really into it," said Varricchio. "They were yelling and screaming."
On the plus side, the contest's "secret" ingredient was no stranger to Varricchio. All summer, he has served the tenderloin-like cut of beef called teres major in the same presentation: rare and thinly sliced over polenta made with milk, butter and cream. A scattering of chopped tomatoes, green onions, and thyme topped the dish, napped with the butter-enriched agrodulce sauce.
Along with introducing the attendees to Vero's culinary scene, Varricchio gained additional name recognition in the south Florida chefs' community.