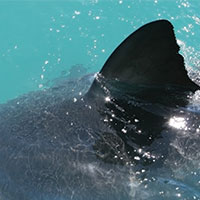 Peruvian shark victim: 'I will be back in the ocean just as soon as possible'
STORY BY PIETER VanBENNEKOM (Week of Decber 12, 2013)
Danny Vargas had been planning a nice Thanksgiving family dinner in South Florida with relatives arriving from Peru, but a shark swimming off Vero Beach decided to have an early Thanksgiving dinner himself by taking a four-inch chunk of flesh out of his lower right leg along with his Achilles tendon.
"I guess that shark decided he deserved an early Thanksgiving dinner, too," said Vargas, a 37-year-old marketer who hasn't lost his sense of humor, from his hospital bed at Indian River Medical Center. "Except that I know sharks don't really like human flesh. He probably spit out the chunk that he bit off me, so nobody got any benefit from it.
"That shark may have taken a chunk out of me," Vargas said, "but he didn't take away my spirit."
A lifelong avid bodyboarder and swimmer, Vargas said that once he is able to walk again after extensive rehab (he was released from the hospital last Friday), he'll be back in the ocean. "I'm not scared of the ocean and I'll be back in. And I may be back here, too. If I can catch a great wave off Vero Beach, why not here?"
Becoming only the second tourist in two years to be bitten by a shark off Vero Beach was just a case of incredibly bad luck, Vargas believes, but "within that bad luck, there was a lot of good luck, too, for which I am very grateful." The shark that bit him could have been bigger and taken his whole foot off; there could have been a whole school of sharks to attack him in a feeding frenzy after the first shark created a bloody wound.
Vargas is also grateful for the IRMC medical staff, which he said did a great job re-attaching his Achilles tendon in a complicated surgical procedure.
Vargas, a native of Lima, the Peruvian capital, has lived in the United States for about 15 years and currently works in marketing for a Sprint retail contractor. He lives in Davie in South Florida.
The Tuesday before Thanksgiving, he had a couple of days to kill until his sister and her family would arrive from Peru for Thanksgiving. So Vargas set out north in search of good waves for bodyboarding and it looked to him on the basis of the weather reports that Vero would be good place to try. It was the first time he'd been here.
He went straight for South Beach, where he got his board off the top of his car and headed into a rough surf with murky water full of churning sand and waves between 5 and 7 feet. The red flag was up for a dangerous surf, but that didn't scare Vargas.
"I was going to surf for about four hours and then head back down south to start preparing for Thanksgiving with my family, but Mr. Shark had other ideas," Vargas said. "I'd ridden about four good waves and I was just getting in position for the next one. I'd sort of decided it was going to be my last anyway. That's when I felt three little pressure taps on my right heel and then one shake. I never saw the shark, but I did think something had bitten me.
"As I started paddling toward the shore, it felt like my right leg was cramping up," Vargas continued. "That's not so unusual. It often happens to us bodyboarders. But as I lifted my leg out of the water, I saw blood. So I started swimming harder and yelling for the lifeguard. Erik (Toomsoo) didn't see me right away but eventually he swam out to me and got me to shore in the classic lifeguard position.
"He asked me if I could stand up, but when I tried, I saw loose skin hanging down. At that point they told me I turned pale so I just told them to do with they had to do with me. Everything happened quickly after that and the ambulance came to take me to the hospital."
Vargas didn't miss his Thanksgiving dinner, though. As a matter of fact, he had three Thanksgiving turkey dinners in a row in the hospital. His sister from Peru came for the dinner they were supposed to have had at his house.
"Some traditions don't change," Vargas said. "We were going to have turkey."
Vargas faces 10 months of healing and rehab and watching out for the dangers of infection in the open wound, but he is optimistic he will make a full recovery.
"And I will be back in the ocean just as soon as possible," Vargas said. "I'm not scared."
Vargas did not know that last year, a young German tourist had been bitten by a shark and lost part of her thigh off Vero Beach in another ocean rescue involving Toomsoo. When he was told that Vero Beach sharks apparently only bite foreign tourists, he was disappointed.
"I've lived in South Florida for 15 years," he said. "I thought the sharks would have considered me a local by now."