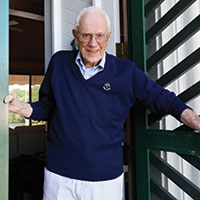 Age becomes issue in Shores town council race
STORY BY MEG LAUGHLIN, (Week of February 21, 2013)
Photo: Shores resident Col. Jack Mitchell, 90.
Age has become an issue in the Indian River Shores town council election, where a candidate who will turn 90 in a few weeks has drawn fire from a prominent town resident who is already 90. "We definitely need youth on the council – people who are alert, virile and up-to-date," said Shores resident Col. Jack Mitchell, 90, who has launched a one-person crusade  in favor of incumbents  Jerry Weick, 69, Mike Ochsner, 65, and newcomer John's Island resident  Tom Slater, 68.
Mitchell said youth is his motivation. "To get youth, and keep people like the pope and me off the council, he said.  Mitchell defines youth as under 75.
The target of his campaign is former Shores mayor Chuck Wurmstedt, who is seeking to return to public life at age 90. The fifth candidate in the race is Brian Barefoot, 69.  
Should a 90 year old be running for council is a question being repeated in numerous e-mails and conversations in Indian River Shores.
"I'm not passing judgment – it's America and everyone should have an opportunity – but shouldn't age and health always be considered?" asked candidate Barefoot. "Wouldn't you want a candidate who is likely to live through the term?"
Ouch, said Wurmstedt. "I'll make a Ronald-Reagan-style deal: I won't say anything about anyone's lack of experience, if they don't say anything about my age."
Wurmstedt said he's in good physical and mental shape, frequently plays golf and travels all over the world. Besides, he said, he has served as Indian River Shores mayor and vice mayor in the past as well as serving on several boards.
"I feel I'm as capable as ever," he said.
"A person on boards now and actively working in the present has a better sense of the issues and how to deal with people than someone who has done it over a decade ago," said Barefoot.
Two-thirds of the residents of Indian River Shores – where the population is just over 3,900 – are between the ages of 65 and 95, according to the 2010 U.S. Census.  One of every three residents is 75 and older.
A few days ago, on National Public Radio, Leo Cooney, director of geriatric medicine at Yale, addressed the issue of age and work in the context of the pope's decision to resign at 85: "I don't think it should be automatic that people who are 86 (and older) can't function at a very high level, but I think they have a higher prevalence of problems and should at least be assessed at that age," said Cooney, 69.
Gerontologist Nicole Caine took issue with him: "Simply reaching an arbitrary age should not necessitate cognitive screens to remain in the workforce," she said.
Backing up her position are Viacom chairman Sumner Redstone, 89, billionaire investor T. Boone Pickens, 84, and Berkshire Hathaway founder Warren Buffet, 82. Queen Elizabeth is 86, and US Supreme Court Justice Ruth Bader Ginsburg is almost 80.
Four years ago, Indian River Shores Town Council member John Klein, then 76, decided not to run for re-election.  Many thought his decision had to do with his age.
But Klein says they were wrong. "Klein is still very sharp," said incumbent Weick, who is running for a second term on the town council.
"Some people do lose it with age, but some are as sharp as can be.  The voters need to hear the candidates speak on the issues and look at what they have done recently, and decide based on that," said Weick.