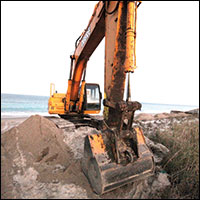 No funds in sight to put sand on eroded beaches
STORY BY STEVEN M. THOMAS, (Week of February 7, 2013)
Photo: Emergency repair work underway at Wabasso Beach.
In the wake of Hurricane Sandy, which washed away much of the sand that had just been placed on a 6.6-mile stretch of the barrier island, and with a critically eroded section of coastline in Vero Beach still needing sand, the county is out of beach repair money.
Beach replenishment has been a bit of nightmare for the county since 2009 when commissioners voted to abandon the time-tested method of pumping offshore sand onto eroded beaches and decided to mine inland sand and spread that instead.
Subsequent to the decision, the 6.6-mile Sector 3 project on the north island, which would have been done in a few months with offshore sand, ended up taking three years and costing twice as much as expected, $15 million in all, for sand purchase, placement and monitoring.
Near the end of the project, more difficulties developed as the sand miners, the main beach replenishment contractor and subcontractors accused each other of bad faith and failing to either do adequate work or make proper payments. Threats of lawsuits put the county right in the middle of the dispute and commissioners said angrily at one meeting they would never do business with some of those involved again.
Nevertheless, when the project finally wrapped up last summer, county commissioners and county coastal engineer James Gray were undoubtedly happy and relieved.
Then came Sandy.
Though it was a mere category 2 hurricane that passed by Vero Beach well offshore, the late October storm generated 10-foot waves for several days that did massive damage to barrier island beaches, including those in Sector 3 where more than half of the newly-placed sand washed away.
Asked about the multi-million-dollar loss after the storm, Gray put a positive spin on the situation: "Sector three did its job," he said. It was designed to provide storm protection and it did that. I can say that until I get blue in the face. It did just that. It protected our infrastructure."
In fact, some coastal structures and developments in the sector were threatened and partially undermined, including the beachside pool at Baytree and the North Shore Club subdivision, where two $5-million homes are being built and five more are planned.
The county is doing emergency repair work at Wabasso Beach and Golden Sands Beach, which will be closed for most of February.
Still, the sand probably did do the job it was intended for, breaking the force of the waves and protecting much of the shoreline. But a majority of the sand is now gone, and the county has no beach repair money to replace it.
The county spent almost all of the money in its beach restoration fund, including $8 million in optional sales tax money it had saved up, $4.6 million contributed by the Sebastian Inlet Tax District and additional bed-tax funds dedicated to beach repair on the protracted Sector 3 project.
It still has somewhere between $500,000 and $600,000 in tourist-tax funds earmarked for beach repair coming in during fiscal 2012-13 and in each future fiscal year, but it has nowhere near enough money to repair the damage to Sector 3 or restore a two-mile stretch of coastline mostly in the city of Vero Beach that is critically eroded and scheduled to be fixed.
The state defines critically eroded areas as those where "upland development, recreational interests, wildlife habitat and or cultural resources are being lost or threatened."
"We don't have another spare $12 million," says county Budget Director Jason Brown.
The sudden shortfall in beach repair money is not mainly the county's fault – though it did run badly over budget on Sector 3.
Instead it results from Gov. Rick Scott's draconian cuts to environmental and water quality programs that slashed funding for beach replenishment – even though beaches are Florida's main tourist attraction and tourism is a top state industry worth $60 billion a year.
Brown says the county expected to be reimbursed about half of what it spent on Sector 3, based on what the state had paid in the past, but that state beach funding basically went away during the course of the project.
In the four fiscal years prior to October 2009, the county received an annual average of $6.6 million in state and federal beach restoration grants. The first fiscal year Scott was in office that number dropped to $660,000. The next fiscal year, it dwindled to $102,000 and in the current fiscal year the state will contribute nothing to county beach replenishment.
"The state used to contribute $30 million annually [to beach restoration projects statewide], but there isn't a dedicated funding source anymore," Gray says.
Gray applied to the Federal Emergency Management Agency (FEMA) for emergency money to repair the damage caused by Sandy but says none has been provided and it is unlikely any will be forthcoming.
If the Sector 3 replenishment that was finished last summer was all that stood between devastating losses along the beach, and that sand is mostly gone, what happens when there is another hurricane?
County Administrator Joe Baird says the county could tap its $50-million general fund reserve to repair beaches devastated by a major storm if an emergency situation existed. And if the damage was bad enough, FEMA would provide money for repair.
But there doesn't seem to be any prospect for putting protective sand in place ahead of the next storm to prevent the kind of damage Gray says the Sector 3 sand prevented in October.