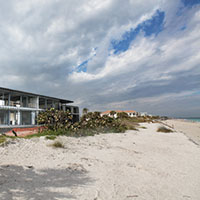 Only 19 vacant lots remain for building oceanfront homes
STORY BY STEVEN M. THOMAS, (Week of February 14, 2013)
Photo: A new home under construction on Central Beach oceanfront.
Anyone wishing to buy an oceanfront lot on the barrier island to build their dream home had better get moving. Only 19 single-family lots are on the market along the entire 22-mile stretch of beachfront in Zip Code 32963, according to Michael Thorpe, co-owner of Treasure Coast Sotheby's International Realty.
The lots, which range in price from $649,000 to $5.9 million, have between 55 and 155 feet of ocean frontage.
Three of the lots are within Vero Beach city limits, with another five on the market between the city and the southern border of Indian River County, according to island brokers and online real estate websites.
Slightly more are available north of the city, between the 7-Eleven and Sebastian Inlet, but even on that long stretch of oceanfront building opportunities are getting rare. Only one beachfront lot is on the market in Orchid Island Golf and Beach Club, for instance, and none in John's Island.
"We don't have a single oceanfront lot available," says Bob Gibb, owner of John's Island Real Estate Company. "There is a house priced to be a teardown that someone could buy but no empty lots on the beach."
"If you take a macro look, there really isn't any land left to speak of on the ocean," says Clark French of Premier Estate Properties, who specializes in oceanfront sales.
Out of 116,000 feet of oceanfront on the barrier island, less than 2,000 feet of frontage is available for new private homes.
"What is left is certainly less than two percent," says French.
Additional open land exists along the ocean, in addition to the 19 lots, but brokers say it is either in the hands of long-term investors with no desire to sell or it belongs to people who have bought lots recently with plans to build homes of their own.
"The estate section is very deceiving," says French.  "You can drive down there and see quite a bit of vacant land, but there is only one lot for sale to my knowledge. Much of the land has traded in the past three years, and the people who purchased it have plans for it – whether it is developers like Brook Lenfest who has six lots he plans to build on or families who have bought one or two lots and are holding them until they are ready to build or are in the process of doing plans and permits right now."
The only oceanfront land within the city limits listed on Trulia.com and Zillow.com are two lots on Ocean Drive, just north of the large modernist concrete-block home now under construction. There is also a for-sale-by-owner sign on the lot south of the construction site, making a grand total of three available lots in the city.
Several more vacant waterfront lots are in that same stretch of Ocean Drive, between the Vero Beach Hotel and Spa and the boardwalk, but they are not for sale.
In addition, there is a nine-acre piece of oceanfront property south of the 7-Eleven. It consists of seven lots that were consolidated at a cost of $3 million in 2004, but knowledgeable sources say the man behind the holding company listed in county records, Vero Beach Gamma LLC, is a land banker who has no plans to sell the property in the foreseeable future.
Supposedly, even during the real-estate boom, when land prices were sky high, he did not respond to phone calls from brokers interested in buying the property.
Another two-acre beachfront parcel on Gayfeather Lane in Central Beach was bought recently by Water's Edge, a development company with firm plans to build a five-unit townhome complex. One unit is under contract and groundbreaking is expected shortly.
That is pretty much it for vacant oceanfront land in the city.
Thorpe and French both say teardowns will become more common in neighborhoods like Castaway Cove in the future, with buyers demolishing older oceanfront property in order to build new, larger, up-to-code homes.
Thorpe says with land nearly gone and remodeling an expensive and uncertain proposition, given changing building codes and hidden costs, tearing down an outdated beachfront house and building a new one that has the latest amenities and wind protection is an appealing alternative.
But there is little opportunity for redevelopment on the water in Central Beach where many people want to live because of the upscale village-by-the-sea ambiance and convenient environment with shops, galleries, restaurants and parks within easy walking distance.
The existing hotels, condominiums and single-family homes have too much value as they are, or present too many redevelopment challenges, to make them targets for demolition and replacement.
"I can't think of any potential teardowns between the Riomar golf course and boardwalk," says French.

That leaves the three lots north of the Vero Beach Hotel and Spa as the last opportunities for new, in-town single-family homes.