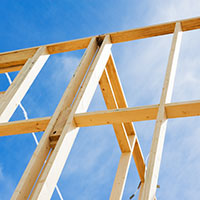 Home renovation projects on rise in Central Beach
STORY BY STEVEN M. THOMAS, (Week of January 3, 2013)
A recovering real estate market, shrinking home inventory and highly desirable location have combined to make Central Beach ripe for renovation projects ranging from tear-downs and rebuilds to cosmetic fix-ups that add surprising value to older homes.
"Putting money into anything on the barrier island in this market is a good investment," says Vero Beach Planning Director Tim McGarry. "That is especially true in Central Beach where you are close to all the amenities and activities.
"Prices are still good and there are great opportunities for people who know how to fix up a house or have the money to pay someone to do it."
"People are snapping these homes up and remodeling them," says Alex MacWilliam Realtor Carolyn Lange, who recently sold a Central Beach home remodeled by island builder Tony Della Porta one day after she began her marketing effort.
Della Porta, who has remodeled eight homes in Central Beach, paid $339,000 for house in 2010, lived in it for two years, and netted a substantial profit when it sold in December for $485,000.
"The first person who looked at it bought it," Lange says.
Central Beach is the area between Iris Lane in the south and Live Oak Drive in the north. It includes approximately 900 single-family homes, most built in the 1950s, '60s and '70s.
Most lots are about 1/3 of an acre, but some are as small as .15 acres and a few waterfront lots are close to a full acre.
Street names help define the area. All the east/west streets south of Beachland Boulevard are named after flowers. All but one of the east/west streets north of Beachland take their names from trees. Most of the north/south streets are named after birds.
Sixty percent of the homes are north of Beachland, 40 percent south of Beachland.
Della Porta's 2,360-square-foot, 3-bedroom, 2½-bath house on Honeysuckle Lane west of A1A was built in 1964. He added value to the house and made it more livable for his family without doing any significant structural alterations.
"The house was dated when we bought it," Della Porta says. "The bones were still good but the finishes had pretty much lived their useful life."
Using one of his own crews and subcontractors, Della Porta replaced the windows and doors with up-to-code hurricane resistant units, redid the bathrooms and kitchen, including new appliances and cabinets, put down a hardwood floor over the terrazzo and installed a new audio visual system.
Outside, he refreshed the landscaping and poured a circular driveway that added curb appeal.
The roof and heating and cooling systems were relatively new when he moved in.
"I think we closed on the house in August and moved in the day before Thanksgiving," Della Porta says. "There was a lot of sweat equity invested."
Della Porta, who has remodeled a number of commercial buildings on the island, including Beachland Plaza, the Kemps building and the building at Beachland and Ocean where Soiree just  opened, plans to buy another house in Central Beach for his growing family, which includes his wife Kelly and three young children.
"We love this area. Both Kelly and I went to Beachland Elementary and that is where our kids go. Parents can walk their children to school. The park is just a couple of blocks away and we are close to the beach. The only reason we sold the house is because we need more room."
"This is one of the most desirable locations in Vero Beach from a Realtor's perspective," says Lange. "Homes here command a higher price than in Castaway Cove or Seagrove. It is not a gated area and there are no HOA fees or restrictions, so you can keep a boat at your house. You are just blocks away from the theater and museum, and from all the shopping and dining on Ocean."
At the same time, Central Beach houses are significantly cheaper than similar homes in Old Riomar or in many other island neighborhoods.
Parts of Central Beach border the water and newer homes on the water go for over a million, but there are a number of attractive single-family homes with large yards available in the $250,000-$400,000 range.
During the last week in December, a 2-bedroom on Greytwig was listed for $275,000, a 3-bedroom on Conn was offered for $299,000 and a 3-bedroom on Eugenia was listed at $290,000
South of Beachland, an attractive 3-bedroom on Honeysuckle was offered for $375,000, a 3-bedroom on Dahlia was listed for $359,000 and a 4-bedroom on A1A was going for the somewhat amazing price of $275,000.
"The rock bottom price is probably around $275,000," Lange says.
Della Porta says remodeling in Central Beach takes two main tracks. Some families buy homes in need of work for a low price and do the work themselves over time. Others buy an outdated home for its inherent value and location, and hire a professional designer and contractor to make it into their dream home.
"By doing that, people can often end up with more of what they really want than if they go out looking for a home that already has all the space and features they are after," says Lange.
Della Porta is finishing up a remodeling job on Iris Lane east of A1A for clients who took the route Lange describes.
"They started with a house that had the potential to become what they wanted," he says.
Della Porta and his crew took the home down to its concrete block walls and interior studs and completely renovated it, with new, relocated bathrooms, a new kitchen, raised ceilings, new windows and doors and a new roof. They also added a large master bedroom addition and put down a hardwood floor.
The clients end up with a new house for less than what a new house would cost and have the advantages of a Central Beach location.
Before becoming a Realtor, Lange had a space planning and interior design firm in Vero Beach, and she says she often consults with clients who are thinking about buying and remodeling.
"I have some background in the construction industry and I can tell them if a wall is load-bearing or not, and give them some idea of what they can do and what kind of space they can create in home. People can be frightened by the idea of remodeling if they don't have any idea what they are getting into, so I try to connect them with professionals like Tony who can tell them exactly what their options are."
Lange did a major remodel on her Central Beach home when she moved in, building a courtyard in front, adding a foyer, expanding the kitchen, raising the living room ceiling and adding onto the back of the house.
"Other Realtors often ask if they can bring clients by to look at my house to give them an idea what you can do with a Central Beach home," she says.
Besides remodeling done by, or to suit, owners, there are a number of tear-downs and rebuilds in Central Beach, but not much house flipping.
"The market does not have a lot of leeway for flipping," Della Porta says.  "I have talked about that with contractors I know and it is not like it was in 2004 when you could buy a really worn out house for $400,000 and fix it up and sell it for $750,000. You don't have that kind of spread today."
"The value inherent in homes in Central Beach is such you are not going to get it on the receiving end at enough of a discount to make flipping profitable."
Indian River County issued 52 permits for remodeling in Central Beach in 2012, including five permits to tear down and rebuild homes, according to figures provided by Kathy Charest, assistant to Community Development Director Bob Keating.