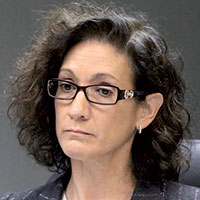 D'Agresta bills to School Board questioned
STORY BY MEG LAUGHLIN, (Week of January 10, 2013)
Photo: Attorney Suzanne D'Agresta.
Suzanne D'Agresta's Orlando law firm billed the Indian River School Board over $28,000 in October. In November, her bill topped $24,000. Those bills include a $22,000 monthly retainer plus travel expenses and extra fees not covered by the retainer. A look at a breakdown of the bill raises questions:
Should D'Agresta charge the school system for time spent researching and discussing what turned out to be a huge hiring debacle she promoted?
Why is her firm also billing the school system for time spent trying to explain and justify that mistake?
Why is D'Agresta charging to review the work and bills of  two specialty lawyers hired by the school system – one to oversee management union negotiations, the other to represent the school system on an employment issue?
The final question is whether the firm's travel expenses are justified.
D'Agresta did not return a call and voicemail message from Vero Beach 32963.
But school board chairman Carol Johnson spoke both generally and specifically about D'Agresta's work.
"Suzanne D'Agresta does not take advantage at all. She is on top of everything, just as we want her to be," said Johnson.
D'Agresta and her colleagues charge the school system $118 every time they drive from Orlando. That costs Indian River County taxpayers over $1,000 a month in addition to the $22,000 retainer.
On Nov. 1, D'Agresta charged the school system her professional rate to drive from Vero Beach to Jacksonville for a conference for school board attorneys – a trip which took 3.6 hours. 
That amount was included in her retainer. But beyond that, she charged the school system for her hotel in Jacksonville – $331 for one night – and her mileage expenses to drive to Jacksonville and then back to Orlando after attending the National Association of School Board Attorneys' Conference.
Months ago at a school board meeting, several teachers questioned why Indian River County taxpayers should pay for D'Agresta's development and networking as a highly-paid attorney. In response, the school board reduced the number of conferences it would finance, but agreed to pay for the one in Jacksonville.
The question remains: On top of the $22,000 monthly retainer plus other expenses and fees, should  Indian River County taxpayers pay for D'Agresta to attend any conferences, including the one in Jacksonville?
"We thought issues there could possibly impact Indian River schools in the future and we wanted her to be informed," said Johnson.
Johnson also defended the monthly travel expenses between Vero Beach and Orlando. "We went through the process of looking at local attorneys who wouldn't charge to travel. There are some wonderful local attorneys, but none came close to having the ability Ms. D'Agresta does to handle what we need handled," she said.
Next, there is the issue of D'Agresta creating a hiring debacle then trying to justify it – and charging for both.
In November, D'Agresta came under fire for arranging for her law firm to hire an Osceola County school administrator so he could evade state law that prevented newly retired employees from double-dipping from the state retirement system.
By arranging for that administrator, Stuart Singer, to work for her law firm and then contracting with the Indian River County school system to pay her firm for his services as personnel manager of Indian River County Schools, her law firm enabled him to circumvent a law that said participants in the DROP (deferred retirement program) could not be rehired for six months.
The maneuver to get around state law angered lawmakers, as well as the parents of Indian River County school children, who complained that the school system and its attorney should set a better example.  As a result, the superintendent and school board rescinded the deal.
October billing records from D'Agresta's firm show that a couple of hours were spent researching the Singer hire. November billing records show that at least eight hours of charges were related to Singer and attempting to justify and explain the hire after it became controversial.
In mid-November, D'Agresta's law firm charged for discussing the controversial Singer hire with attorney colleagues, school board members and others. Those charges include a conversation with a Vero Beach 32963 reporter who questioned D'Agresta about the ethics of the hire.
The billing also included subsequent discussions she had with others after the newspaper wrote about the unethical hiring arrangement and she came under fire.
That raises the question: Should D'Agresta bill taxpayers for hours spent attempting to justify her own liability?
Johnson replies: "Keep in mind that the Singer contract was set to run for a minimum of 30 days but D'Agresta let us out of it after only five days, which was commendable. In my mind, that should make up for what she charged."
In October, D'Agresta claimed to have spent 127 hours working for the Indian River County school system. In November, she billed for 135 hours.
Included in those amounts are hours billed for reviewing the work of the school district's management/employment  attorney Wayne Helsby of Orlando. D'Agresta also reviewed his invoices and charged taxpayers for that. Further, she reviewed local attorney Jason Odom's work and invoices. Odom is representing the school board over a disagreement with an employee.   
Which raises the question: Why is D'Agresta overseeing the work and billing of the school system's specialty attorneys, and making that review part of her own billing?
"We need her on top of everything we do and she is," said Johnson. 
For the 16 months of services ending Dec. 1, D'Agresta's law firm billed the Indian River County school district over half a million dollars in fees and expenses. It is an amount that many teachers, who have not been granted a promised, two percent step increase, question.
But not the chairman of the school board: "We live in a very litigious environment and Ms. D'Agresta is worth every penny," said Johnson.

The D'Agresta law firm has a three-year contract with the Indian River County school board.