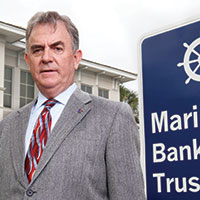 Marine Bank says it will meet new FDIC guidelines
STORY BY EILEEN KELLEY, (Week of January 10, 2013)
Photo: Marine Bank CEO Penney
An administrative law judge has sided with the Federal Deposit Insurance Corporation and issued an at times stinging report with a stringent list of orders laying out capital requirements and other guidelines for Marine Bank & Trust to follow if it intends to avoid being fined and remain independent.
Bill Penney, president and chief executive officer of Vero Beach's only locally owned bank, is adamant that his institution is now on a healthy footing and is able and willing to address FDIC concerns, which he says are largely on the way to being resolved.
In the last year, Penney said his bank has moved to improve its capitalization, expand its customer base and reduce its commercial loan risk. In fact, he said the bank expects to reach FDIC capitalization goals by March.
"We have been moving ahead," said Penney. "We are doing fine.  I feel very optimistic."
Penney stressed the bank's situation is a lot different now than it was when the FDIC first started raising questions in 2010.  At that time, Marine was one of scores of community banks in Florida that federal regulators took to task, saying the small banks had too many commercial real estate loans and were not adequately capitalized.
Had Marine Bank not fought back, the bank – headquartered on Beachland Boulevard – could have been placed on a watch list under regulatory scrutiny along with roughly 40 percent of all of Florida's community banks.
But Marine disputed the May 2011 FDIC charges that the bank had been lax in its loan underwriting and administration.  By deciding to fight the charges, the bank apparently bought the time it needed to resolve many of its problems. 
Marine argued during several days of hearings in Fort Pierce and Stuart in early 2012 that it had followed the same loan standards and ratios used in the past, which never raised red flags prior to the housing market collapse and subsequent recession.
In a 59-page report issued by federal administrative law judge C. Richard Miserendino with the Office of Financial Institution Adjudication, Miserendino appeared largely sympathetic with Marine's position.
In one instance, he said he didn't agree with the FDIC when it lowered the bank's rating from a 3 to a 4 on a scale of 1 through 5.
In his report, Miserendino also said there was no evidence as indicated by a 2010 examiner that the bank's board failed to adequately supervise bank management.
"To the contrary, the evidence shows that ... the board has increased oversight in a number of areas."
Nevertheless, Miserendino sided with the FDIC's request for tighter oversight.
Penney said he was stumped when he got to the report's 15-page conclusion. "Our biggest concern is the end result didn't match the text," he said.
Bank attorneys filed an exception to the report on those grounds, further delaying an FDIC decision on whether to accept or alter the recommendations.  A final decision is expected before March.  If Miserendo's recommendations are accepted, the more stringent requirements for Marine will go into effect shortly thereafter, said David Barr, a FDIC spokesman.
Some of those requirements are the creation and submission of a capital plan that outlines how Marine Bank will meet the minimum requirements, and spells out what steps Marine will take for a merger in the event it becomes undercapitalized.
Penney said he's fully willing to accept any and all guidelines the FDIC may throw his way.
Time and an improved economy, said Penney, have been good to the bank. He said the year since the hearing gave him additional time to raise more capital and work on the bank's portfolio. 
"The bank has already agreed with the need to raise capital and lower the problem loans," said Penney. "We've been working hard on those initiatives since 2010."
Since the first FDIC report, the bank's percentage of non-performing assets has dropped from a high of 7.5 percent to 3.95 percent. Problem banks are typically in the double digits. 
Banks, Penney said, typically fail when their most common capital ratio – the ratio of a bank's capital to its total assets – falls below 2 percent. "Ours is 5.63," he said.
The FDIC will require that the bank get to 8 percent. "Given the head start we've had, this is doable," Penny said.
In July, Marine Bank and Trust will turn 16 years old. "It will be a Sweet 16th," Penney said.