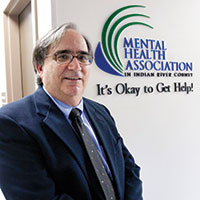 New Mental Health Association team moves to restore confidence
STORY BY MEG LAUGHLIN, (Week of January 10, 2013)
Photo: New CEO Bob Brugnoli.
The new board of the Mental Health Association, which treats the mental health problems of the needy in the county, has moved quickly following a year-end housecleaning to rebuild public and donor confidence in that critically important organization.
The board earlier this week named Vero Beach clinical psychologist Bob Brugnoli to be president and CEO of the Mental Health Association, and elected Joe Smith, a retired pharmaceutical executive from Pennsylvania, the new board chairman.
"We're confident that our new board, officers and president will enable MHA to continue to provide a very valuable service to our community," said new MHA executive committee member John Taylor. 
Smith served on the MHA board previously but left in 2010, along with others, over concerns about how the organization was managed by then-president Kristine Sarkauskas, who, many believed, had too much control over the board.
Now, with Sarkauskas and her board out and a new board and president in, Smith, again, heeded the call to service.
"The new board will work to see that MHA is a properly funded, values-driven organization that is ethically managed," said Smith. 
Brugnoli, who joined the staff over a month ago, replacing ousted clinical director Irene Acosta, whom Sarkauskas had hired even though she was not licensed to practice, now replaces Sarkauskas as president & CEO. 
Brugnoli has dual doctorates in clinical psychology and school psychology from Hofstra University in New York and has practiced in Vero Beach for over 25 years.
"We met with Brugnoli several times and had discussions. We thought he would be the ideal leader for MHA at this moment in time," said Taylor.
A  month ago, when MHA financial backers asked Sarkauskas and her board to resign, then-board chairman Bob Young warned that their resignations would cause a massive employee walk-out in protest.
But, a few days ago, Brugnoli was pleased to report: "It hasn't happened. No one resigned or walked out. We're here. We're healthy. We're committed to the work of MHA and the people it serves."
Along with new board chairman Smith, Vero Beach insurance executive Ken Felten will serve as vice chairman, and mental health clinician Edie Dubord will serve as board secretary. Corporate lawyer Katie Kirk, also a former MHA board member who resigned a few years ago, will be treasurer. 
Taylor described the board as "a group of people coming from varied perspectives that will best serve the issues we're facing."
Those perspectives combine business sense with knowledge of mental health issues and devotion to community activism, said Taylor.
The issues the nonprofit faced under Sarkauskas and the former board included operating at a deficit of over $100,000, a questionable history of hiring, an unethical co-mingling of funds and a growing loss of faith among MHA financial backers.
Taylor said the new board is eager to meet with MHA staff and backers to be clear on how they can improve the organization. "We want to learn from all of the stakeholders – staff and funders – exactly what needs to be done," he said.
Two former board members – both retired RNs and community volunteers – Barbara Horne and Beverly O'Neill will be part of the new board, despite controversy after they  publicly accused MHA funders of wrongly "dictating practices"  that "border on bullying" when those financial backers voiced concern over problems at MHA. 
"We're aware of the positions Barbara and Beverly took, but decided the strengths of their clinical backgrounds will be very valuable to the new board," said Taylor.
The immediate focus of that board, according to Smith: "To reaffirm the support of  MHA clients, colleagues, donors and funders to stabilize the finances."