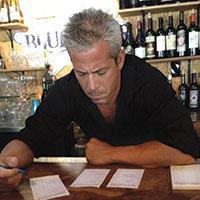 Beach bartender awaiting trial for $1 million theft from senior
STORY BY MEG LAUGHLIN AND MICHELLE GENZ,
(Week of July 18, 2013) Photo: Glenn Schwarzkopf adding up customer checks Saturday night at the Blue Star Wine Bar.
Popular bartender Glenn Schwarzkopf of the Blue Star Wine Bar, who in an earlier incarnation was a Manhattan investment advisor, was arrested in New York earlier this month and charged with stealing over $1 million from an 83-year-old brokerage client.  Authorities also charged him with tax fraud.
If convicted, the twice-married Schwarzhopf, who acquaintances describe as an affable party boy, faces up to 25 years in prison.
"It's scary and sad," said Schwarzkopf, out on bond and back last week pouring beer and wine for customers of the lively Vero Beach wine bar. "But we'll get it straightened out, and I expect the case to be dismissed – even though it will take a while."
He has entered a not guilty plea.
Schwarzkopf's arrest came on the heels of a lengthy investigation by the New York County District Attorney's Office, led by the chief of the DA's Money Laundering and Tax Crimes Unit and the chief of the Elder Abuse Unit.
"The Elder Abuse Unit regularly works with financial institutions and community organizations to stop those who seek to commit crimes against victims who are often unable to defend themselves," said District Attorney Cyrus Vance Jr.
Detailing Schwarzkopf's alleged crimes, Vance said: "From January 2007 through January 2011, Glenn Schwarzkopf used his position as an investment advisor to steal approximately $1,092,790 from an elderly client through various methods, while repeatedly assuring the victim that his brokerage accounts were sound and his investments were growing." 
"Schwarzkopf submitted falsified New York State personal income tax returns in 2009 and 2010" in an effort to conceal his crimes, said Vance, who has gotten convictions in a number of high-profile, white-collar crime cases.
An internal investigation by Schwarzkopf's former employer, Citigroup Global Markets, Inc., resulted in the firm's shelling out $1.7 million in settlement money, according to a report by the regulatory watchdog, the Financial Investment Regulatory Authority (FINRA).  Citigroup's internal investigation of Schwarzkopf's activity found theft and misappropriation of funds, said the FINRA report.
Schwarzkopf said he knew of accusations and a settlement in the FINRA report, but said he didn't know about the $1.7 million settlement: "That amount is unfamiliar to me," he said.
FINRA permanently barred Schwarzkopf from work for any financial advisors under its vast umbrella.
Repeated certified mail attempts by FINRA to get a response from Schwarzkopf and hold him responsible for investigative costs failed because he did not accept the letters or respond, said the organization's report.
"That's because I was in Vero Beach and they were sending the stuff to my New York address," Schwarzkopf said.
Customers at Blue Star say he frequently talked about his former job as a Manhattan investment advisor, telling them how relieved he was to be away from the rat race of the New York financial world.
Most nodded in sympathy, telling him they were also glad he was in Vero Beach living a more carefree life. But last week, when a large color photo of Schwarzkopf appeared in the New York Post online with the headline "Investment Advisor Swindles $1 Million-plus from Old Man..." that goodwill may have changed.
"If it did, I'm not aware of it," said Schwarzkopf.  "It's a huge relief to be among people here in Vero who are beyond supportive despite what I'm going through."
He is currently living with his mother, Bubs Baird, a highly-respected volunteer for elderly causes in Indian River County. Six days a week, he arrives at Blue Star at 4 p.m. and begins pouring beer and wine.
On a recent late afternoon, he talked to customers from behind the bar and also visited tables, sitting at a few to talk.
The conversations were animated and light-hearted with loud laughter, and no one mentioned the criminal charges he is facing.
Schwarzkopf grew up in Larchmont, N.Y. the son of a well-to-do financial investor. He said his parents divorced when he was young, which made him vow if he ever had a child, he would stay married. But that was not to be.
His first marriage, which was announced in The New York Times in 2002, ended with an annulment. His second marriage recently ended in divorce, and his 4-year-old son lives with his ex-wife in Amsterdam.
"Another reason to be sad," he said. 
Both former wives are high-powered PR executives in the fashion business, which gave Schwarzkopf entree to the world of celebrities in New York.
Internet pictures show him at Calvin Klein and David Yurman bashes hobnobbing with the likes of actress Hilary Swank and stand-up comedian Mario Cantone.
"That's not really me," said Schwarzkopf. "I'm happier in Vero Beach being the face of Blue Star." 
According to prosecutors, Schwarzkopf stole approximately $688,000 from three of the 83-year-old victim's accounts, and used the money to pay his own American Express bills. He did this by using withdrawal slips from the accounts then having the money converted to bank checks made out to his American Express account. That money paid for rent, food, liquor and travel expenses, including a stay at a South Beach luxury hotel in Miami, say prosecutors.
Schwarzkopf also withdrew cash from the victim's accounts totaling at least $257,000 and deposited two of the victim's personal checks totaling $100,000 into his own accounts, prosecutors allege.
His family paid 10 percent of his $350,000 bond so he could get out of jail and return to his job at Blue Star. He goes back to court in New York on July 31 for defense motions.
"But in the meantime, it's good to be here," he said. "It feels like home."