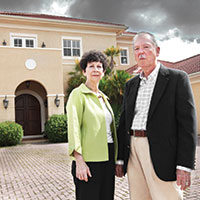 Buying a 'dream home' with no money down, and none in the bank
STORY BY MEG LAUGHLIN, (Week of July 25, 2013)
Photo: Angela and John Pate, who represent sellers of 'dream home.'
Michele Kessler felt ecstatic about her future around lunchtime on July 14.
Her fiancé A.J. Gabriele had bought an $850,000 "dream home" for her, her 9-year-old son and himself. At his urging, Kessler had quit her St. Lucie County teaching job and sold her home. With the prospect of a life of luxury ahead, she saw no need to get up every morning at 6 a.m. for work.
But by 1:30 p.m. on July 14, her dream began to crumble.  Indian River County deputies surrounded the Kingswood Estates home where she and Gabriele had been living temporarily with her parents, and arrested her Prince Charming.
As they led him away, he yelled to her that it was all a terrible misunderstanding. Kessler, 39, soon learned that was not the case.
The dream continued to crumble when she went to her dream home on 10 acres at 67th Avenue and 8th Street after her fiancee's arrest. She was puzzled to discover a Treasure Coast Sotheby's agent, who represented the seller, holding an open house.
Kessler told agent John Pate and his wife Angela, an interior designer, that she didn't understand. They explained that Glenn Grevengoed, the attorney for the home seller, had halted the closing without turning over the deed because the money for the house never arrived in his escrow account.
Kessler's fiancé turns out to have been a con artist who frequently scammed people for free lodging, was running from police and had rung up a record of nine arrests in the last eight years.
"I can't believe I was so stupid," Kessler said.
Gabriele, 50, had not only pulled a fast one on her, her parents and her son, but also on a barrier island Realtor, an Ocean Drive attorney, a Sebastian real estate agent, an interior designer and the seller of the $850,000 home.
That was only the tip of the iceberg.  
"There's a long list of us," one of Gabriele's alleged victims said recently.
True, prior to the closing, Gabriele had showed Pate a bank statement for an account of his with over $700,000 in it. He also appeared to have sent in a $10,000 deposit to the title company, according to a wire transfer. Then, at the closing, he showed everyone there, including Kessler, a wire transfer for over $800,000. But the actual money was not showing up anywhere, causing Grevengoed to put the brakes on the sale.
The glitch for the transfer appeared to be that the bank routing numbers supplied by Gabriele were a digit off.
After Grevengoed stopped the closing, Gabriele told Pate he was straightening out the problem and would buy the house with a cashier's check, while telling Kessler the home was already theirs.
When Pate told him the money would have to show up in the escrow account for the deal to go through, Gabriele stalled again. A few weeks later in early July, Pate changed the locks and put the home back on the market.   
What baffled Kessler, her parents, the Pates, Grevengoed and Francine Kidder, the RE/MAX real estate agent representing Gabriele, was his motive for faking the purchase of an $850,000 home? Didn't he realize that it would eventually fall through?
Witnesses say – and records show – Gabriele had a history of scamming people to live in their homes without charge. That success perhaps convinced him that he could get in the $850,000 house and remain there free until the courts forced him out.
Brevard County court records show Gabriele was charged with writing multiple bad checks over the past three years, ranging in amounts from $100 to $89,000. After numerous defense continuances, his criminal trial in Brevard was set for July 8, but when he failed to show up for court, the judge issued a warrant for his arrest.
Deputies, however, couldn't find him because he was hiding out, living at the Vero Beach home of the unsuspecting Kesslers.
The night before arresting him, police surrounded the Sebastian home of Tonya Martinez where Gabriele lived until February 2012. Martinez kicked him out for not paying rent and, she said, for using her credit card without her permission.
"He lived there for free, and took terrible advantage of me," she said.
Before moving in with Martinez, he lived with Charles Nunn for a year in Melbourne.  According to Nunn, Gabriele stopped paying rent after several months and took over $89,000 from him, supposedly to invest it, with the promise of a huge return.
After nothing came back in, Nunn asked for the money back. Gabriele, according to records, wrote a bad check for $89,738 to Nunn and his landlord went to authorities.
"I never saw the money again," said Nunn. One of the many bad check charges against Gabriele is for the bounced check he wrote to Nunn.
"He's adept at suckering banks too," said Nunn. "A.J. figured out how to cut and paste statements to convince bank employees he had money he didn't have. He also figured out how to alter routing numbers and make fake cashier's checks."
Documents show that Gabriele has bounced over $100,000 in checks at more than six different local banks in the last three years.
In March 2013, after living with Nunn in Melbourne and then Martinez in Sebastian, he moved into a home rented by Sherry Weinstein in Sebastian.
Weinstein said he not only failed to pay his share of the rent, but he stole rent money from her and another tenant. Records show he also took $4,000 of hers, promising to invest it and get her a 100 percent return. She never saw the money again.
"He's very good at gaining trust to scam people," said Weinstein. "There is a long list of us.""Maybe this time he'll spend some time behind bars," said Nunn. "But, then again, jail could mean just more free living for him."