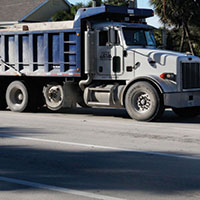 Despite debacle, county still eager to truck sand to beaches
STORY BY STEVEN M. THOMAS, (Week of July 4, 2013)
Despite the tragi-comic series of mistakes, delays, multi-million-dollar cost overruns, bad blood, legal action and vows a year ago to never again use trucked sand on island beaches, county commissioners now appear ready to bend over backward to make sure several local sand miners have an opportunity to get in on upcoming post-Hurricane-Sandy beach repair work.
At the final commission meeting in June, Commissioner Peter O'Bryan challenged the county staff's schedule leading up to a new round of beach repair project, telling Coastal Engineer James Gray to "keep his foot on the peddle" to speed up the design and permit work so upland miners will have a shot at the project slated to start in January 2014.
"We are scheduled to advertise for construction bids in December," O'Bryan said. "My concern there is that is so late in the game that we would basically be eliminating any potential upland sand miners from bidding on it."
By the time the prior upland sand beach repair project wrapped up a year ago in a series of acrimonious public wrangles in commission chambers with threats of lawsuits and crisscrossing accusations of bad faith, commissioners were loudly proclaiming from the dais that they would never do business with the upland crew again, but amnesia seems to have set in.
The fact that money is available for the repairs is good news.
State Rep. Debbie Mayfield and Sen. Joe Negron were successful this spring in getting $4.8 million to fix damage done by Hurricane Sandy to the recently completed Sector 3 beach renourishment project on the north island.
The money is part of a $13.4 million appropriation for post-Sandy repair work on beaches in Broward, Palm Beach, Martin, St. Lucie and Indian River counties.
The $4.8 million will be matched by an equal amount provided by Indian River County taxpayers.
The work will be done under a modified version of the original permit for Sector 3 and will aim to restore that 6.6-mile stretch of barrier island beach that runs from  the Seaview development north of Windsor down into John's Island to the condition it was in when the 3½-year debacle of using upland sand to renourish beaches finally came to an end last summer.
Up until 2009, the county contracted with Great Lakes Dredge & Dock Company for beach repair work.
That company sucked sand from the ocean floor in locations approved by state and federal regulatory agencies and pumped it directly onto the beaches, typically taking several months, not several years, to complete a large project involving hundreds of thousands of cubic yards of sand.
In early 2009, the commission decided to seek bids – just as it is poised to now – from upland sand miners in Indian River County to dig out sand, screen it to make it acceptable to regulatory agencies, truck it for miles over congested roadways to the beach and spread it.
Because of delays in getting the upland sand approved for ecologically sensitive beaches where sea turtles nest, the Florida Department of Environmental Protection did not issue a permit for the work until February 2010
That was delay number one.
Further delays resulted when it turned out the road to subcontractor Steve Smith's Ranch Road Lake mine was impassible to dump trucks after rainstorms, and when the sand miner was unable to produce enough sand to keep up with the work schedule.
Only a fraction of the work had been competed when the operation ground to a halt in May 2010 at the start of turtle-nesting season, with all equipment pulled from the beach in accord with state and federal regulations.
The following year, the prime contractor and a slew of subcontractors were again unable to complete the 540,000-cubic-yard Sector 3 project prior to turtle nesting season and it had to be extended into 2012.
Commissioners initially decided to use upland sand to save money and create local jobs. But the project ended up costing more than it would have with Great Lakes and no permanent local jobs were ever created.
The main contract went to Ranger Construction Industries, Inc., a Palm Beach company, and a Louisiana dredging company was eventually brought in to dig the sand out of Smith's mine after a dispute with local dredge operator Henry Fischer and Sons led to Fischer walking off the job.
It has been reported that 50 temporary local jobs were created for trucking and mining subcontractor employees, but there doesn't appear to be any documentation of that fact.
Huge cost overruns began almost immediately.
According to county records, commissioners awarded a $7.2 million contract to Ranger on Feb. 2, 2010. Less than two months later on March 23, Ranger was back with change orders that jacked the contract price up by more than $3 million to $10.3 million.
Later change orders and fuel surcharges raised that cost by hundreds of thousands more.
The eventual total cost of $15.5 million exceeded Great Lake's bid.
Commissioners were never inclined to take responsibility for the delays or overruns, blaming them on state and federal regulatory agencies that required rigorous testing of sand and strict oversight of placement.
But, since they often complain about state and federal regulatory requirements, it seems they should have anticipated that trying a completely new method for beach repair in an ecologically sensitive area that includes part of the Archie Carr National Wildlife Refuges would result in some regulatory delays.
Gray says the county needs permits from the Florida Department of Environmental Protection and from the Army Corp of Engineers to proceed with the 200,000-cubic-yard Sector-3 repair job.
The idea was expressed at the June commission meeting that regulators will be freer with their permits this time around because they are familiar with the material and process of using upland sand, but FDEP spokeswoman Dee Ann Miller said in an e-mail the agency will "continue to follow and enforce the rules and statutes of the state that apply, as we do in every case."
"When we used the upland sources before, the testing was much more rigorous than for the offshore sand," county public works director Chris Mora told commissioners. "And that could happen again."
But his words seemed to fall on deaf ears in the case of O'Bryan and other commissioners who echoed his concerns.
"I don't think we are going to have a good fair bid for the construction bids," O'Bryan said as he pushed staff to speed up the design and permitting process. "We are so late in the game the upland sources are not going to have time to stockpile the amount of sand that is going to be needed. So we are going to be eliminating some of that playing field."
O'Bryan said he wants the upland miners to bid so Great Lakes will face competition and be likely to put in a lower bid than it would without the upland miners' participation.
But what if a contractor who plans to use upland sand puts in the lowest bid?
Presumably, the county will accept that bid and be back at the starting gate of a torturous process that wasted taxpayer money, kept beaches in disrepair for years longer than necessary, increased wear and tear on bridges and roads, and generally did not work out well the last time around.